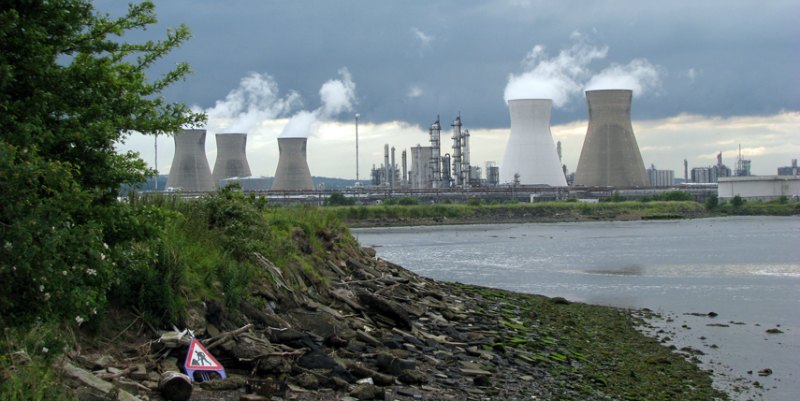 [photo by tigertweet on flick.com]
There has been strike action at Grangemouth which has resulted in the total shutdown of its petrochemical plant. Those on strike seem determined to bring the business to its knees, put over 1,000 workers on the scrapheap and wreak havoc on a local community. Such is the recklessness of this selfish act, the entire refinery employing 10,000 people could now be in jeopardy.
And the guilty party? Ineos boss Jim Ratcliffe.
Ineos, which runs the petrochemical plant at Grangemouth, is the fourth largest chemical company in the world and the largest privately owned company in Britain. Ratcliffe is the majority shareholder and, through his chairman, issued an ultimatum to workers: Accept wage cuts, shift pattern changes and the closure of the final salary pension scheme and we'll invest £300million into making the plant a success. If not, we'll shut it down permanently.
It is quite something to see a multi-billion pound company, with profits of £7million last year and tax savings of £100m annually by relocating its HQ to tax haven Switzerland, plead poverty in one of the most lucrative industries in the world. According to tax expert Richard Murphy, who has criticised the company's accounting practices, Ineos could make profits of £500m by 2017.
Other experts agree the picture is far from bleak for Ineos. Wolverhampton University Professor Roger Seifert, who has been following the dispute since day one, pointed out that oil companies like BP, which used to run the plant, have been selling off their refinery and related businesses over the last few years. He said: 'As a result companies like Ineos have been able to buy up these facilities at a good price on the basis that they can run them at lower operating costs.
'This may mean some improved management, but also cutting unit labour costs through reductions in pay, pensions, and conditions of service.'
Mr Seifert accused the company of 'holding a gun' to the head of the union, by first victimising Unite rep Stephen Deans last month and now by threatening members' jobs.
Although the union may now agree to the changes to terms and conditions in a last ditch attempt to save members jobs, Mr Seifert added: 'The obvious solution…is to bring the entire activity into state ownership. This would secure its future and jobs. It would allow Unite to negotiate changes in terms and conditions within a framework of future operational security, and allow the SNP to provide an example of putting Scottish workers before multinational companies.'
Think tank Left Economic Advisory Panel coordinator Andrew Fisher questioned why the plant was in private hands in the first place. He said: 'As the oil refinery on which much of Scotland, Northern Ireland and northern England is reliant for its fuel, the question is why was Grangemouth ever in private ownership?
'In the long term there is no sensible alternative to our essential infrastructure being brought in public ownership to guarantee that people's lives are not subject to the whims of reckless out of control bullies like those at Ineos.'
A Facebook page set up only yesterday called 'Take Grangemouth into Public Ownership' has over 4,000 'likes', with many posting stories about the famous 'work-in' led by Jimmy Reid and the Upper Clyde Shipbuilders in the 70s, where workers took over production of their factory when its owners shut it down.
With one eye on breaking into the market in China, Ineos's behaviour is a classic case of offshoring or capital flight. You could also call it capital going on strike in order to make short term profit with no concern for the havoc and damage it will do to the local community in Grangemouth or the national infrastructure in Britain.
The debate about public vs private ownership will not disappear as Grangemouth's fate hangs in the balance.