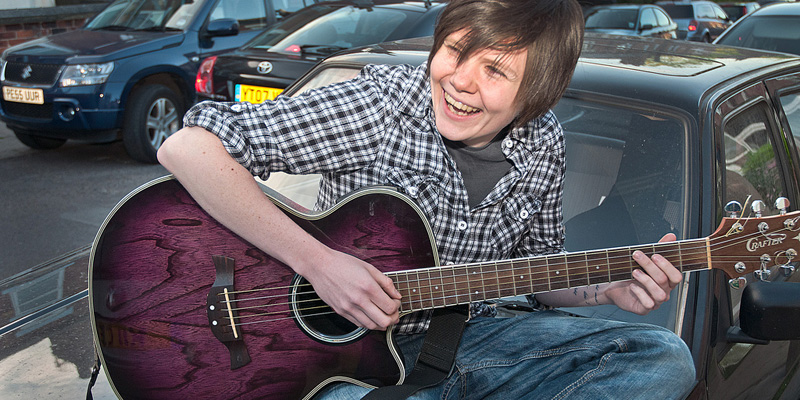 Photo: Tim Morris
Five years ago, Grace Petrie was a self-confessedly apolitical bartender at the University of Sheffield. Now she's widely credited with reinvigorating radical music. In 2013 she supported Billy Bragg and Josie Long, and played the Latitude and Glastonbury festivals to huge acclaim. She's racked up thousands of YouTube hits and was a darling of the 2010 student movement.
Growing up 'under the spectre of Thatcherism', Petrie admits she was comfortably withdrawn from the protest movement for much of her life. 'Even as my parents grew steadily dissatisfied with Labour, there was this sense it was nothing compared to the alternative. I knew about Section 28 [the Tory law prohibiting the 'promotion' of homosexuality in schools], and it just seemed like one of those fossils of the past.'
The appointment of Theresa May as minister for women and equality in 2010 rang alarm bells: 'It started to frighten me. I realised I'd lived this lovely, supported, sheltered upbringing, knowing that my sexuality was never going to be a problem for me, taking for granted the rights that people before me had to fight and die for.'
It was this realisation that spurred her to write 'Farewell to Welfare', her first success. 'Give me a minister for women that will fucking represent me,' pleads the song – often to rapturous applause at live shows.
She seems almost bemused at its success – 'suddenly everyone started calling me a protest singer' – but is impassioned about the cause which inspired it. 'I realised that you can never get complacent. Those attitudes to gay people, to trans or disabled people, to anyone who doesn't conform to the narrow definition of what A Person is and what makes A Normal Family are still prevalent in the Conservative Party.'
After this foray into radicalism, Petrie's first experience of political disillusionment came at the hands of Nick Clegg and his infamous u-turn on tuition fees. After the 2010 student protests, in which Millbank Tower was occupied by a number of protesters, she felt the 'Tories and the media' leapt on headline-grabbing window‑smashing and used it to 'discredit and hijack the whole day and ignore the whole point of the march'.
Watching the demo unfold on TV, she was angry, sad and disappointed. 'As I sat there watching the press coverage of the demo I thought, when no one's listening, only violence makes the news.' That passing thought became the catchy hook of her most popular song to date, 'The Emily Davison Blues'. With a video filmed outside Nick Clegg's constituency office, the song lambasts him and provides a rousing anthem for those fighting austerity.
Petrie is keen not to be typecast as a protest singer: 'I think it switches some people off before they've even heard you. I'm really grateful for the people that see me as a political voice, but I definitely want people to know that's not all I am.' Her most recent album, Love Is My Rebellion, is no departure from political songwriting, but she penned it in a 'different political landscape – people are getting tired and cynical, and I'm no different'.
She was adamant, however, that she wouldn't write a record about 'losing faith or giving up – I think that's the worst thing anyone could do right now'. Love Is My Rebellion, then, focuses more on the 'general politics of love and compassion, and treating each other well in a time when we are being ideologically encouraged and financially squeezed into doing the opposite'.
Even if Petrie was solely writing love songs, doing so as an openly LGBT woman adds an inescapable edge. As she says, 'Just being out and gay and singing love songs like a million straight people have done before can be seen as a really political move.'
She describes being namedropped by the Independent's Pink List as 'one to watch' as 'the most important and significant thing I've ever achieved'. While she's reluctant to use the phrase 'role model' – because 'it's not as if young LGBT people need to be told how to live' – she's clearly delighted at the chance to 'show people they're not alone. Even if they're the only gay or bi or trans person in their school or town, there are others out there and it doesn't have to be lonely.'
We finish by discussing Russell Brand's recent impassioned attack on the political system. Grace sympathises. 'I believe in voting,' she says, 'but not just in voting. If you want a left-wing alternative and you don't see one on the ballot, well, your work doesn't stop when you leave the polling station. Create what you want to see people vote for.' She worries about sounding clichéd – a time-worn concern for radical artists – but stands firm in her belief that her generation needs to 'be the change. If we work really hard we have a real shot at changing the future for our kids. The first step is believing things can get better.'