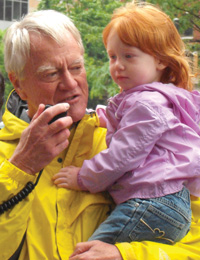 What influenced your political formation as an activist?
I was brought up in a pro-union working class household. That gave me a keen sense of economic oppression and has influenced my activism ever since. I was also part of a religious denomination that believed that children can be called to preach, and at 12 years old I prepared a sermon that racial equality was the will of God. It was a one-day preaching career. This was 1949 and no one wanted to hear a sermon about racial equality. That was hugely impactful for me. I learnt that saying the truth as one understands it is going to get various reactions.
You've said the Mississippi 'freedom summer' in 1964 was your most important introduction to participatory social change. Tell us a bit more about that.
I had a lot of influence from Ella Baker, who was an awesome civil rights hero. She was influential in the Student Nonviolent Co-ordinating Committee (SNCC) and they were the real pioneers in Mississippi. They were the ones going into the hardest of the hardcore states and doing projects with extremely disempowered people. And they were convinced by Ella Baker that the only technique that could really be empowering was one based on discussion and participation and on following the lead of the people who were the most disempowered. That was in stark contrast to the style of the Southern Christian Leadership Conference with Dr [Martin Luther] King, which was much more an inspiring kind of leadership. I was intrigued by this alternative approach because it seemed so respectful of the extreme oppression that folks were living under and how much that oppression had been internalised.
What are your thoughts on Occupy and the limits of consensus decision-making?
I think we need to learn more about under what conditions consensus does and doesn't work. It depends on the context and the people and the degree of trust. The SNCC were working in a kind of container in rural Mississippi – often in the black church, in a rural setting, with people who knew each other very well. That is very different from people who don't know each other gathering in the city centre, being watched by media and the mayor and everybody else and saying, 'Okay, now we're going to make decisions.' In our Occupy in Philadelphia, the lack of trust was enormous. It's so hard when people won't listen and won't trust to reach any kind of fair decision.
How could Occupy be more effective in achieving tangible gains for the 99 per cent?
One thing that impressed me in Boston is that a subset of the Occupy people joined a campaign against the public transport authorities raising fares and lowering service – an issue of huge importance to working class people in Boston and people of colour. They weren't just saying, 'Come over to our turf and join our Occupy thing.' They were saying, 'We know a struggle when we see it. We want to be with you. This is about solidarity. Let's go!'
Campaigns like that are often critiqued as being too reformist. Do you think they can add up to something bigger?
A revolution doesn't come without a revolutionary situation, and a revolutionary situation is created by history, not by us. So while we're waiting for the revolutionary situation we can be preparing for it. And the best way to do that is to be side by side with those whose interests in having a revolution are greatest, so that we have been through struggles together and we are trusted. There will never be enough self-identified activists to win a revolution. It's always people who have other primary identities, like father, mother, grandfather. We have to be with them and campaigns are one way to do that. It's building that infrastructure of relationships that makes revolution possible, and I don't see a short cut.
Do you feel that violence is ever justifiable as part of legitimate struggles for justice?
I always say to people who advocate violent struggle, if you really want to be pragmatic, then you will develop at least one nonviolent and one violent struggle strategy, and then compare them and make a choice. I'm not prepared to say that there is a nonviolent way to win in every situation. But I'm also not prepared to say that a violent way would more likely win. There are plenty of situations where neither way would win, where your opponent is just overwhelming at that moment in history.
George Lakey's Toward a Living Revolution is published by Peace News Press, £15. www.peacenews.info