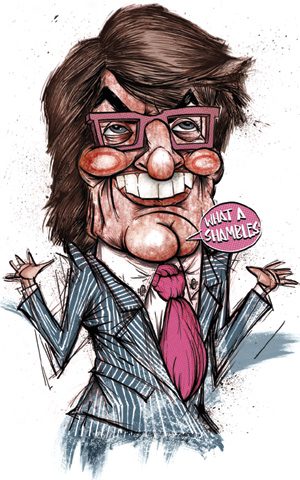 G4S's recent Olympics debacle was little more than a sub-plot in the story of a company that has always courted controversy, from minor problems such as the failure to fulfil contracts to much more serious allegations ranging from manslaughter to sexual misconduct. Despite this, G4S has continued to grow, winning public contracts in the UK and abroad.
The British/Danish-owned company is currently estimated to be worth £1 billion and operates in more than 120 countries. Its 625,000 workers make it the world's third‑largest private sector employer. It carries out a host of security-based tasks for the military, private businesses, airports and seaports, as well as running prisons and immigration services.
It is at the forefront of the drive towards the privatisation of such services worldwide. As John Grayson, an independent researcher and campaigner with the South Yorkshire Migration and Asylum Action Group wrote recently, 'The contracting out of these services to private companies erodes the already very limited forms of accountability and furthermore fundamentally corrupts the political system by undermining any notion of a public good.'
This privatisation is achieved through a network of lobby groups and strategic appointments. In the first year of the coalition government G4S met with ministers no fewer than 17 times. It currently runs six of the country's 14 private prisons and is bidding for more. Company employees assisting in such bids include former home secretary John Reid and a number of former senior civil servants.
The company is also heavily involved in the imprisonment and deportation of refugees and asylum seekers. It runs three detention centres, including the Pease Pottage centre, which holds children and families. In July 2010 the immigration removal centre Brook House, which was run by G4S, was described as 'fundamentally unsafe' by prisons inspector Dame Anne Owers. She found there had been 105 assaults, mostly against staff, and 35 incidents of self-harm by detainees over a six-month period. There had been serious problems with bullying, violence and drugs.
In 2010 the company received more than 775 complaints in relation to its detention and deportation of immigrants, including allegations of assault and racism. Twenty-five were upheld, a high number considering they were only subject to internal investigation. In 2011, the prisons inspector found conditions in a G4S-run immigration centre to be 'objectionable, distressing [and] inhumane'.
Most worrying was the case of Jimmy Mubenga. In 2010, the Angolan detainee died after being restrained by G4S guards, three of whom were arrested on suspicion of manslaughter. G4S has since lost the deportation contract, but charges were dropped against the security guards and no one has been held officially accountable for Jimmy Mubenga's death.
Globally the company profits from the wars in Iraq and Afghanistan. On its website it boasts that 'G4S has an unparalleled heritage in Iraq, providing protective security, stabilisation and post-conflict reconstruction services to government and commercial organisations since 2003.'
In Afghanistan in 2009 a number of allegations were made against G4S subsidiary ArmorGroup, which was contracted to protect the US embassy. These included abuse by supervisors, who engaged in sexual misconduct and lewd behaviour; the sacking of a manager following his attempts to fix problems; withholding information from the US Congress about employees who went to brothels in Kabul known to house trafficked women; and misleading the US government by claiming experience and assets the company did not have.
The company also operates throughout the occupied territories in Israel/Palestine. It provides equipment and maintenance services for checkpoints, roadblocks and the separation wall. The equipment provided to the police and military includes body scanners and x-ray machines. In the private sector it provides thousands of armed guards to businesses operating in a number of settlements. G4S also provides a number of Israeli prisons with equipment and personnel.
In the UK the company is bidding to take over many police functions. The Cambridgeshire, Hertfordshire and Bedfordshire police authorities are all discussing using it to provide 'backroom' services, outsourcing 1,191 staff with a total spend of £77 million across the three forces. G4S already provides functions to several forces, including Lincolnshire police.
Police can look forward to some of the treatment metered out to other staff around the world, including union busting (USA) and poverty pay rates (Malawi and South Korea). Meanwhile, chief executive Nick Buckles received an annual salary and shares worth £2.4 million and a possible annual bonus of £1.2 million last year.
Illustration of Nick Buckles by Ben Jennings