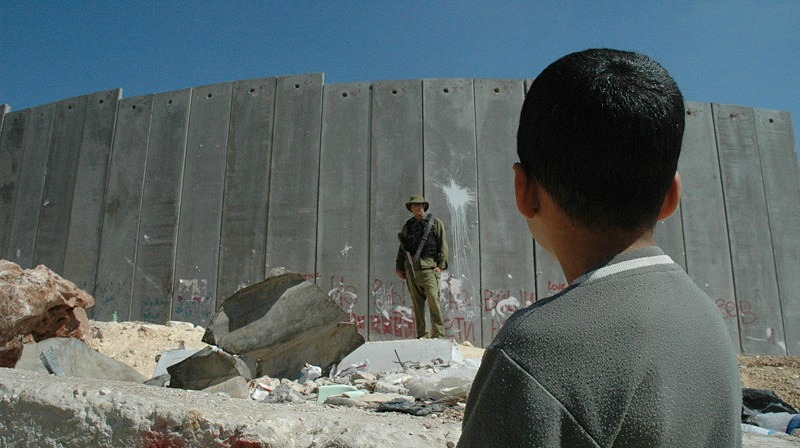 Of course you can criticise Israel, say many of its supporters, but that criticism has to be fair. If you go too far by 'singling out Israel' it easily becomes anti-Semitic, in effect if not in intent. So we are told.
Is Israel singled out? Well yes, in the sense that anyone supporting any cause singles that cause out from all the other they might pursue and prioritises it. There are dozens of reasons why people single out causes. You might identify with those who are suffering or see their oppressors as like 'us', or feel responsible historically in some way for the particular cause and wish to make amends. And while we might hope that all oppressions would be universally condemned on the simple grounds that people shouldn't treat others the way they do, we know this doesn't cut much ice in the real world. There are too many valid causes and we inevitably select.
But isn't this still unfair? In the sense that any politics ought to strive for consistency it would be wrong to condemn Israel's continued occupation of Palestinian lands while allowing China's continued occupation of Tibet to escape criticism. But saying that there are worse cases than Israel should not imply that what Israel is doing is therefore somehow acceptable. And even if you did care about both causes equally, the calls for action in each case might well be different depending on the political circumstances and perceived modes of influencing the situation in each case.
Critics are unhappy with this. They see Israel as singled out – out of all proportion. Other states in the Middle East, such as Saudi Arabia or Iraq under Saddam Hussein, have been far greater violators of human rights.
That is true. But it seems to me that there are a number of very specific reasons why Israel is legitimately singled out.
First, Israel singles itself out and presents itself as special. It sees itself as a state based, as its Declaration of Independence declares, 'on the precepts of liberty, justice and peace taught by the Hebrew Prophets'. In the words of Isaiah, 'We are a light unto the nations.' Israel is constantly lauded as the 'only democratic country in the Middle East' with the 'most moral army in the world'. It invites evaluation in terms of its own founding principles and it constantly reaffirms its commitment to these values. It claims to be defending western values and presents itself as an outpost of these values. What better criteria to judge it by?
Second, Israel is special in that it controls a number of religious sites that are of special significance to three world religions. They have been contested over millennia. In recognition of this reality, UN resolution 181 of 1947, on which Israel's legitimacy is based, called for the creation of a special international zone, encompassing the Jerusalem metropolitan area. Since then, religious concerns and motivations have deepened worldwide, and there are hundreds of millions of Christians and Muslims, in particular, who have grave concerns about their holy places. You don't need to be religious yourself to appreciate the profound part that religious conflict has played historically and continues to play in the modern world.
Third, the United States clearly considers Israel special in that it has been far and away the largest single recipient of US foreign aid since the 1960s. From 1949 to 1996, the total of US aid to all of the countries of sub-Saharan Africa, Latin America and the Caribbean combined was $62.5 billion – almost exactly the same amount given to Israel alone in the same period. Total aid to Israel was approximately one third of the US foreign aid budget until the Iraq invasion, and still remains at a very high level. The extent to which the US has singled out Israel as its most loyal ally in the region is indeed extraordinary. Insofar as one believes that the US plays a dominant role in the international system, its choice of countries to support is of legitimate concern. When the US, often standing alone, vetoes resolution after resolution concerning Israel in the UN Security Council, Israel is singled out. Israel is singled out by the US, too, as the only country in the Middle East that it permits to possess nuclear weapons with no demands being made for their control.
Fourth, Israel singles itself out with regard to Jews everywhere. It presents itself as their real home, as opposed to the multiplicity of countries in which Jews have settled and integrated. Integration can never be permanently successful, the argument goes; anti-Semitism is ever-present and persecution is always just around the corner. In that sense, there is always an implicit accusation of disloyalty made against Jews who do not give Israel their wholehearted support. And Jews who speak out against the actions of the Israeli government are often accused of 'self-hatred' or worse from within the Jewish community.
What so incenses many – and is felt so strongly by Jewish critics of Israel – is its claim to occupy the high moral ground. 'Nobody should preach to us ethics, nobody,' declaimed former prime minister Menachem Begin while engaged in daily prima facie violations of the Fourth Geneva Convention: administrative detention, torture, confiscation of land, collective punishment, house demolitions and so on.
The Israeli human rights organisation B'Tselem reported in February 2005 that: 'Since the beginning of the al-Aqsa intifada, the IDF has opened only 90 military police investigations into Palestinians killed and injured, although soldiers have killed at least 1,694 Palestinians who did not take part in hostilities, including 536 minors. These investigations led to the filing of only 29 indictments. Only one soldier has been convicted of causing the death of a Palestinian.'
And the IDF's self-description? 'The most moral and most humane army in the world.' In December 2004, in the face of criticism of the IDF, a cabinet communiqué from prime minister Ariel Sharon expressed 'complete trust and appreciation for the IDF and its commanders [and] said that he does not know of any other army that would be able to act with such high moral standards.'
In an interview broadcast in March 2003, Jack Straw, in a rare moment of candour, said that there was real concern in the Arab world 'that the west has been guilty of double standards – on the one hand saying the UN Security Council resolutions on Iraq must be implemented; on the other hand, sometimes appearing rather quixotic over the implementation of resolutions about Israel and Palestine.' Asked about double standards, Straw responded: 'To a degree, yes … and we are going to deal with it.' He added that he understood Arab concern about 'injustice against the Palestinians'. The headline to a Times report of this was 'Straw interview upsets Israel'.
Double standards predominate in any discussion of Israel, but rarely in the way its supporters claim. Throughout much of Europe and the Muslim world it looks as though Israel is indeed singled out – for favour, for support, for exemption – when others are condemned. It is time to stop singling out Israel in this way and to hold it accountable to the same values and criteria it claims to be embodying: values that are liberal, democratic, non-discriminatory and just. If that is singling out Israel, so be it.
(picture by Justin McIntosh, Wikimedia Commons)