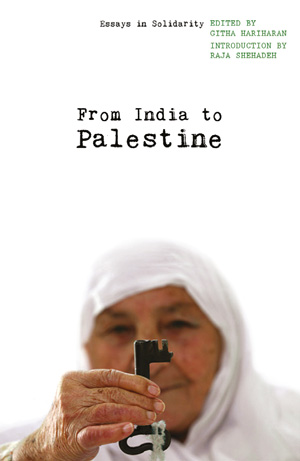 During Israel's most recent assault on Gaza, images capturing the massacre of almost 2,000 Palestinians provoked moral outrage across the globe. Yet as Israeli bombs rained down on civilians' homes, schools and hospitals, many governments simply followed the US lead in rhetorically condemning violence while steadfastly supporting Israel. In particular, India has remained remarkably silent on the plight of the Palestinian people, and instead continued to build ever-closer ties with the Israeli state.
India was not always so distant from the Palestinian cause, as the collected essays in From India to Palestine show. In fact, anti-colonial nationalist leaders such as Gandhi and Nehru vigorously opposed Zionism, which they saw as a political project aligned with British imperialism and dependent on the violent subjugation of the Arab population in Palestine. By the 1960s, the book's editor Githa Hariharan recalls, the Indian government had even imposed a travel ban to the apartheid states of South Africa and Israel.
Without romanticising this history, the contributors incisively locate a profound shift in Indo-Israeli relations beginning in the early 1990s. No longer party to cold war geopolitics, India has increasingly aligned itself with the strategic framework of US imperialism, becoming a major buyer of Israeli military equipment as well as an ally in the west's 'war against terror'. India and Israel now seem to be on parallel trajectories of militarisation and exclusion, as seen in the rise of Islamophobic Hindu nationalism and the employment of Israeli equipment in the occupation of Kashmir.
Against this backdrop, this salutary volume scrutinises current Indo-Israeli relations, and asks what it might mean for India to recover its tradition of solidarity with Palestine. Taken together, the essays make a compelling case for disseminating information about the brutal realities of Palestinian life under Israeli occupation, and further mobilising to develop India's self-image as a regional power that resists, rather than embraces, geopolitical relations that seek to yoke India to Israel and the US.