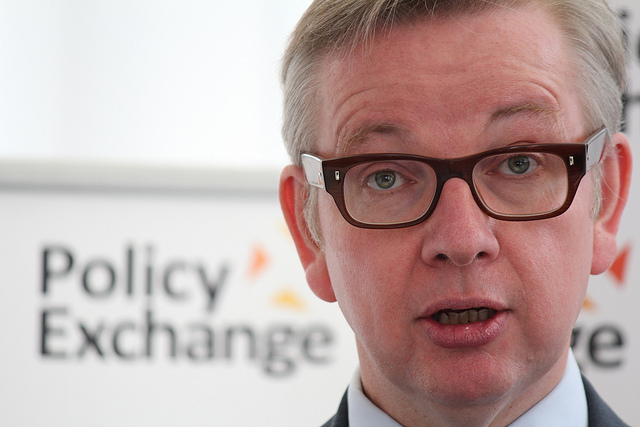 Photo: Policy Exchange/Flickr
Funded by the state yet set up and controlled by external parties, free schools have since their introduction in 2010 divided opinion and in some cases even communities. Their most vocal detractor, the National Union of Teachers (NUT), claim free schools acquire a disproportionate share of funding, undermine teachers' professional status, pay and conditions and threaten democratic local accountability of schools. For their supporters, no one more so than the Secretary of State for Education, Michael Gove, free schools are a solution to educational underachievement, providing autonomy, flexibility and an unprecedented opportunity for parents to influence the learning experience of their children. Indeed, 'power to the parents' was the dominant discourse accompanying the policy announcement. Yet, as a recent report by the National Audit Office revealed, only 29 per cent of free schools currently open are ran by parent and community groups and just 18 per cent by teacher-led groups. Such statistics, striking as they are, beg the question, who else is running free schools, how and for what purpose?
The second largest group running free schools are faith organisations (26 per cent), yet there are also a significant number ran by not-for-profit companies such as E-ACT, which operates 24 academies, including free schools. The involvement of such companies has raised the spectre of the privatisation of compulsory and further education in the UK. According to the NUT, companies and academy chains bidding to run free schools are lobbying the Government to allow them to do so on a for-profit basis. Although for this to happen a change in law is required, leaked details of discussions held in the Department for Education advocating profit-making in free schools and academies—and Gove's failure to rule this out—have exacerbated concerns.
Yet even without a change in law the so-called 'free schools revolution' offers a number of avenues for financial gain. For senior employees of the charities running free schools and academies the rewards can be considerable. As E-ACT's former director general, Sir Bruce Liddington earned almost £300,000 in 2010/11, making him one of the highest paid people in education. Similarly, when one considers that for heads of free schools pay is not determined by a national framework and is typically higher than in schools under local council control, it is perhaps unsurprising that so many applications have been led by would-be head teachers—almost 25 per cent in 2011, according to the Institute of Education—many of whom have no teaching experience.
More importantly, it is already legal for charitable trusts to outsource the day-to-day running of the school to for-profit Educational Management Organisations (EMO's). Opened in 2012, IES Breckland in Sussex is the first free school to operate on this basis after its parent-led governing trust signed a ten-year contract worth £21 million with the EMO Internationella Engleska Skolan (IES) to provide for the entire running of the school, including teachers' salaries. IES has since admitted that under its management the education provision at IES Breckland has been sub-standard, strengthening claims that education provision and profit are fundamentally incompatible.
Even when profit is not an immediate possibility, however, there is enough evidence to suggest that free schools are already colonised by the logic of the private sector, primarily a fixation with cost reduction and efficiency maximisation. The contract dispute at STEM 6 College in Islington provides a case in point. Established as a free school in 2013 by the Skills and Development Agency—a not-for-profit company with a for-profit subsidiary—STEM 6 recently offered teachers what amounted to zero-hour contracts. The contracts stipulated that 'the school reserves the right to temporarily lay [staff] off from work without normal contractual pay or to reduce . . . normal working hours and reduce . . . pay proportionately'. Staff were also threatened with 'legal consequences' should they not sign the new contracts and STEM 6 refused to grant union recognition.
Following a two-day strike by teachers at STEM 6 in early February—the first strike at a free school—and the threat of a second, management eventually agreed to grant union recognition and enter into contractual negotiations. According to its assistant secretary, Ken Muller, Islington NUT is hopeful that a suitable conclusion will soon be reached and further strike action avoided.
Although the partial victory of the STEM 6 teachers sets an encouraging precedent as regards union organising and zero-hour contracts in free schools, the attempts of management to drive down costs by attacking labour conditions and their initial refusal to grant union recognition suggest that far from simply providing autonomy for parents, free schools can also provide carte blanche for employers to exploit staff. As with the private sector, the absence of regulation, in this instance a nationally negotiated pay scale, means very different things for those at the top than it does for those at the bottom, for whom precarisation is a very real possibility and in some cases already a reality.
Alongside the STEM 6 dispute, revelations of serious financial mismanagement at Barnfield Federation, which runs a number of academies including one free school, the stripping of ten academies from E-ACT for poor performance, and an increasing number of failing free schools point to an educational sub-sector facing serious problems, not least of all the prospect of future privatisation.