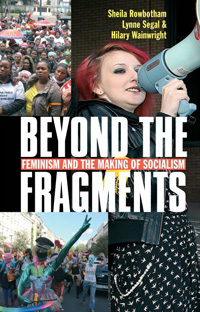 There is a buzz around the latest edition of Beyond the Fragments that has sparked discussion events around the UK. On feminism and the making of socialism, the three authors Sheila Rowbotham, Lynne Segal and Hilary Wainwright write:
'A generation ago we wrote Beyond the Fragments. Inspired by the activism of the 1970s, and facing the imminent triumph of the right under Margaret Thatcher, we sought to apply our experiences as feminists to creating stronger bonds of solidarity in a new kind of movement.
Since then the obstacles facing us have grown formidably; deepening recession, environmental pollution, falling real wages and savage welfare cuts.
New forms of resistance have appeared, but how are they to coalesce? In our three new essays to this new edition we return to the fraught question of how to consolidate diverse upsurges of rebellion into effective, open democratic left coalitions.'
Read more:
Beyond the Fragments is more than a history, writes Alice Robson
Back to the Fragments, Lynne Segal reflects on its lessons for today
When you become a Friend of Red Pepper by making a regular donation you will receive a subscription to the magazine as well as a free copy of the book. You will also receive exclusive event invitations.
It is a particularly critical time for Red Pepper and our independent and radical perspective needs to be heard now more than ever in austerity Britain. As a volunteer-led organisation we rely on your support and we can do so much more with your help.
Email jenny@redpepper.org.uk to arrange delivery of your book.