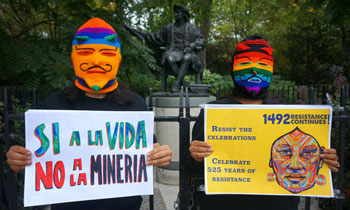 Today, we honour the millions of indigenous and afro-descendant communities and their ancestors, who persevere and defend and protect our water and land. We celebrate their resilience against the ongoing colonisation of their lands and bodies and highlight their persistence for life.
525 years after Cristobal Colon aka Christopher Columbus aka Cristoforo Colombo arrived by mistake in the continent now called America, our communities from Patagonia to Turtle Island are still feeling the oppressive impacts of colonisation and still powerfully resisting the entitled – disguised as enlightened – bulldozer of neo-colonialism.
Today, we don't commemorate the accidental arrival of Western Europeans on our continent, nor do we celebrate any discovery of any type. October 12, 1492 was the day wave after wave of colonial violence was unleashed on our peoples and their territories. Laden with racism, oppression and the logic of rapacious extraction, it led to the decimation of entire indigenous groups, and the colonisation of millions more who faced the stark choice: die or assimilate.
It also led to the foundations of the patriarchal capitalist system as we know today – unequal, marginalising, externalising – through the brutal enslavement of millions of African people, who were deemed a commodity, subhuman. The search for gold, the accumulation of resources, the commodification of everything.
Such was and is the legacy of the colonizer. Male, heterosexual and white.
Today, colonialists may not come to our continent with pointy hats and beards – as they have been mockingly caricatured by Indigenous communities in Cuzco through masks like the ones we are wearing in these pictures – in sailing ships with erroneous coordinates, they don't just stumble into our rich lands and with blessings from the church, support from the Spanish crown and for the benefit of British pockets and their Industrial Revolution, take away our precious stones and women and kill our men, they don't plainly abduct compañerxs from Africa to have them work as slaves in plantations, all under the pretence of white supremacy.
No, today neo-colonialists come to our continent with signed off project plans, deliberately ignored or tampered consultations and environmental impact assessments, with PR budgets and subsidies, and licences to write down destruction, displacement, conflict and loss of life as externalities, with bribes, guns, committees, low wages, consumerism, with corrupt and racist law systems, with border controls, walls, patriarchy, racial profiling, pipelines, mines, mega dams, mega farms, GMO seeds, privatisation of the commons, drugs and multinationals; instead of exchanging mirrors for our gold, now they simply give us a promise of 'progress', all under the pretence of white supremacy.
But there is another story, the story told from below, from the perspective of the pueblos and the ejidos, from the concejos and the resguardos. A story of a quartered mestizo man, who vowed to return as millions; of a mother and grand-mother looking for their son and daughter, defiant in the knowledge they will find them alive; of an asthmatic doctor, weaving paths of revolution; of a million sisters and mothers and grandmothers who said ni una menos – not one less; of a million seeds who were buried in the soil, by people who didn't realise they were seeds; of 400,000 afro-descendants who lost so much, they lost fear itself, el pueblo no se rinde carajo; of three women who said it first and millions who then followed in asserting black lives matter; of so many who refused to be divided; of a small community of marginalised traders, refusing to give up their livelihood; of an indigenous peoples, ready to retomar everything that has been taken from them, demanding 'demarcacao ja!'; of a river that spoke to an indigenous woman, to tell her that the dam would not succeed; of a Pachamama, demanding her rights.
Despite the long night of colonialism, black, brown and indigenous communities have resisted the facets of western patriarchal oppression, developing alternatives based on their relationships of reciprocity and understanding of the land around them.
We have migrated, we have created new territories and relationships with those around us, who were more like us than we had ever imagined, highlighting the fusion of our cultures and traditions through dance and art as a political act. Our dances are full of the movements of our ancestors that make us whole and prepare us to resist the injustices.
Today, we stand together with all our compañerxs asserting their rights to exist, to preserve their culture and identity, to have ownership of their bodies, compañerxs fighting for safety, for justice, for reparation, against borders, gentrification, displacement, extraction, death, we stand with those protecting Mother Earth and our continent's mothers and their children.
This 12th of October, Day of Indigenous Resistance, we remember the originarias communities that experienced the wave of colonisation led by Cristobal Colon, his statue in London today guarded by British fences and imperial CCTV cameras, and send our warmest wholehearted solidarity to all our compañerxs in América (the continent) still fighting C02onialism today.
"Utopia is on the horizon. I move two steps closer; it moves two steps further away. I walk another ten steps and the horizon runs ten steps further away. As much as I may walk, I'll never reach it. So what's the point of utopia? The point is this: to keep walking." Eduardo Galeano.