Editorial from the latest issue of Red Pepper. Subscribe now for more news, views and cutting-edge culture.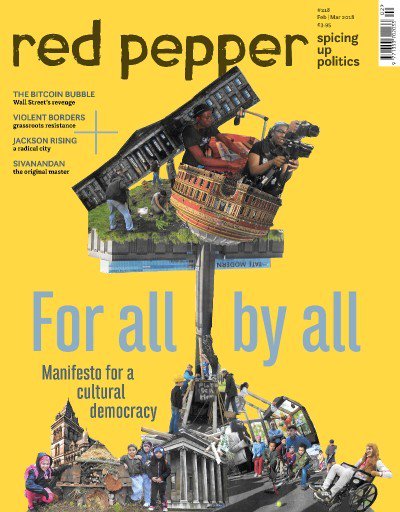 It's hard to recall now the doom that much of the left foresaw when Theresa May called the snap general election last April. But the six weeks that followed changed our sense of what is possible, and all our subsequent victories will follow on from there. 
The picture of how that change happened is complex. You can talk about the strength of Corbyn's campaign leadership, or the fragility of May's. You can talk about the Labour manifesto that, for the first time in decades, saw a mainstream political party present a genuine alternative to neoliberal government. You can talk about the Brexit bounce and tactical voting that saw greens, liberals, socialists and social democrats combining their efforts – sometimes with the support of their parties, sometimes without.
You can talk, above all, about the voter turnout, higher than it has been for 25 years. Powered by grassroots voter registration drives and significant interventions through social media by cultural actors like Stormzy, Lowkey, Akala and JME, it saw the people most maginaslised by 40 years of neoliberal rule – young and BAME voters – rise up and make a difference. 
Writing in 1962, Milton Friedman, one of the chief architects of neoliberalism, said that 'only crisis – actual or perceived – produces real change'. Responding to the twin crises of austerity and Brexit, self-organising and mobilising for so many reasons and in so many ways, we, the people, in all our glorious plurality, re-discovered our power in 2017 and perhaps a new paradigm. Because, if a singular lesson was revealed by that milestone, it was the power of participation: the power that is unleashed when our diverse and distinct creative potentialities are enabled and inspired into collective action, not orchestrated from above.
The question of how we continue to disrupt and ultimately overthrow this neoliberal system, built on exclusion and the extraction of wealth and power, is the question of how we deepen and strengthen this space for mass participation so that it lives, not as something that comes around only at election time but as past of the fabric of our lives. 
Our latest issue of Red Pepper is devoted to exploring that question, which, put another way, is also the question of how a social movement lives and dies. Framed as a Manifesto for a Cultural Democracy, we ask, how do we invite, support and nurture greater public participation so that our cultural capabilities are empowered beyond the crushing logic of market fundamentalism? 
We draw on stories from Jackson, Mississippi, from Ecuador and Greece, from the front lines of utopian technologists and cultural activists and the civil society campaigners who are resisting the border regimes of the UK and the EU and the corporate power of multinational mining companies in Columbia, Uganda and the Philippines. 
We uncover strategies that work and pitfalls to avoid and we shed light on the urgency of the message, expressed by our co-editor Hilary Wainwright in her new book A New Politics from the Left, that a world that works for us all is a world that is, very simply, shaped by us all.
Subscribe now to read the latest issue of Red Pepper.