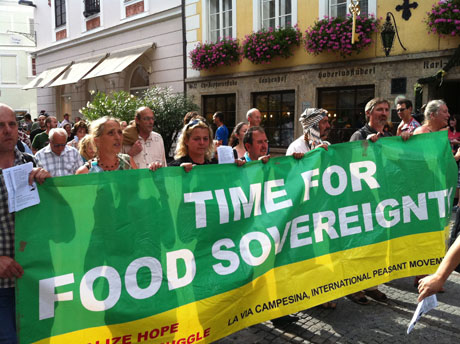 'Food systems have been reduced to a model of industrialised agriculture controlled by a few transnational food corporations together with a small group of huge retailers. It is a model designed to generate profits, and therefore completely fails to meet its obligations. Instead of being dedicated to the production of food … it focuses increasingly on the production of raw materials such as agrofuels, animal feeds or commodity plantations. On the one hand, it has caused the enormous loss of agricultural holdings and the people who make their living from those holdings, while on the other hand it promotes a diet which is harmful to health and which contains insufficient fruit, vegetables and cereals.'
So states the final declaration of the Nyeleni Europe food sovereignty forum, which took place in August when 400 delegates from 34 countries met in the town of Krems in Austria. The forum was structured to break the delegations into interest-specific groups and then facilitate inclusive and participatory discussion so as to form the basis for a declaration that would provide direction for the European food sovereignty movement. However, as with most such forums, the most important element was the opportunity for producers, consumer organisations, workers, activists and campaigners to meet up, share their stories and plan the future.
In a direct challenge to the top-down 'food security' agenda, which accepts the corporate dominance in our food system that is part of the problem in the first place, the real struggle against global hunger is not taking place in parliaments, financial institutions or scientific laboratories. Instead, it is small-scale farmers and disempowered consumers who are coming together to build a better food system from the bottom up. In line with this approach, the forum included a day of protests at supermarkets around Krems and a market combining farmers' stalls and political information aimed at the town's inhabitants. This combination proved to be a powerful outreach tool.
Nyeleni Europe represents the community-supported agriculture collectives, organic farmer unions, local food cooperatives, seed swapping organisations, food activists, farmers' markets and community gardens that form the front line against the corporate tide.
What's in the name?
In Mali there is a powerful symbol that could serve as the symbol of food sovereignty. It's a woman who left her mark in the history of Mali, as a woman and as a great farmer. When you mention her name everyone knows what this name represents. She is the mother who brings food, the mother who farms, who fought for her recognition as a woman in an environment which wasn't favourable to her. This woman was called Nyéléni. If we use this symbol everyone in Mali will know that it's a struggle for food, a struggle for food sovereignty.
Ibrahim
Greece
The situation in Greece is that over the past few decades farmers have been paid to stop cultivating – to take out old trees, old vines, etc . . . So now there is a lot of uncultivated arable land left unused and seemingly abandoned. With the economic crisis these farmers are getting less money and now everyone is afraid because we have all this land but no food is being grown.
In a search for a proactive alternative some families are going back to trying to directly support their local farmers. They are getting together to form consumer collectives to buy produce to try and usurp the middle-man. People are also trying to create alternative currencies to keep economies local.
Jenny Gkiougki works with the Greek indignados
Belgium
In Belgium there is a lack of cohesion among agricultural groups because of the language barrier and all the politics that go along with it. Consequently there is very little collaboration between the grass-roots movements on either side of the Flanders and Walloon areas of Belgium. However, some of the recent developments in food movements are similar in the northern and southern parts of the country.
There is a strong, growing local food network in the Walloon part, the GASAP (Groupe d'Achat Solidaire de l'Agriculture Paysanne) based in Brussels, and the Voedselteams in Flanders. The latter is the better established with a staff of five half-time employees, over 120 local groups and 80 farmers engaged in the project. All the groups have a similar approach as they focus on the proximity of the food producers to consumers. They have developed their own screening systems for farmers because of the failure of the main organic labels to count distance and scale of farming as criteria for labelling.
There is a very new phenomenon of 'community supported agriculture' farms appearing in Flanders that have a self-harvesting approach. There are about seven at the moment, operating close to cities such as Leuven, Gent and Antwerp. Farmers' markets have also grown in recent years and been embraced by local authorities.
Last year, a group of six short food supply chain projects appealed to the Flemish government for a strategic action plan on short chain agriculture. This will involve a recognition of short supply chains as a new innovation that increases contact between food producers and consumers, enables producers to set their own prices for their products and produces food for local markets and communities.'
Wim Merckx, Belgian delegate from Flanders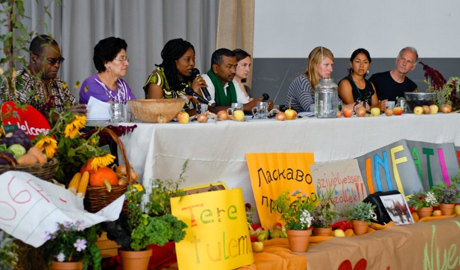 Spain
As in all Europe, peasants and small farmers are disappearing in Spain. Statistics show that over the last 20 years three farms have closed every hour. There are lots of different problems caused by the abandonment of agricultural activity. Among them, due to our arid climate, are soil erosion and the threat of desertification. Social problems are even worse; depopulation of the rural environment causes a territorial imbalance and a deep disconnection between cities and villages.
However, there is a growing movement that offers solutions and practices alternatives to the dominant system. For more than ten years now, farmers, urban consumers, environmental activists and others have been working together for food sovereignty, resisting the current rules, bringing consumers and farmers closer together and developing new and innovative ways of fighting commercialisation, GM foods and so on. We want and we need peasants to produce local and healthy food that both respects the environment and keeps villages alive. It is great to share problems and experiences with people from all Europe and to see that there is a strong European movement fighting for food sovereignty.
Blanca G Ruibal, Friends of the Earth Spain
Bulgaria
In Bulgaria, as elsewhere, the problem is that there are a lot of powerful supermarkets that are not obliged to sell local products. The population is generally very poor, so people are forced to look for the cheapest goods, which are normally imported. This is killing Bulgarian producers.
Local groups have set up internet consumer schemes that organise together to create a virtual cooperative for food. This is done mainly through Google groups, with people ordering what they want on the web and then sending a collective order to the local farmers. This enables the farmers to know how much of particular products are needed and what to concentrate on. It also gives them considerably better financial security.
Bulgarian community food organiser
Italy
In Italy, the main problem now is that we are treating food as a commodity and the financialisation of agriculture is the major example of that. Land has been abandoned all over the country, not because it was impossible to farm but because the industrialised farming system thought the local market wasn't important any more. This has led to a huge loss of biodiversity because we thought that vegetables need only be produced in just two or three regions in the south.
However, there are more examples of food sovereignty projects in Italy than ever. These include farmers' markets giving producers direct contact with consumers – they are no longer simply consumers because they ask about production and become part of the process. In Italy we now have one million meals per day made with organic products, almost all Italian. This local money is generating a lot of local development for organic farmers.
Andrea Ferrante, chair of the Italian association for organic farming
The Nyeleni Europe website is being developed as a resource for the food sovereignty movement. The forum agreed on Europe-wide actions, including supermarket occupations, marches and other forms of direct action on the 'International Day of Peasant Struggle', 17 April 2012