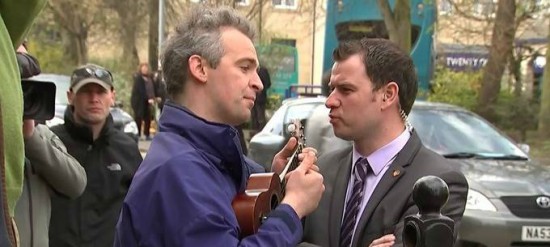 A wave of online support for a spontaneous heckle, pictured above, spurred Robin Grey to release a full version of the song below.
You can purchase the song from iTunes, or Spotify and any profits will go to the Radical Housing Network and the Landworkers' Alliance.
The tune may sound familiar because it recently hit the headlines as an election campaign heckle:
Grey was cycling through the quiet town of Alnwick to visit his grandmother when a large blue bus cut in front of him. "As I turned to raise my hand I noticed a big green tree logo on the side of the vehicle, then out popped David Cameron".
Like something resembling a children's party, 30-40 people poured out of the bus holding blue balloons and placards. Grey was shocked and disgusted to see them fill the empty street at deliberate intervals, allowing the Prime Minister an apparently staged stroll among supporters for the sake of the cameras.
"I thought about egging him but I didn't have any eggs. And I didn't want to get arrested because I would be late for my nan who would worry.. then I realised I had my ukulele". So he launched into singing 'F**k off back to Eton' in a cheerfully defiant tone.
David Cameron is the 19th Prime Minister of the UK from Eton and when Cameron unveiled his first front-bench team, it included 13 people from his old school.
Music as a political tool
Although this release came about through a chance encounter, Grey makes a living from teaching and sharing radical songs with people. He describes himself as fairly new to radical politics and it was on a protest three years ago that he noticed a lack of musical inspiration in the crowd.
"My first ever protest was at Rothamsted over government funding of GM trials. I was struck by an amazing choir from France singing songs of resistance, but when the French people stopped singing, the English resorted to football chants. I found that sad so I decided to make it my mission to find local songs of resistance and teach them to as many people as possible."
He found a lot of material hiding in plain sight because often popular songs have radical roots that we've simply lost touch with. For instance, despite being a favourite of the Royals today, the words of Jerusalem were written by William Blake, an outspoken supporter of the French Revolution.
Grey tours with a show called Three Acres and a Cow to help people to reconnect with their social and radical history through storytelling, folk singing and poetry, while making connections with the politics of the present.
The focus of the show is land rights and protest because British history, he says, is a history of struggle over land and power. The phrase 'Three Acres and a Cow' was the slogan of the English land reform movement in the 1800's – it was the amount of land at that time deemed necessary for a family to be self sufficient.
Find out more including upcoming shows at www.threeacresandacow.co.uk