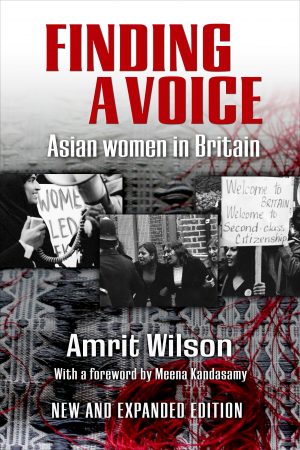 In 1978, Amrit Wilson, journalist, activist and founding member of the Asian women's collective, Awaz, published Finding A Voice: Asian women in Britain. Challenging the views of South Asian women as weak, submissive, one-dimensional stereotypes, for just over 200 pages, Wilson cleared the space for Asian women to speak for themselves. Republished a number of times since, it has recently been reissued after a long gap with a foreword by poet and activist Meena Kandasamy and a concluding chapter of women reflecting on the book 40 years after it was written.
Talking about marriage, work, school, migration and mental health services, women of different ages and with different stories to tell explain to Wilson and us what their lives in the UK are like. Through careful interviews – conducted in Bengali, English, Hindi and Urdu – Wilson created space for these women to talk about the complexities of their lives and to tear down some of the myths of the 1970s about Asian women, myths about submissiveness and patriarchy that endure today. Wilson provides us with important challenges to some of the misconceptions we might have of the past. It is a book full of resistance and complexity, describing how women more-or-less abandoned by the state supported one another in a country that treated them badly.
There is no hiding from patriarchy. These women are struggling against their parents, their husbands or the expectations of people around them. In the hands of many other people, exploring their experiences could feed the idea that brown women need to be saved from brown men by white people, or that the brown men who are abusive are so because of their inherent 'culture'. But Wilson's telling is different. Not only because she lets gives the space for women to speak, but because she understands the complexities of what they are talking about.
This is important because loud, dangerous racialised stereotypes are so embedded in popular discourse. When home secretary Sajid Javid tweeted about the grooming gang case in Huddersfield – 'These sick Asian paedophiles are finally facing justice' – he fed one of the most toxic far-right narratives: the belief that it is some kind of inherent 'cultural' difference that produces child sexual abuse. As if patriarchy doesn't exist in every part of society.
The same people's voices are centred in our debates and you're told that if you're not willing to recognise that this is an 'Asian' or 'Pakistani' problem, then you're complicit; you're providing an excuse for abuse to happen. There is too often too little space to explore the complexities of race, gender and belonging. Wilson's book and all the historical complexity it represents encourages us to take a step back and look at how long people have been thinking differently and all the ways they've been resisting these stereotypes and patriarchal norms.
This is also a timely book for the way it shows just how brutal immigration practices have always been. As a journalist, Wilson was one of the first people to write about the government conducting virginity tests on Asian women coming into the country, visiting a woman in detention who had been subject to what we might call state-sanctioned abuse. She dedicates a whole chapter to this. From this important look at the past, it is possible to trace the continuities and differences between the 'hostile environment' of today and the UK's immigration system in the 1970s; to understand what's changed and what has stayed the same – including the way poorer migrants were funnelled into low-quality housing and struggled for decent pay.
The final, additional chapter shines a light on just how influential this book was and still is. South Asian women in Britain who came to this book at different points in their lives explain why it remains important and offer a comparison between the 'now' they inhabit and the 'then' the book represents. This illuminating chapter gives us an idea of what's changed, the struggles that have been won and those that are still being fought, even if in slightly altered forms.
'If we can remember our rich collective past, we will find ourselves stronger in the battles ahead,' Wilson writes in the introduction to the new edition. Despite all that has changed since this book was written, there are so many battles to be fought and this sincere, detailed account of South Asian women's lives in Britain is essential to remind us exactly what has already been achieved and where we need to go from here.
The new edition of Finding a Voice is published by Daraja Press.