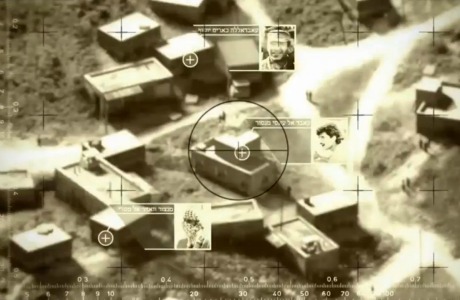 Dror Moreh was already one of Israel's leading cinematographers before becoming a full-time director several years ago, with many feature-length documentaries to his name. His latest, The Gatekeepers, revolves around unprecedented interviews with six former heads of Shin Bet, Israel's internal security service.
The Gatekeepers effectively combines archival photographs and footage with CGI to bring home the realities of waging a counter-terrorist war. Footage of high-tech, usually airborne, attacks is effectively de-sanitised by images of the resulting carnage on the ground, which are far from gratuitous but justifiably shocking.
This is the backdrop to the interviews themselves, with heads of Shin Bet ranging from Avraham Shalom (1980-86) to just-retired Yuval Diskin (2005-11).
It is the interview with Shalom which sets the tone. He declares there is no place for moral considerations when dealing with terrorists. The responses and histories of all the interviewees seem to concur with this: The Guantanamo-style sleep-deprivation and physical shaking of suspects at Shin Bet's Gaza City interrogation facility attracted controversy to Yaakov Peri (1988-95). Shin Bet's killing of Palestinian suspect Yahya Ayyash by means of an exploding mobile phone, under Carmi Gillon (1994-96), was hollow eye-for-an-eye compensation for the assassination of prime minister Yitzhak Rabin on Gillon's watch.
Gillon's successor Ami Ayalon (1996-2000), a straight-talking military man, shattered some myths about the Camp David talks in 2000, but even he asserts that, if Shin Bet were to stop its activities, which are often extra-judicial executions, the terrorists won't. Are we missing something here? Isn't this where an eye for an eye leads?
The policy of targeted assassinations increased under Avi Dichter (2000-05), with full support from Prime Minister Ariel Sharon. Indeed, Yuval Diskin (2005-11) is believed to have initiated this doctrine.
There is a sense of world-weariness and cynicism towards politicians from all the former spymasters. This is not surprising when, for example, Avraham Shalom relates how he had to resign after ordering the on-the-spot execution of the suspects caught after hijacking the 300 bus from Tel Aviv to Ashkelon in 1984. Initially Shalom was supported but the politicians soon left him high and dry. This was even after Shalom's Shin Bet foiled a plot by the Jewish Underground to blow up the Dome of the Rock, which would have unleashed a global conflagration of Muslim states against Israel. To add insult to injury, those convicted were released after serving minimal sentences.
One may ask if this kind of thing would provoke the deepest reflection about the nature of the Israeli state and establishment that Shin Bet is there to serve, on the part of those charged with this organisation? But none of our spymasters seems to realise that his organisation carries out state-sanctioned murder, whether openly supported by leading Israeli politicians or denounced by same when politically convenient. So when the discussion moves to the attempt to kill the entire Hamas leadership by bombing their meeting place, Avraham Shalom sees no irony when he asserts that killing civilian bystanders in such an operation would be 'not humane'. Fair trial? Due process? Forget it.
Dror Moreh has here produced an important film which, without didactic narrative, is a most sombre comment on institutionalised brutality and callousness from those in charge of executing much of it. The still photos of the utter carnage on a bus just after a bomb has ripped it and its passengers to shreds, and of a suspect who knows he is about to be beaten to death by the Israelis, his face a picture of abject terror, will stay with this reviewer for a long time.
The Gatekeepers is showing at selected UK cinemas now.