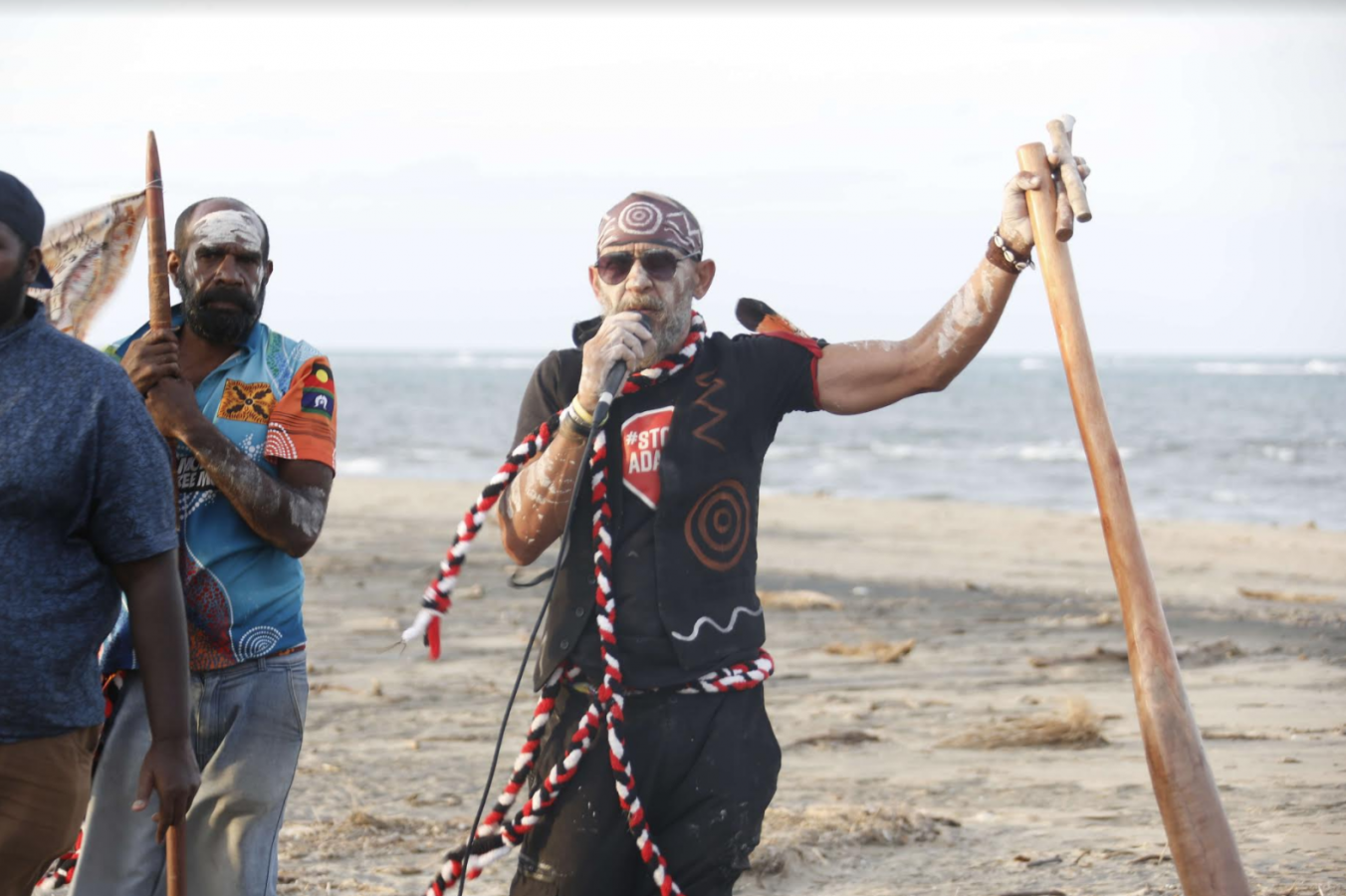 Activists from Australia and beyond are joining forces to prevent what is set to be one of the world's biggest ecological catastrophes. The massive Carmichael coal mega-mine will devastate the Great Barrier Reef, contribute massively to global climate change, and further marginalise Australia's First Nations people.
Adani, the controversial Indian corporation planning the mine, is set to extract 2.3 billion tonnes of coal over its planned 60 years of operation. It is just one of nine mega-mines planned in Australia's Galilee Basin that would produce 330 million tonnes of coal. According to Greenpeace, that much coal would fill a train long enough to wrap around the world one and a half times.
It will be exported by train from the Galilee Basin to Abbot Point port on the Great Barrier Reef. More than one million cubic metres of sea floor would be dredged from the Reef in order to extend the port. The Reef was seriously damaged by unprecedented levels of bleaching in 2016 and 2017 due to rising sea temperatures, and is at risk of further damage in 2018. With hundreds more coal ships filling the waters, dredging, extra noise and light pollution, and the risk of coal spills, it is feared that the Adani mine will destroy the Reef completely.
This is just the latest massive mining project to threaten First Nations people's connections to their lands in Australia. Since the first days of colonisation, Aboriginal land has been exploited for the benefit of Europeans, and now the same thing is being done to increase  the profits of international corporations. Like indigenous people the world over, First Nations Australians are fighting against their lands being seized for the benefit of global capitalism.
The Adani project is in financial trouble due to the massive campaign against it in Australia. Globally, 28 banks have now ruled out all or part of the Galilee Basin mining projects. In December 2017, Adani's application for a AUD$1bn state loan was blocked by the Queensland Premier. But many more companies are still involved, many of which are are based in London. Some of the international companies involved include WSP/Parsons Brinckerhoff, Jefferies, Investec, KY, Marsh, and Baker McKenzie. These companies could also bow to public pressure and withdraw their support from Adani. Such withdrawals could prove fatal to the project. In short, it is still possible to stop this project. A coalition of First Nations activists and groups such as Frontline Action Against Coal and Stop Adani are determined to halt the project in its tracks.
Recently, activists have set up a protest camp near Bowen to oppose the project. We travelled to Bowen on Australia's east coast, close to the Abbot Point coal port, and joined both locals and international campaigners for Frontline Action on Coal's week of action to stop Adani. Roads were blocked and activists locked themselves to the railway tracks used to export coal.  
We interviewed Ken Peters-Dodd, a First Nations elder of the Birriah people, whose traditional country will be affected by the project. Adani plans to construct the railway line through Birriah land to export the coal to its port. Ken calls on international activists to join the fight against the Adani mine. He told us: "I am from the Birriah people, of the Bowen river. I am also from the Widi, the mountain and hill people of the hinterlands. We are part of the Birri Gubba language group."
What was the affect of colonisation on your country?
Colonisers came here in the late 1860s. When they got here their main interest was mining and exploiting the resources on our land. They came with the English police force and began the cutting and logging of our timbers. The wars and battles carried on for decades. The massive majority of our people were totally annihiliated. After that, people were forced to work in pastoralism and cattle. There was a great roundup and my great grandparents were forcibly moved onto [Christian] missions way up in Cape York and Mission Beach, never to return to their country.
How will the Adani project impact on your people?
The Adani project will have an impact on the environment, our cultural heritage and our rights as caretakers and custodians of our country for generations to come. The project will also have an impact on neighbouring groups. It will impact the Juru people, whose country is on the coast where the coal will be loaded onto ships. It will affect their reefs, wetlands and their rights to protect country.
Were First Nations people consulted by Adani?
There was a process where the company came in and set up a meeting. But it was designed to manipulate and divide people. People didn't get the right information [on which] to base their decision. You had a minority of people only in it for financial gain – influencing the meetings in favour of the mining company. Expert advice to inform this process was done internally by the company.
Our family was in the negotiations and walked out in disgust at how it was being manipulated. It was already signed and delivered by the mining company and the company's lawyers when we walked out. The financial offerings were peanuts compared to what they would make off the country. Many of the families never signed.
Can you tell us how you've been involved in the campaign against the project?
I'm fully supportive of the campaign against Adani as there's no difference between Aboriginal and environmental activists standing for ecology, water and the reef. We've gone out and pulled our lines together. We went on to Abbot Point port with local group Reef Defenders and protested against the project.
With Juru elders we've made pledges [to oppose the project]. When we went to Adani's office to deliver our pledges, they never sent the CEO down to collect them. Adani didn't want to be seen as having anything to do with it. We've also been on campaign roadshows, saying that this project does not have the consent of Aboriginal people. We had Juru elders, who were part of the negotiations with Adani, speaking about why they didn't support the project.
We're encouraging other First Nations peoples to join in and fight this. Our people since day one have been standing in protest, speaking out as custodians of this land. For over two hundred years we have witnessed the destruction of country and it's time that we as a people stand up to stop this happening. It's a turning point. We ask all First Nations people to stand in alliance in this struggle.
Is the fight against the Adani project only a struggle for First Nations people?
No. Everyone should participate who has an interest in the impacts these projects will have. We fully support people from around the world to get involved. It's not just a struggle for First Nations people but for everyone who has interests and rights in this country. We want people to come together and support us on country, build a strong alliance and challenge the separation between First Nations people and the wider Australian people.
The Adani mine will have a massive impact on global climate change for generations to come. Underground waters are going to be depleted, which will have impacts throughout the Great Dividing Range. The government has no concern for the future generations, or for the people at all.
[Even if planning permission is legally approved], people can still resist the project and we will carry on our fight to protect our country, including protesting physically and peacefully. It's a critical point as it will affect other projects in Australia.
What do you say to those who think that the Adani project is vital for creating new jobs in Queensland?
That's just a political argument made by people with a relationship with the mining industry, campaigning for their positions. Everyday Australians know that they won't get a job: the industry wants a transient community which has no physical connection to country. We need to plan for renewable energy.  
Even the other mining industries will feel an impact from this project because the price of coal in the area will be driven down [because of oversupply].
We came together and protested against the Commonwealth Bank and temporarily closed down seven of their branches. [Commonwealth Bank, as well as the other big Australian banks, have now pledged not to finance Adani].
Do you want people internationally to resist the involvement of foreign banks?
Definitely. We send clear support for people globally to put pressure on international banks which may have an interest in funding this project. Go and campaign outside these banks and put pressure on them. We want that clear message to come from people internationally. We'd be prepared to go over and support people in this.
We call on people from all areas: social, political and environmental. We ask people from around the world to support us. We need to pull together and plan for the future because this project will set a precedent which will diminish the future rights of all First Nations people.