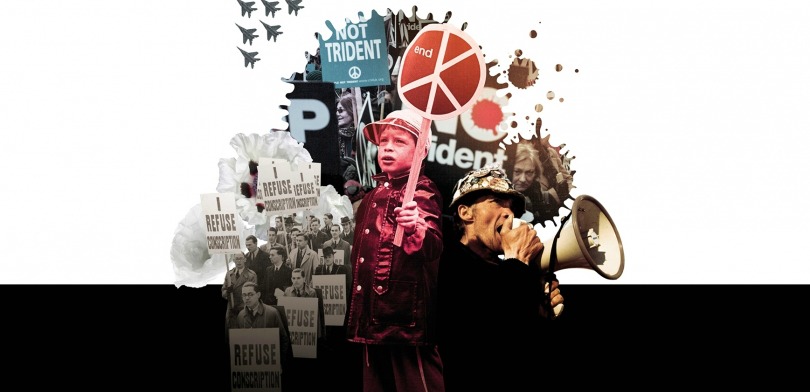 The first ever exhibition looking at the anti-war movements in Britain from WW1 to the present runs until 28 August at the Imperial War Museum. 'People Power: Fighting for Peace' displays letters, paintings, photographs, and documentary film, together with all the paraphernalia of political actions, banners, posters and badges in a compelling overview of decades of activism.
The exhibition looks as far back as the introduction of military conscription in 1916. We learn that the strength of the opposition to war during this period – whether from religious or political reasons – ensured that in the run up to WW2, there was greater support for conscientious objectors, despite many people deciding the fight against fascism was crucial. Much of the exhibition is focused on CND, women's actions at Greenham Common airbase and later Stop the War.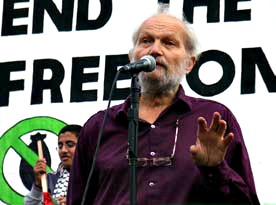 Ernest's work is prominently featured. He grew up in a politicised household; Doris Lessing was a friend of his mother, an he was in contact with characters such as American writer Clancy Sigal, and Raphael Samuel, one of the founders of the New Left. Sixty years ago Ernest helped refurbish the Partisan Coffee house in Soho, the UK's first political coffee bar with meeting rooms above. So he offers a broad view on the anti-war movement with a little more insight into the political left than the Imperial War Museum provides.
Resisting military conscription
"I was at college when I was called up for National Service and decided I didn't want to have anything to do with armaments and the British armed forces. Most of the conscientious objectors acted on religious grounds, I think I was the third person who refused military service on nuclear grounds," says Ernest.
The first section of the exhibition focusses on the treatment of conscientious objectors, the principles they stood for and the campaigns to support them. They were treated brutally during WW1 but the movement forced the state to accept that people had a principled opposition to fighting and needed to be dealt with differently. By WW2 more conscientious objectors were being accepted and allowed to do alternative service.
Ernest's grandfather was a conscientious objector in WW1 when the most severe punishments included imprisonment, hard manual labour and even execution. He was not a pacifist and in front of a tribunal argued that it was a capitalist war. By the 1950s Ernest himself faced a tribunal: "I was asked ridiculous questions like what would you do if people were raping your mother or your wife? My answer was that I would not go off and kill the brother or sister of the person who had done that. I would not contribute to extended warfare. I was clear I would not spread the violence. There were old fuddy gentlemen – retired businessmen – who would ask dry formulaic questions and I found it difficult to make my case because I was not a pacifist. I took that stand against being in the armed forces because they were dependent on nuclear weapons and using them would mean the end of civilisation as we knew it. It would be the amount of killings that nuclear weapons involved and I wasn't prepared to support the doctrine of 'an eye for an eye'."
European peace festivals
Ernests' mother Joan Rodker was also politically active and helped organise peace gatherings across Europe. The camaraderie of a huge festival in Moscow had an impact on him;
"Youth festivals were organised by the Communist Party in different capitals of Eastern Europe and when I was at technical college, I decided to go to a festival in Moscow. It was an amazing experience. It was the first time that Moscow had opened itself to people from around the world. On arrival, we were driven around the city in lorries and young peace activists from all over were greeted by about 2 million people who had turned out. They were roaring their approval and jumping on to the lorries and we were hauling them up crying "Peace and friendship! Peace and friendship!"
Ernest didn't join the Communist Party and of those he knew who had been members, many left disillusioned, critical of the Soviet Union and Russia's suppression of Hungry in 1956.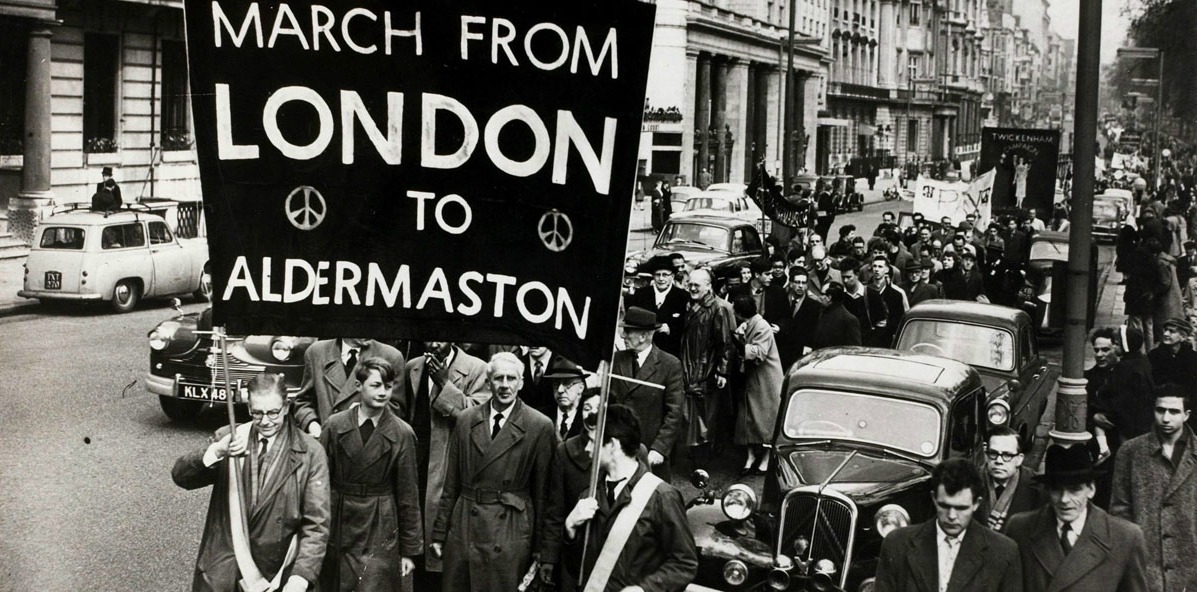 The Aldermaston anti-nuclear marches
Thousands marched over fifty miles from London to The Atomic Weapons Research Establishment at Aldermaston in Berkshire. The first major march in 1958 was organised by the Direct Action Committee Against Nuclear War (DAC) and supported by the recently formed CND. Starting in Trafalgar square, it took four days to complete the route.
Organising meetings were held in the basement of the Partisan coffee house. Ernest remembers:
"I took responsibility for printing 180,000 leaflets and arranging three loud speaker cars per day to tour around London in the run up to the event. We drove slowly through central London and Soho with a sound system and I was threatened with legal action for making too much noise, but nothing came of it."
On the first day of the march a good crowd had gathered, then on the second day, news reports claimed that the march was a failure, drawing only small numbers. But that news item encouraged many others to come out and join in, so by the evening of the second day it was clearly a success. Along the route people volunteered their houses and shared their food.
CND and the Direct Action Committee of 100
As people learned more about the bombing of Hiroshima and Nagasaki — facts and pictures were circulated and people started to understand the full effects of the bombings — the anti-nuclear issue surfaced and built-up until it burst with young people and the disillusioned of all ages. By the early 60s the membership of CND and the size of the Aldermaston marches had become huge, "there was a sudden explosion of people feeling dissatisfied and wanting to do more than just read about it", says Ernest.
He was one of the first to join the Committee of 100 against all nuclear weapons, a group that aimed to up the ante and were prepared to break the law. With Bertrand Russell as a leading signatory they called for mass nonviolent protest and civil disobedience. In one instance a sit-down protest lead to 800 arrests, filling most of the police stations across London – footage is shown in the video interview below.
(The badges pictured above were designed and sold by Ernest to raise campaigning funds).
Vietnam solidarity
Vietnam was the next catalyst for the anti-war movement and it brought thousands out on to the streets. Dramatic demonstrations involved tearing down iron railings in central London and dodging repeated charges by mounted police. Some participants remember it as a cathartic and energising expression of rage, but divisions played out as CND distanced itself from the perceived violence. There were also tensions between those demanding peace in Vietnam and others who identified more with a national liberation struggle than a 'peace movement'. Ernest remembers the chants ringing out down Oxford Street: "2, 4, 6, 8, Who do we really hate? 6, 7, 8, 9, Destroy the Americans in our time!".
The Vietnam Solidarity campaign was infected by the spirit of '68 and Ernest helped raise money to send streams of activists over to Paris, many travelling with cars of food to "feed the resistance!".
Looking backwards, we move forwards
In terms of lessons to be learned and what a new peace movement could look like, Ernest remains ever optimistic; "People feel a certain anger and at a certain time. These things have an internal combustion, that you can't organise. If one person feels it why shouldn't others?"
There were clearly moments when there was a feeling of success or strength in the peace movement, but it's debatable how far it was successful. Perhaps we would have seen more wars if it wasn't for the protests. 'Victory' can also be seen in the cross pollination of the ideas and skills of into other areas: for instance, many people who participated in the mass mobilisations took their new-found skills and confidence back to their local communities to campaign on housing and health issues. Ernest himself was involved in publishing a local radical newspaper called Pavement.
He recalls an upsurge in squatting in the 50s and 60s and says "The internationalist dynamic did generate a huge amount of interest in socialist ideas. I got involved in housing in the Wandsworth Community Workshop which had links to other groups across the UK… As for " victory" I think you organise and put in as much effort as possible. You want to win your battles but part of the winning is politicising people and then you just don't know what the victories will be."

The above video was recorded in 2013 by WMD Awareness for the #TalkingTrident project. The People Power: Fighting for Peace exhibition is running until 28 August at the Imperial War Museum.