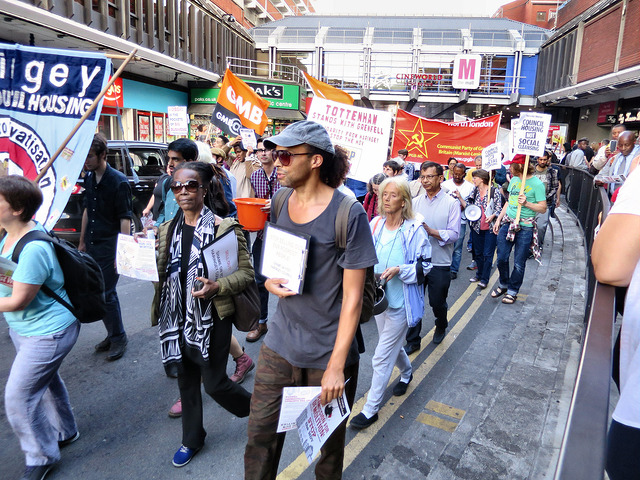 Introducing our brand new column News From Nowhere, in which Momentum activists from across the country shine a light on their frontline activism trying to transform Britain from the bottom-up. 
The media's portrayal of events surrounding the Haringey Development Vehicle has been one of outside interference and intimidation; merging with the latest phase of attacks against Labour nationally. But in reality, the victory against the Haringey Development Vehicle belongs to local Labour members and community campaigners who took part in scrutinising, debating, leafleting, protesting and voting- in other words, the democratic process.
The slurs have been redolent of Cold War imagery; an editorial in defence of the Haringey Development Vehicle (HDV) in George Osborne's London Evening Standard actually began with 'It's a long way from Moscow to Muswell Hill' before referring to 'shadowy Soviet figures', (in reference to Labour's National Executive Committee). It went on to accuse Labour activists of trying to 'impose an extreme manifesto ahead of London's local elections.' The policy it regarded as 'extreme' was bringing a range of council services back under council control. Presumably only orders from the Kremlin could make people question the running of local provision for commercial profit. It is wildly unthinkable that ordinary people uncorrupted by Soviet influence could question a scheme for the mass privatisation of public land and the demolition of council estates.
The HDV is now over; the remaining- purely theoretical- possibility of reviving it will cease after this May's council elections.  But the advice from Labour's NEC (at the request of 21 existing Haringey councillors) that the scheme should be paused was not what scuppered it. The scheme was effectively finished when Labour members at ward meetings last year democratically chose their council candidates for May 2018.
By the end of November, at meetings attended by well over a thousand members, a clear majority of branches had selected candidates explicitly opposed to the HDV, as well as other forms of privatisation. It was understood by many that even if a deal were signed with developer Lendease before the council elections, the newly elected Labour majority would act to cancel the contract. While this would have entailed a penalty charge, the view was taken by most that the impact would be far less than the losses and risks involved in proceeding with the HDV.
But what is the alternative? This phrase is levelled by proponents of privatisation and the demolition of council estates as an accusation rather than as a genuine question. Creative research into alternative housing plans – which do not require handing over land and opportunities for profit to the corporate sector – have been key aspects of the struggle in Haringey. We have already discovered and generated realistic ways forward. The motions setting out proposals on housing for local authorities, which were passed at Labour's national conference last September, and by its more recent London Regional Conference, came from the Tottenham and the Hornsey & Wood Green constituency parties.
The aim has to be more than 'building homes'. New homes, even thousands of them, which are far beyond the means of those in need just make the problem worse. Despite the ongoing privatisation of public land, councils still own many potential sites for construction, which must be earmarked for building homes at council rents and on lifetime tenancies. Where development vehicles are needed to allow councils to borrow sufficient funds to build, those vehicles can be 100% council owned and controlled (potential government legislation to restrict this option has been dropped following the loss of the Tory parliamentary majority). And councils should build directly, setting up direct works departments for construction, rather than handing lucrative contracts to private contractors. Assistance to and co-ordination with co-operative building projects also needs to be explored.
These are not particularly radical ideas. But they are a radical break with most current practice. That's why a panicking political and media elite has reacted to the upsurge of new thinking, new people becoming involved with the democratic process, with Cold War-style red-baiting. Some of our critics genuinely don't believe that, instead of being enablers for developers and corporations which benefit the few, Labour can run a council which successfully builds homes and directly provides services for our communities. Others are afraid we can. With the support and ideas of people across our borough, I firmly believe we will.