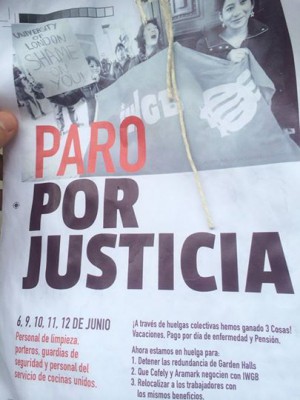 For the third day since Friday, 6 June, workers at the University of London (UoL) were on strike today against more than 80 redundancies which are expected to accompany the closure and two year-long refurbishment of the Garden Halls accommodation. The workers, members of the Independent Workers Union of Great Britain (IWGB), some of whom have worked at the UoL for over 15 years, previously voted unanimously in favour of the strike, which is a response to the failure of their employers, Cofely and Aramark, to negotiate with their trade union. The IWGB is demanding:
• a guarantee of no compulsory redundancies
• full and meaningful consultation with the IWGB
• the same wage levels, terms and conditions and length of service for any workers transferred to contracts outside the UoL
Around 40 workers and their supporters, including members of Lambeth UCU and Unison and of the Ritzy cinema's living wage campaign, attended this morning's picket, which was characterised by a colourful assortment of banners, dancing and chants of "El pueblo unido jamás será vencido.' The picket later marched to Senate House, the seat of UoL management and a frequent site of both worker and student protest this past year.
Many of the workers under threat of redundancy have been active in the 3Cosas Campaign, which in November 2013 won improved sick pay and holidays for cleaners at the UoL, a remarkable example of successful workplace organising amongst migrant and precarious workers in the UK and a victory UoL management has struggled to live down.
Vice-Chair of the UoL branch of the IWGB and Garden Halls worker, Sonia Chura, said of the the strike:
'The workers who have been most active in the 3 Cosas Campaign are on the verge of losing their jobs. This is the fault of Cofely and the University of London who have consistently refused to negotiate with us or to accommodate the workers. We're striking in order to continue working. We have been serving the University for many years and this is the thanks we get – being thrown out on the street.'
The Garden Halls campaign has significant support amongst students and staff at the UoL. Over 500 hundred student signatures have already been collected for a petition echoing the demands of the IWGB and, more spectacularly, over 50 students, trade unionists and community members recently occupied the Shard, the technical and estates services of which are ran by Cofely, to protest against the redundancies. According to one protestor, the occupation of the Shard 'was a sign of things to come.'
The Garden Halls workers are out on strike until Thursday, 12 June, and will be outside Commonwealth Hall, Cartwright Gardens, from 7.30am until 11am each day. The IWGB are asking for donations to the Garden Halls strike fund, which has so far proved crucial in facilitating worker militancy.
Follow the strike on Twitter and Facebook.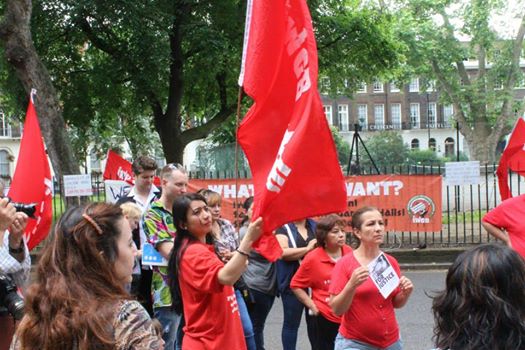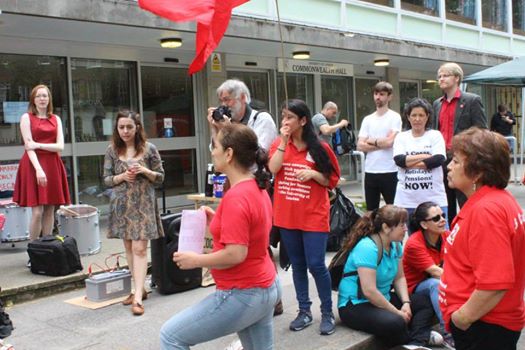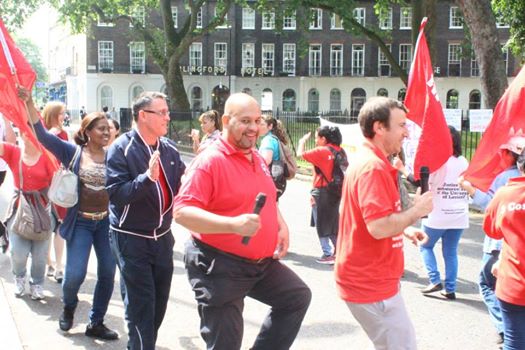 Pictures courtesy of the IWGB.