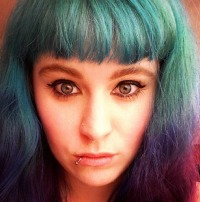 The Spoon Theory (TW)* – I've been hearing about this theory for some time however when I finally knuckled down to read it I did not expect it to hit home as much as it did. Hopefully this is something that can help anyone who suffers from a chronic illness.
Stop telling people you have a boyfriend (TW harassment) – Alecia Lynn Eberhardt explores how women can make it clear in a social situation that they have agency over their own bodies. It's not helpful to simply state your relationship status but instead make it clear that you are just not interested in them.
Interesting Japanese perspective – This is a wonderful blog that I usually use to help me learn Japanese. However this post caught my eye for an entirely different reason. Namely a Japanese perspective on street harassment and how some women shield themselves from it. It's awful how women have to learn to cope with it instead of men changing their behaviour.
Professor feminism (TW) – This is a strongly worded piece by Flavia Dzodan one of the women directly affected by Hugo Schyzer's behaviour. It talks about white feminists accountability and why he is yet again being given a platform.
A poem –  This is beautifully poetic yet strong on how women are perceived by men and how the writer truly wants to be seen.
A statement of trans-inclusive feminism – It is sad that something like this needs to exist but please sign if you want a feminism that is truly intersectional and inclusive.
A Muslim woman explains why she wears the niqab
Feminism and control of other women – An angry but incredibly well written piece by Stavvers on how feminism is not about control but liberation.
The man who made Femen –  So on top of being Islamaphobic it turns out Femen was run by a man. Jolly good.
An open letter to the men of the world – Jay makes it very clear who her clothing and appearance is for. Funnily enough it's not for you men!
Nudity on TV – Look, see feminists are hilarious, tsk tsk for thinking otherwise.
*TW stands for trigger warning, as some readers might find the contents disturbing
Read Emma's blog at www.emmaquitefrankly.blogspot.co.uk or find Emma on Twitter: @ExtraFT