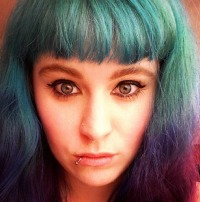 Gender is more than performance – an extract from Julia Serano's latest book.
Intersectionality, a fun guide – I really liked this comic in how it simply explains our need for intersectionality.
A case study of No More Page 3 –  a very thought-provoking piece on what it can mean to have popular support.
Sweden is now rating films for gender bias –  I found this to be an interesting approach, of course the Bechdel test is not a perfect system but I appreciate that they are at least trying.
Why this Janet Mock photo is more important than you think – I hope this photo speaks for itself.
Watch this amazing conversation between Bell Hooks and Melissa Harris-Perry – If you haven't already seen this it is an absolute must watch.
Dr Magnati – a blog by the forensic scientist who became famous as Belle de Jour, whose writing became TV show Secret Diary of a Call Girl.
Liley Allen's anti black feminism – this is a brilliant break down and critique of the racism displayed in the recent offering from Lily Allen.
Are selfies radical? – this wonderful & empowering piece argues that they are, in retaliation to a recent Jezebel article.
Read Emma's blog at www.emmaquitefrankly.blogspot.co.uk or find Emma on Twitter: @ExtraFT