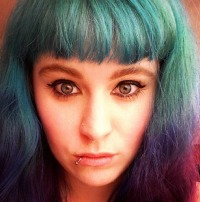 Modeling consent – This was a very sweet read on one of the ways we could consider modelling consent. Consent and emotions within sex is something that needs to be taught to people from a young age.
Throne room of the damned – I loved this as an illustration of how we should love our bodies in every shape and form. There is no ideal form or colour that we should worship.
Feminists are not responsible for educating men – On the Canadian blog Feminist Current.
Friends – Polyamory is something I only quite recently came across and therefore have little understanding of. I am currently learning about it from people who are in polyamorous relationships. This blogpost was lovely not only in regards to female friendship but in how it challenges our view as women 'competing' for men.
The patriarchy's greatest victory – Jay breaks down the ideas of 'attractiveness privilege'.
Ladies Last: 8 Inventions by Women That Dudes Got Credit For – Women erased as inventors? I'm shocked I tell you, shocked.
Migrants tragic death toll in Lampedusa, Italy: only 6 out of 100+ women survived – Flavia clearly demonstrates why the Lampedusa tragedy is a feminist issue.
Family of Colorado trans kid targeted by harassment hoax speaks up – There is a group within feminism who are trans exclusionary (TERF). There are some powerful women and feminists who exclude and threaten trans women by debating their right to exist. It is important to me that feminism is fully intersectional. This is why I believe that the story about a young trans woman being falsely accused of harassing students is a deeply feminist issue.
Female black scientist speaks out – It is not news that women especially women of colour (WOC) face a huge amount of bigotry and exclusion within the scientific community but this absolutely has to stop. I find it absolutely abhorrent that a woman or any person would be treated like this.
Dear David Blunkett – Stavvers wrote David Blunkett an open letter. Apparently it made him sad.
And finally, this is one of my favourite ever Pick Up Artist comic strips.
Read Emma's blog at www.emmaquitefrankly.blogspot.co.uk or find Emma on Twitter: @ExtraFT