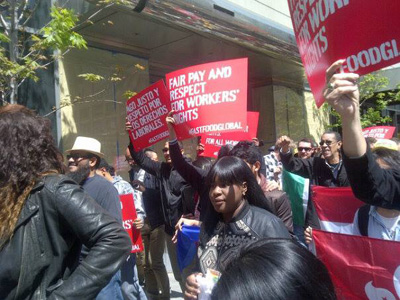 Fast food is a global industry that generates billions in profits for the shareholders of multinational corporations, but for the workers, the industry often means low pay, zero hours contracts and no union rights at work. Now, though, the backlash has begun, with strikes sweeping cities across the USA and set to spread across the globe, as unions internationally get ready for an international day of action. Union activists from across the world made their preparations at a recent event in New York.
'It may be an overused word, but we may be attending a truly historic meeting today, since it's about building an international movement.' Those were the words used by Ron Oswald, general secretary of the global union federation IUF, opening its conference on fast food which included presentations from unions across the world that are organising workers in the industry. IUF – its full name is the International Union of Food, Agricultural, Hotel, Restaurant, Catering, Tobacco and Allied Workers' Associations – has 396 affiliated organisations in 126 countries, representing a combined membership of 12 million workers. One thing that was clear was that across the world, direct action had resulted in improvements for workers.
The conference was hosted by the US-based Service Employees International Union, which has been supporting the 'Fight for 15' campaign (for a $15 an hour living wage) and is behind the strikes that have taken place in fast food outlets in the US. Two workers spoke about why they had got involved in the campaign, explaining that as young women they felt it was the only way they could put food on the table and they were sick of having to chose between paying the rent or turning the heating on. When asked what message they would give to other young workers, they commented that if you want to stop working in poverty then it's the union that's going to work to end it.
Part of the point of the conference was to create a worldwide campaign to co-ordinate action against global companies that make billions but pay as little as they can and offer as little as they can get away with. Workshops discussed networks and co-ordination to improve pay and end the precariousness of the employment offered by these hugely profitable companies. People are sick of being exploited and what this conference showed is that workers have had enough.
In light of the growing momentum and strength of feeling among those working in the fast-food industry, a global day of action has been arranged for 15 May – this Thursday. The Bakers, Food and Allied Workers' Union (BFAWU) is pleased to be standing alongside other organisations across the globe in action to end exploitation and low pay in the fast food industry.
On 15 May, we will be organising events in towns and cities up and down the country to make the general public aware of the exploitation taking place on their high streets. We will be demanding better pay, better conditions and dignity in the workplace. After all, these are not just issues for fast food workers but in workplaces everywhere.
Join the campaign for Fast Food Rights. Join John McDonnell MP and Fast Food Rights campaigners at the picket of McDonald's on Whitehall (London SW1) – Thursday May 15, 4pm.