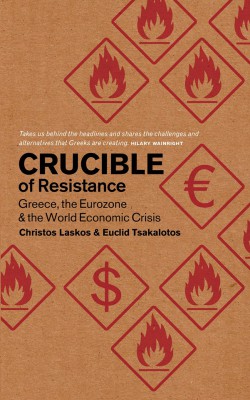 Challenging mainstream accounts of the 'Greek Crisis', the book argues that Greece's exceptionalism is largely a myth. Authors Christos Laskos and Euclid Tsakalotos  show how the causes of the 2008 global financial crisis lie in key features of the neoliberal economic order, including income and wealth inequalities and the hollowing out of democratic institutions.
A progressive exit from the crisis, for the Eurozone as a whole, means confronting the limitations of the neoliberal order.
Speakers will include:
Euclid Tsakalotos, MP for the Syriza party in Greece, economic adviser to party leader Alexis Tsipras and a professor of economics at the University of Athens.
Costas Douzinas, a law professor at Birkbeck, University of London and author of Philosophy and Resistance in the Crisis: Greece and the Future of Europe.
John Palmer is visiting practitioner fellow at Sussex University European Institute and former European editor of The Guardian and founder political director of the European Policy Centre in Brussels.
The event will be chaired by Red Pepper co-editor Hilary Wainwright who joined the occupation of Greek public broadcaster ERT earlier this year and explored alternatives to water privatisation proposed by Greek campaigners. With a focus on Syriza, Hilary has also discussed the challenges of radically transforming the state from within.
'Crucible of Resistance is a clear account of how Greece and the Eurozone got into such a mess. It shows that the crisis is not only economic, but also one of growing regional and social inequalities and the retreat of democracy. The authors bring to the fore what the emerging radical left in Greece and elsewhere can do to get us out of the crisis' said Alexis Tsipras, head of Syriza and leader of the opposition in the Greek parliament.
The event is free but tickets are limited – please register now.
Food and drinks will be available to buy at the bar from 18:30 with the discussion beginning at 19:00. Venue: The Lucas Arms, 245a Grays Inn Rd, Kings Cross, WC1X 8QY London