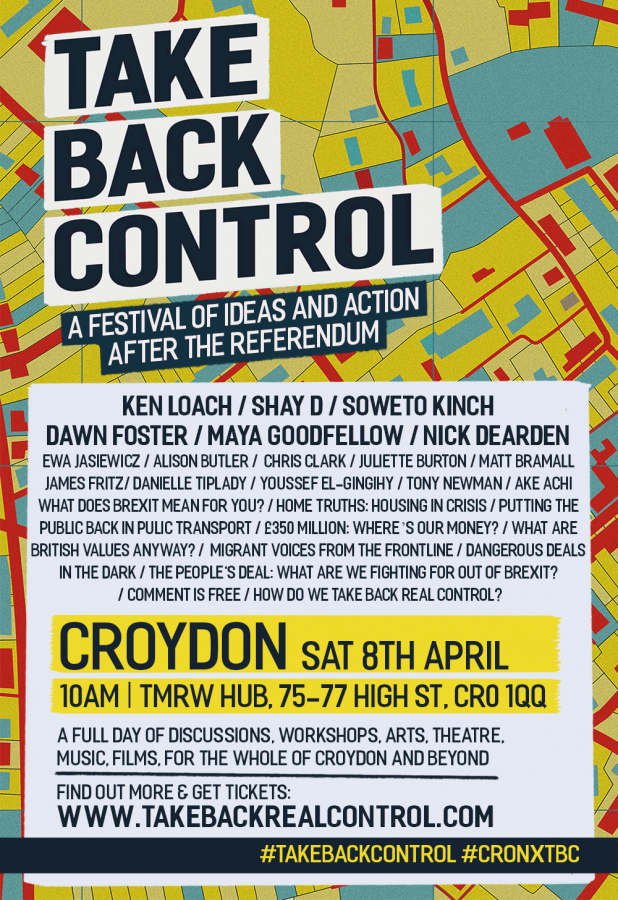 Award-winning filmmaker Ken Loach, Mercury Prize-nominated musician Soweto Kinch, hip hop artist Shay D, and Guardian journalist Dawn Foster will be among a host of speakers coming to Croydon on the 7 – 8 April for Take Back Control, the first in a series of events bringing together leave & remain voters to make sense of brexit, take back control from the establishment and bring power back to our communities. The day will be a mixture of talks, workshops, exhibitions, food and parties, with other dates in Tower Hamlets, Plymouth, Bradford, Hastings, Barnsley, Norfolk, Dagenham & York. The series of events has been organised by The World Transformed in collaboration with local activists across the country.
The Croydon event will begin on the Friday (7 April) evening with a screening of  I, Daniel Blake followed by a Q+A with director Ken Loach and DPAC activist Paula Peters. Saturday highlights include:
Mercury prize nominee Soweto Kinch in conversation with journalist Maya Goodfellow on the role of identity and immigration in the Brexit debate.
Guardian Journalist Dawn Foster and Clr Alison Butler along with local activists exploring how we can beat the housing crisis in London.
Award winning playwright James Fritz leading an interactive read through of his new play Comment is Free, hailed by critics as "a fiercely current, socially relevant and dramatic depiction of free speech and mob mentality".
Founder of Bursary or Bust Danielle Tiplady, head of Croydon council Tony Newman and Independent journalist Youssef El Gingihy discussing the crisis in the NHS, social care and what we can do about it.
Nick Dearden, the director of Global Justice Now, will be hosting a session explaining how the government's approach to post-brexit trade deals will effect you.
Another Europe is Possible will be hosting a session listening to your Brexit demands, and working out how we can build towards a 'people's deal'.
Sessions from CLASS think tank and One Day Without Us
A social space with art exhibitions, ping pong, food, live performances and film throughout the day.
For the full line up visit https://takebackrealcontrol.com/croydon
There'll also be a #rumbleinthecronx after party featuring Soweto Kinch, live hip hop and poetry fromShay D and Juliette Burton performing "Decision Time", her show on living with mental health and which recently sold out in Leicester Square.
Tickets can be purchased here, and a limited amount of free tickets are available for those in financial difficulty. To receive one of these tickets contact croydon@reallytakebackcontrol.com
For more info contact andrew@theworldtransformed.org