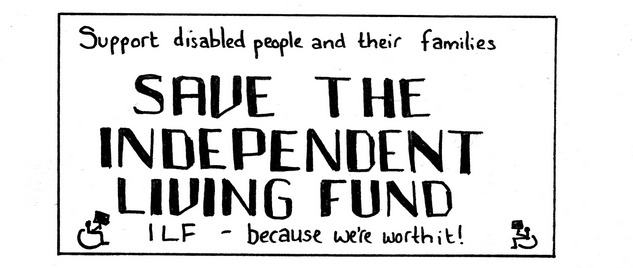 In response to the Coalition government's decision to close the Independent Living Fund (ILF)—which provides support for more than 18,000 disabled people—Disabled People Against Cuts (DPAC) are hosting an 'Independent Living Tea Party ' in celebration of Independent Living Day. The party will begin at 2pm at DWP, Caxton House on Tothill Street (SW1), and DPAC are inviting you to join them in an afternoon of fun, games, entertainment and of course, some civil disobedience.
The announcement of tomorrow's event follows an attempt by DPAC, UK Uncut and and Occupy London to set up an occupy camp in the grounds of Westminster that was prevented by an extensive police presence and what DPAC have called 'a total lack of respect and support bordering on cowardice by the Church of England'.
DPAC is also encouraging people to host their own party and create the kind of energetic, positive and welcoming spaces they have long been associated with. For those planning their own party DPAC has offered the following suggestions:
"1) Choose your target: Focus on the important issues locally; support, education, transport etc – it's up to you. Identify what you want to celebrate and who represents the biggest threat to that locally. Is it your local council or Uni? Is it a transport provider? Or is it someone else?
2) Tell everyone : yes, everyone. Media, campaign networks, activists, local people. DON'T FORGET TO TELL DPAC so we can list and support your action!
3) Be heard, be seen: make your event loud and proud. Bring music, choirs, drum, bells, whistles. Remind everyone out there that we won't be separated from society, we are society. We won't go quietly."
DPAC are also holding a Twitter Party with the hashtag #IL4JULY so that people at the DWP and at other events round the country can tweet in pictures of their events and join in the celebration and protest.
For more information on the Independent Living Day tea party visit DPAC's website, or on twitter: @Dis_PPL_Protest