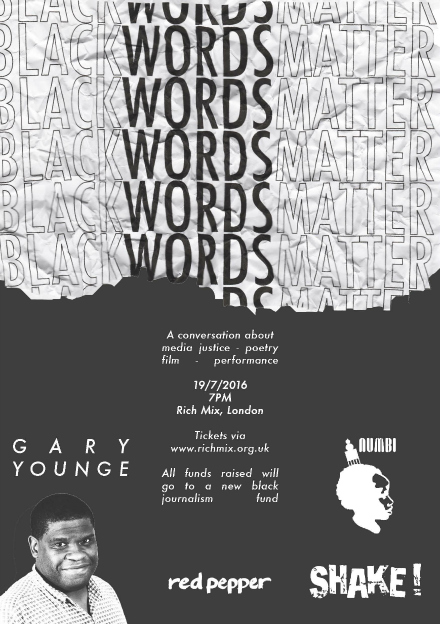 Book your ticket here.
Red Pepper are fundraising to recruit a new section editor with first hand experience of the struggle for black liberation. As a media project supporting movements for social and economic justice we feel it's an urgent priority to cover campaigns and creativity in areas such as: the Black Lives Matter movement, black feminism, detention centres, borders, police state, cultural appropriation, afrofuturism, the impacts of climate change, and the sharp edge of austerity.
Join us for an evening with:
Gary Younge Author, broadcaster and editor-at-large for the Guardian, will share his experience to explain why this is a cause close to his own heart. @garyyounge
SHAKE! A collective of young people, artists and campaigners who work together to produce creative responses to social injustice – just back from the Allied Media Conference in Detroit – they will facilitate a conversation about media justice. @voicesthatSHAKE
Numbi Arts A platform for collaborative cross-cultural exchange between artists working in theatre, visual arts, music and film. Publishers of literary magazine Scarf. @numbiarts From Numbi we'll be joined by:
Mr Gee – poet & radio presenter. Co-Founder of Chill Pill Poetry night, host of Radio 4's "Bespoken Word" & "Rhyme & Reason". Poet Laureate on Russell Brand's Radio Show. @mrgeepoet
Mrsnmelmi – A young aspiring poet, who has been writing poetry since the age of 16. She is currently working on launching an online e-magazine called 'Candid Rose'. @mrsnmelmi
Salwa Osman – Salwa started writing at the age of 14. She writes about various topics, majority of her pieces are abstract allowing the readers to interpret in whichever way befits them. She has performed at universities, workshops and slams over the past few years. @Iambic__
Abukar Elmi – A recent economics and public policy graduate, with an appreciation for creative expression. Abukar has recently started performing at universities and workshops.
Afrikaspoet – Afrikaspoet started writing at the age of 17 in both English and Somali. She uses social platforms to share poetic pieces. She is a lover of cultural vibes, traditions and expresses that love through different forms of artistry, she aspires to write up an anthology of her best pieces in the future. @AfrikasPoet
Elmi Ali – Elmi is a writer, performer/facilitator based in the North-West. He writes poetry, short fiction and for the stage. His performances have been received in venues across the country from the Power House Library in Mosside to The British Library. His latest work is published in Sable 15 and Critical Muslim 13 respectively. He facilitates Voicing It, a weekly Creative Writing Lab at Contact Manchester and is associate editor at Scarf Magazine. @LegendaryNomad