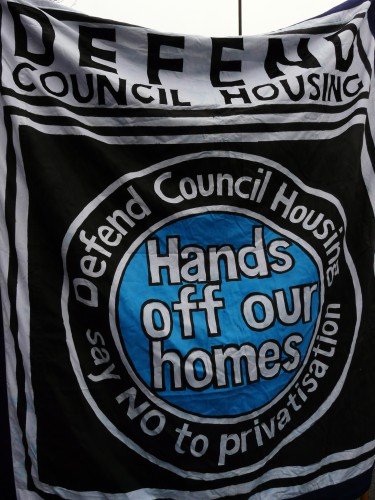 Nothing demonstrates more the ideology of the government than the measures in the Housing and Planning Bill, now proceeding through parliament on its way to the statute book. Put simply the bill aims to rid the country (well England and Wales anyway) of two Tory "bête noirs"— social housing and council housing, and at the same time, asserting that home ownership has a higher morality and is more deserving than social renting.
The bill expresses concisely the views of two important Tory think tanks/special interests — the Home Builders Federation (HBF) and the Policy Exchange. The HBF have got the government to abandon the long standing obligation to provide affordable housing as part of their developments (known as section 106 agreements), while the Policy Exchange has achieved its goal of 'the end of council housing' by cleansing the word 'social' from housing provision, while all other housing has been rebranded as 'affordable'.
The bill has gone through the House of Commons committee stage untroubled by widespread protests from housing groups or by opposition amendments. It is now in the House of Lords, but the Tory majority in the Commons will wave it through with little change.
The bald facts of the bill are as follows. The right to buy will be extended to housing association homes, affordable rents will be capped to prevent local authorities having the money to build, and 'high value' council homes will be sold off. If a family in a council home earns more than £30,000 p/a they will be required to 'pay to stay', i.e. pay more rent, estimated to affect 215,000 tenants. Not stopping there, the bill restricts council and Housing Association tenancies to 2-5 years — wrecking the neighbourhood role of council housing.
If local authorities are unable to sell homes perhaps because of local circumstances, they will nevertheless be required to make payments to the Treasury under assumptions that a certain percentage of high value homes can be sold.
Moreover, local authorities will be required to 'promote' the provision of 'starter homes' instead of affordable homes to rent. Starter homes are homes for sale priced at up to £250,000, except in London where the limit is a remarkable £400,000. Starter home buyers will be given a 20% subsidy on the price paid to developers by the government. These homes do not stay in the low cost home ownership stock; they can be resold after a few years or used for buy to let. It goes without saying that there will not be many first time buyers who can afford to get a deposit on £250,000 homes, let alone pay the mortgage. In any case, there is already a scheme for first time buyers called help to buy, so why starter homes as well? There is no doubt, it is to help out house builders and landowners who do not want their profits limited by obligations for a percentage of affordable housing.
There is more. The government is going to undertake a 'housing delivery test' on local authorities to ensure they are making enough land available for developers. They are also considering what punitive measures they will take if not enough houses are being built in a local authority area. Despite the rhetoric of 'localism' from government ministers, no local variations or circumstances are permitted, and the bill gives the secretary of state yet more powers to intervene in local authority planning, even in so-called neighbourhood planning.
Calls at the bill committee stages for exemptions for special needs housing, or co-operatives or community land trusts or rural housing have been dismissed. This is hard line stuff, with a strong ideological intent. 'Evidence based' policy or 'we will consult on these measures' do not come into it.
Protest is widespread. Even the Tory dominated Local Government Association is critical, saying 'many social housing tenants across the country will be unable to afford market rents'. The London Tenants Federation and Federation of Housing Cooperatives have called on the House of Lords to block the bill in its entirety because of its disastrous consequences for those in housing need. Shelter, the housing lobby, has described the measures in the bill as 'the most significant in its history'. It has called for a rejection of forced sales of council homes, and of short term tenancies, and calls for a guarantee that receipts from homes sales are used for replacement council housing in the same local authority area. But these protests are falling on deaf ears in government and the property lobby — indicating the scale of the battle ahead to create a housing system based on need and not profit.
Photo: Lox Pycock/Flikr
Bob Colenutt is a former community planner and local government regeneration manager. He is currently leading research into new housing development.
National Demo Against the Housing Bill Sunday 13 March, London