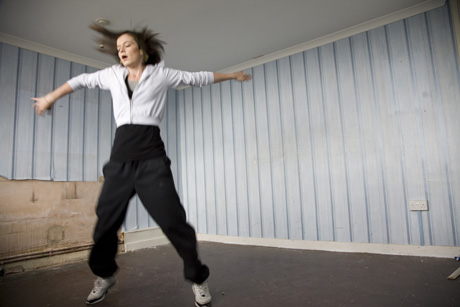 For an aficionado of British social realism, Fish Tank (2009) is a bittersweet achievement. Andrea Arnold's celebrated coming-of-age drama, set on an Essex housing estate, is a raw, pleading film. Focusing on working-class Britain, it offers an urgent portrayal of complex family relations. Its success is pleasing. A few years ago, this kind of film was extinct and filmmakers like Arnold were in danger of dying out. Yet the singular praise it received highlights how far social realism has become a marginal cinematic practice where it was once a dominant form.
It has not been abandoned entirely, but the imperative has changed. British social realism no longer implies a filmmaking style and narrative based on socialist principles and critiques of pervasive class divides. Instead, the genre has come to prioritise entertainment and voyeurism – and the British working class still lacks cinematic representation.
Kitchen sink to commercial interest
The popularity of the genre is tied to political context. It is rooted in John Grierson's 1930s documentary movement, which aimed to use film as an ideological weapon to combat political apathy and encourage democratic cohesion post-Depression. Early social realist film was defined by Marxist perspectives. Genre-defining films such as Tony Richardson's Look Back in Anger (1958) and Lindsey Anderson's This Sporting Life (1963) aimed to expose the effects of capitalism on troubled, working-class characters and assert socialism as the only solution for its narrative themes – unemployment, poverty, racism and exclusion. For all its prolific urgency, however, 'kitchen sink' realism was short lived and cinema audiences' interest in British working-class existence waned during the 1960s.
The 1980s saw a renaissance, as Channel 4 sought to extend the representation and range of typical television characters and topics to include marginal groups and issues in society. The channel's head of fiction, David Rose, was highly influential. As BBC head of drama, Rose had produced Play for Today throughout the 1970s and worked with Ken Loach and Mike Leigh. His Film on Four productions both reflected and opposed the political hegemony of the decade. Stephen Frears' My Beautiful Laundrette (1985) and Chris Bernard's Letter to Brezhnev (1985) are typically anti-Thatcherite, critically illuminating the social impacts of government policy.
Channel 4 had been able to establish itself with socially provocative films via funding from levies paid by ITV companies. Under the 1990 Broadcasting Act, however, the channel effectively became a commodity. Desire to innovate and the need for advertising sales were at cross-purposes and as the commercial imperative became the paramount concern, content was compromised.
The New Labour effect
More profound changes occurred during the New Labour years, during which the three main independent film funders – FilmFour, the BBC and, in particular, the UK Film Council – increasingly operated to support substantially profitable transatlantic films. Privileged scripts sold America a sanitised, white, upper-middle-class version of England, which had been a hit in Four Weddings and a Funeral (1994). In Notting Hill (1999), the true ethno-social composition of a particular part of London is knowingly misrepresented in order to fit the mould.
Thus encouraged, filmmakers produced work from a liberal, middle-class perspective for liberal, middle-class audiences that was occasionally about, but not for, the working-class. Reflective of Blair's mandate for a classless society – which, paradoxically, meant assimilation into a middle-class one – and supported by ministers riding a populist, sanitised wave of 'cool Britannia', films such as Billy Elliot (2000) became well-publicised, roaring successes.
The allegation that liberals view social realist films like intellectual issues in abstract thought raises questions about whose interest a narrative serves. Billy, a young Tynesider aspiring to be a ballet dancer against the backdrop of the 1984-85 miners strike, must ultimately relocate to the middle-class south to live happily. His embourgeoisement implies that working-class culture is incapable of nurturing a desirable mode of existence.
Black filmmaking was also co-opted into New Labour ideology, where a hegemonic version of what it is to be black British was fixed by accordingly compartmentalised arts funding. In Saul Dibb's Bullet Boy (2005), for example, interesting, oppressed characters are presented without exploration or moral critique of the institutional system that produces their economic and social hardship.
While the work was celebrated as diverse, urban and worthy, black people arguably became the mere subjects of white middle‑class imaginations. Ethnic minorities featured, but did not strategise, reinforcing beliefs that issues raised in the film are cultural as opposed to political. This has a marginalising effect that seems to reinforce, rather than ameliorate, the otherness of the subjects, often conforming to media stereotypes and their obsession with gun crime. In the 1970s and 1980s, black filmmakers had used documentary realism to attack hegemonic media portrayals of black British behaviour in films such as Pressure (1975), Babylon (1980) and Territories (1984). These contrast significantly with Bullet Boy, which was suddenly aggrandised as culturally valid.
The derogatory representations of the 1980s have only become more sophisticatedly expressed. Black film is once again in need of an effective political alignment, and consideration must be given to whether social realism offers a more appropriate cinematic and sociological strategy than current race relations discourses.
The new imperative
British social realism is not just about portraying the working class in motion, taking hand-held cameras to the nearest council estate, or even a certain vernacular. It is the collective idea, and the lived experiences that proceed from this. It is about refocusing attention on the oppressive political and social frameworks that embolden coalition Britain and how these affect the troubled working-class characters we view. In our current context, it is not impossible to imagine a return to a cinema that has such a vital social role.
Already, there is a rising awareness about the lack of realistic working-class and ethnic minority representation in film. Directors such as Andrea Arnold and Shane Meadows (This Is England) are presenting characters conventional British cinema usually chooses to ignore, deny or patronise. Along with Ken Loach's continued work, they represent the more credible, contemporary cinematic efforts to address social issues.
Yet Loach, who has demonstrated remarkable fidelity to socialist beliefs in his treatment of the working class, while enduring censorship and funding battles, remains the only practitioner at his level to take this approach in his films. Other filmmakers of a social realist persuasion need to make clear where their commitments lie, accompanying stated commitments to working-class representation and social reform with appropriate cinematic choices. They must defend their visions against commercial interest.
Art flourishes in times of austerity, and filmmakers now have fertile ground to make narrative-based comment. It is appropriate to contend that working-class films and stories must emerge most strongly at times of socio-economic distress.
Any renaissance in socio-political imperative focused social realism will be tempered, however, by financial pressure on the UK film industry. As the industry waits to see the film funding mandate handed to the British Film Institute by the coalition, the recent international success of films such as The King's Speech (2010) and An Education (2009) may herald the return of British heritage film.
In terms of reviving the commercial viability and success of British cinema, these films have their place. Whether this will be paralleled with a body of films reflective of the re-emergence of working-class politics and visibility remains to be seen. The BFI, the BBC, FilmFour and Creative England can contribute by empowering those who are willing and able to meaningfully confront social inequality on screen. That they find the conviction to do so is in the interest of British cinema and society.
Read this alongside Siobhan McGuirk's potted history of British social realism.