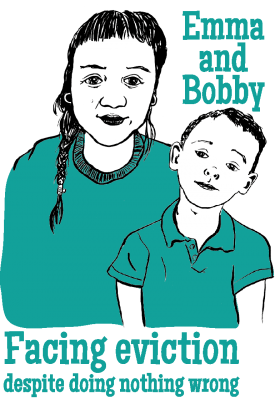 I am a renter in the private rented sector and this is the story of my experience.
At the beginning of 2011 we moved into our flat, my little one was 16 months old and it was our first home. We tried living in a shared house for the first year of his life but it didn't go so well, it took us a little while to find our home but with the help of a back payment of a benefit, my son's paternal grandmother as a guarantor and housing benefit we were able to claim it as our own. Our flat cost just under £1200 a month but we were tentative about making it our own, putting up pictures and getting plans for the balcony as we didn't really know when we would have to move out.
Every year 2 to 3 months before my contract is due to be re-signed I start to get low level anxiety. Is this it? will we be asked to leave? will they put the rent up? by how much? Will we pay it? will we be able to pay it? Where else can we go?
And for 4 years, after a couple of months of anxiety it was always okay. In the end the rent only went up by £40 over 4 years while around me the market rents went up by between £200 and £400 a month.
At the beginning of this year my letting agent didn't get in touch to re-sign the contract. I have been really worried that this was the year the increase would come. The first couple of months I was on tenterhooks wondering what would happen. I saw every month I didn't hear as a month I had saved at least £200. After a while I started to think that maybe they had forgotten about me and relaxed a little.
At the end of June the phone rang, the name of my letting agent came up on the screen of my mobile. I froze not sure what to do. When the phone stopped ringing I was shaking. Oh shit this is it… What is the increase going to be? Will I be able to find the money? will there be room to negotiate the rent increase down? I prepared myself for the next call, I would pick it up, I was ready, I was going to pay, I waited. The next phone call never came.
Eight days later I got a letter informing me that my landlady wanted to move into the property and this was my two months notice.
A Section 21
no negotiation
no warning
£54,000 paid in rent
then eviction.
I have been a model tenant. I have paid my rent without fail every month. I have maintained the property. It is the only home my son has ever known. It is our home.
When I was a young single person I was flexible. I lived all over London and my friends were spread all over. I moved every 9 to 12 months and assumed that when I wanted to settle down I would be able to choose to, and that would be an option that was available.
When you have a child the place where you live takes on a new importance. Everyone we know, everything we do and all of our support networks and community are within a 10 minute walking radius from our flat. My son has been in school for over 2 years now, and he loves it. I have a job that gives me the flexibility to work around him. We have neighbours, activities and people who we rely on and are part of the routine that is so important to the stability of my son's life.
Once I received our eviction notice I started to look for another flat within walking distance or a single bus route to my son's school. The cheapest two-bedroom flats on the market in Hackney are £1400 per month. Local housing allowance (the housing benefit the government will pay for this area), is capped at £1310 a month. That's short at least £100 even at the very bottom end of what is available. I found one or two cheaper properties and started making phone calls.
The first question I was asked on the phone was, 'do you work?' Yes. 'Do you work full time?' For the first time in my my life I can answer yes. 'Who is the flat for? How old is your son? How much do you earn?' The biggest amount I think I can claim to earn in a year is £17,000. 'Oh I am sorry you need to be earning at least £37,000 a year to rent this flat' '£41,000' '£42,000'! I explained that I receive housing benefit to top up my rent and that I have a UK guarantor who will guarantee the rent plus I can get references from my current landlord to confirm I pay my rent. I am shot down every single time. One letting agent told me they don't take guarantors for any of their properties. 'The landlord had a bad experience with tenants on housing benefit and won't take any anyone on DSS any more', 'Its those people that don't pay that are ruining it for the rest of you', and one landlady even told me it had been a stipulation of her leasehold from the freeholders that she won't rent to anyone on housing benefit.
I was not contacted by my letting agent during the 2 month period of the notice except once to be asked if there was a phone line in the property. On the date my eviction notice was up I got a call from my letting agent asking if I was moving out. I had to explain that haven't managed to find anywhere else yet and it was proving much harder than I had expected.
I was told that my landlord's son was expecting to move in that week and had even started getting sky TV, that was why they wanted to know about the phone line. I was even accused of making the person they had found to move in with them homeless(!). I apologised and explained I was trying.
Even my letting agent who knows that I am a reliable tenant cannot find a landlord who is prepared to let their property to me.
We are a single income family and I am at the start of my career so my earnings are still low. Though at least I can earn. I am not disabled, sick, a carer or long-term unemployed. I am on a 'career path' and I have the potential to earn more in the future. What about those trying to support their families on minimum wage jobs they work 40 hours a week?
And yet we are now facing the very real prospect of becoming homeless and having to go into temporary accommodation despite being willing and even able, with the help of housing benefit, to pay the exorbitant rents charged.
All I want is a home, somewhere I can tell my son this is where we live, this is where you can grow up and this is where you can learn how to face the world. As a private renter I don't know if I will ever be able to offer this to my son.
My landlord can buy a property with the intention of letting it out. Take on the responsibility of giving us a home in exchange for large sums of money and profits and when he wants it back for his personal use he can take it back without a thought for where we are going to live or the possible consequences, including how much we may end up costing the taxpayer.
In Hackney the amount of money spent by the council on homelessness has doubled in the last five years. The biggest reason for homelessness now is people being evicted from the private rented sector. If you can't get a home in the private rented sector, there isn't any social housing available and you don't have access to the capital needed to even consider buying a house, where are you supposed to live?
I am still in my property. I know my rights. I joined Digs over two years ago and two weeks before I got my eviction notice I did tenants' rights training informing me that I had the legal right to stay my property until the date time and date on the bailiff warrant issued by the courts. This has been a humiliating and dehumanising experience. It has caused me a lot of stress and sleeplessness but I want to take this and turn it into a fight.
What is happening to me is legal. It is legal to make my family homeless and to take away my home, that I pay a lot of money for, away from me at a whim because someone else, who has more than me already, wants even more than they already have.
Digs is a group that supports and empowers Hackney renters and together we are organising and fighting to end this terrible system that sees property as profit and doesn't see people at all.
Our Demands are:
End Section 21 and no fault evictions,
Yes DSS! The end to the discrimination of people on housing benefit,
Stop unregulated letting agents who can charge whatever they want in fees,
Bring back fair rents,
The end to a housing system that puts profit over the creation of secure homes.
Make the private rented sector a viable place to live!
Emma, with the support of her fellow Digs members is fighting her eviction. She has a court date in December and hopes to prove that the original eviction notice was invalid. An eviction notice doesn't mean you have to move out straight away, especially if you are struggling to find somewhere else to live, have a look at this private renting mythbster.
For more information and support on these and many other issues, contact Digs and come to along to a meeting. Digs is part of the Hackney Eviction Resistance Network. If you are facing imminent eviction and want support resisting, ring 07494018466.
*Emma and Bobby's names have been changed to protect their identities.