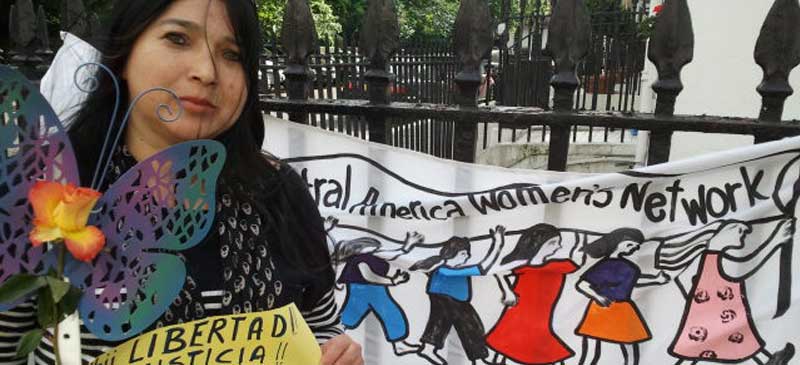 Activists with flowers staged a solidarity protest at the Salvadoran embassy in London on 17 June, against the imprisonment of 17 women for up to 40 years – for the 'crime' of pregnancy difficulties. The jailed women arrived at public healthcare facilities after suffering a miscarriage, stillbirth or other obstetric complications.
Each was prosecuted for aggravated homicide, based on a constitutional amendment that decrees life begins at conception. The government has imposed a total ban on abortion, even to save women's lives, or following rape.
The demonstration took place amid calls for the El Salvador government to pardon them. In April the Citizens' Group for the Decriminalisation of Therapeutic, Ethical and Eugenic Abortion submitted 17 requests for pardons to the legislative assembly.
The UK-based Central America Women's Network organised the rally and handed in a protest letter as the legislature prepares to make the first round of decisions over appeals.
The women are known by their first names – Alba, Carmen, Cintia, Ena, Evelyn, Guadalupe, Johana, Maria, Mariana, Marina, Maritza, Mirian, Mima, Salvadora, Teodora, Teresa and Veronica. All are from low-income backgrounds and could not afford legal advice.
SPOT LAS 17 from las17 on Vimeo.
They were denied their rights to due process, a presumption of innocence, a standard of reasonable doubt and effective legal defense. Prosecutors failed to present any evidence that the women had committed any offence, or had any responsibility for the deaths of their foetuses or newborns.
It is thought that a high number of abortions are carried out by private health providers with no legal repercussions. But this leads to severe health consequences in many cases and continues to be one of the main causes of maternal mortality in the country.
Last week the UN Committee on Economic, Social and Cultural Rights urged El Salvador to review its anti-abortion policy. After hearing reports from civil society groups, it recommended the law should be made 'compatible with other fundamental rights such as health and life of the woman, as well as with their dignity.'