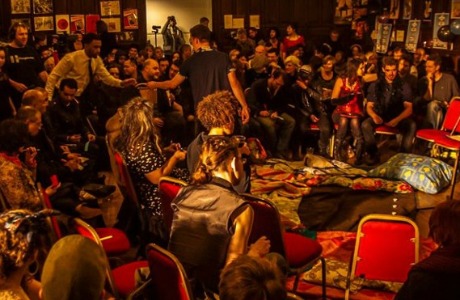 The Edge Fund supports groups that fight for social, economic and environmental justice and favours groups that seek redress imbalances in wealth and power. It also invites these groups to have a say in where the money goes.
Out of 334 applications, those to receive funding in the first round include Disabled People Against The Cuts, Million Women Rise, Foil Vedanta, Fitwatch, Fuel Poverty Action; and 8 April Movement. Each received a cash grant of around £2,000.
Democratising philanthropy
The Edge Fund aims be as open and transparent as possible, breaking down the power structures that usually exist between funders and applicants so that people are making decisions on an equal level.
To that end, applicants were invited to meet on Saturday to be involved in the decision making process that would conclude the first round of funding.
Set up nearly a year ago by a group of donors, activists and members of communities facing oppression and injustice, the Edge Fund encourages small donations from those who can afford it. This way they can act in solidarity of the many, rather than the more typical grant-giving structures that enact the generosity of the few.
Edge Fund Community Outreach Worker, Dan Glass said 'It is an elite few that have control over our world who attempt to divide us and set us against each other whilst hoping we don't notice them orchestrating everything to benefit themselves. To create an equal society we need to bring an end to this massive imbalance of power. So far there has been very little funding available for this work'.
The second round of funding has just opened with a deadline of 22 April 2013. The fund is also calling for donations from small and large donors.