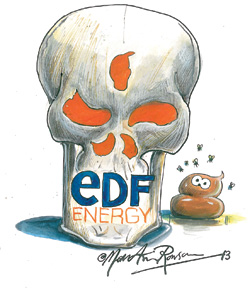 French-headquartered EDF is the world's second-largest electric utility company, with operations spanning Europe, Africa, the USA and Asia. EDF's main revenue stream comes from generating electricity through nuclear power, which accounts for 74.5 per cent of its production. Renewable energy makes up just 0.1 per cent of its portfolio. Founded in 1946, it was a state-owned company until floating on the stock market in 2003. It had an annual turnover of £65.2 billion in 2010 and 5.7 million customer accounts in the UK, where revenues rose 6.4 per cent to £8.4 billion in 2012. It is the country's largest electricity generator and distribution network operator.
EDF Energy's parent organisation, EDF Group, operates the largest civil nuclear fleet of power stations in the world, with existing and planned facilities in France, the UK, the US and China. EDF Energy owns and operates 15 nuclear plants at eight nuclear power stations in the UK.
Even by the low standards of the 'big six' (the six largest energy companies in the UK, which supply 99 per cent of homes), EDF compares badly. Energy regulator Ofgem reported that it was the most complained about of the big six last year. It received 8,072 complaints for each 100,000 customers in the last three months of 2012 – more than double the 4,001 logged for the next most complained-about firm, Npower. The total complaints numbered 440,317 – more than 1,200 per day.
EDF also performs poorly on carbon emissions – it has the second lowest portfolio of renewables of the big six, spending just £1.6 billion on renewable energy since 2006.
2011 was a bad year for EDF. A French court fined the company £1.3 million and sent two of its staff to jail for spying on Greenpeace anti-nuclear campaigners. Two private security company employees hired by EDF were also jailed and Greenpeace was awarded £430,000 in damages.
In the same year, Freedom of Information requests by Green MP Caroline Lucas revealed that EDF, alongside other companies such as Npower and Centrica, had at least 50 employees working within the government on energy issues over a four-year period, including drafting energy policy. The Department for Energy and Climate Change declared 195 ministerial meetings with energy companies and their lobby groups compared to just 17 with green campaign groups. This gives them a huge amount of influence over day-to-day government decisions and access to confidential information.
Also in 2011 the company's website was brought down three times by Anonymous. The attacks cost EDF an estimated £140,000. Then, in October 2012, its new flagship combined cycle gas turbine power station at West Burton, in Nottinghamshire, was targeted by 'No Dash for Gas' climate activists, who shut it down for a week. The new plant will emit approximately 4.5 million tonnes of CO2 per year when operating at full capacity – more than the annual emissions of Paraguay.
Sixteen activists occupied two 80-metre chimneys at West Burton for seven days to protest at plans to build up to 40 new gas-fired power stations and make gas the UK's primary fuel for the next 30 years. This dangerous and dirty pursuit would crash the UK's carbon emission reduction targets, breaching legally binding undertakings, and raise fuel poverty and reliance on imported fuel.
The No Dash for Gas activists pleaded guilty to aggravated trespass in February and await sentence on 6 June. In the meantime, EDF slapped an unprecedented civil suit for £5 million on the protesters. This was seen as an attempt to bankrupt protesters and stifle future dissent. EDF's profits last year alone were £1.7 billion – their £5 million damages claim amounts to just one day's profits.
The tactic, labelled 'reputational suicide' by PR sustainability guru Brendan May, proved a disaster for EDF. In an embarrassing climbdown, the company decided to drop the lawsuit after 64,000 people signed a petition against the action, Naomi Klein recorded a video declaring 'I Am No Dash For Gas' and high profile figures such as actors Mark Ruffalo and Lucy Lawless, Noam Chomsky and Margaret Atwood pledged support. Though EDF dropped the damages claim, it still insisted on an injunction preventing the 21 activists from entering EDF power stations in the future. A protest at the company's AGM has been announced for 1 May.
No Dash for Gas: www.nodashforgas.org.uk. Illustration by Martin Rowson