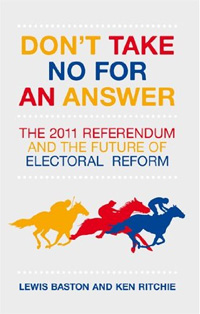 Baston and Ritchie offer 'an indictment of a poorly run campaign, fought at the wrong time and on the wrong issues'. It is far from clear that any campaign could have succeeded under the conditions facing the Yes campaign in the 2011 AV electoral reform referendum. However, they are right to suggest that a combination of a deeply flawed strategy and unforced tactical errors surely compounded the scale of the defeat.
The mistakes were legion. Perhaps the nadir was when the Yes campaign's advertising agency (the cost of whose services ran well into six figures) suggested touring the country with a gigantic 'pin-striped arse' which voters would be given a chance to kick. But this lunacy was just a symptom of a wider malaise.
Senior strategists failed to recognise that the target demographic was specifically those most concerned about their local representatives, often people with strong existing political allegiances. Instead, the Yes campaign (whose core activists would inevitably have been drawn mainly from this same group, if they weren't too busy campaigning for their own party's candidates) tried to project itself as the voice of people alienated from precisely these structures. Its messages were designed to appeal to those most cynical about politicians, and hence likely to be most cynical about the prospects of political reform.
The resulting impression was not an authentic 'people's campaign', but rather the disingenuous creation of a left‑liberal bubble, obsessed with celebrity endorsements from people like Stephen Fry and Joanna Lumley. Its literature was bereft of content, making claims that were excessive and lacked credibility, and alienated many potentially supportive MPs – precisely those whose support would influence people turning out to vote. In short, an object lesson in how not to run a referendum campaign.