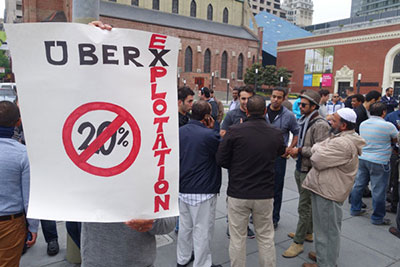 Since its inception in 2012, Uber has operated on the fringes of regulation, thumbing its nose at legislative practices established to govern both the taxi and private hire industries.
However, these appear to not have been the reason behind Transport for London's recent decision to relicense the $70 billion corporate multinational. Instead, the licensing authority deemed the company to be 'not of fit and proper character' to operate within the capital.
To the uninitiated – and 3.5 million users of Uber – this appears somewhat opaque. A symbol of the archaic governance of an industry in the grip of the city's 25,000 London black cab drivers, perhaps?
But to those of us working within the industry it is the basis of a key pillar: passenger safety.
Regulations and safeguards
Since licensing in 1998, the private hire sector has steadily risen to legitimacy, accompanying the licensed hackney carriage trade in London. The fundamental difference between the services is that taxis (black cabs) can be hailed off the street or from a taxi rank. The private hire service is required to be 'pre-booked' and so is not permitted to accept hirings directly by prospective passengers. Uber is licensed as private hire.
The distinction is born out of a system where a licensed taxi driver is regulated to a higher standard (Enhanced DBS – Disclosure and Barring Service – checked) and has undergone a rigorous character assessment by way of the 'Knowledge of London' examination, an extensive learning process that simultaneously determines an individual's suitability over a period of years.
On the other end of the spectrum, a private hire driver isn't required to undergo any assessment and can apply for a license by way of an administrative application (and only in recent times has Transport for London made it a requirement for drivers to undergo DBS checks). The safeguard is that, by working via an 'operator', a record of the journey has been taken and despatched, providing safety for the passenger.
As a private hire operator, Uber are required to undertake 'pre-bookings' in line with regulation set out by the licensing authority (in this case Transport for London). However, in its pursuit of total market saturation, Uber has expedited process and cut corners, ultimately at the expense of the safety of the travelling public.
As set out in Transport for London's letter to Uber, the company has shown 'a lack of responsibility' in reporting complaints of serious criminal offences made by passengers against drivers. It had also chosen to circumvent Transport for London's DBS check system in favour of its own choice, and 'streamlined' its drivers' medical applications by procuring the services of GPs not registered with the General Medical Council.
This is brought into sharp focus when we remember the tragic incident in 2015 of a bin lorry careering into pedestrians, killing six people in Glasgow. An inquiry found that this was the result of a driver concealing medical records from his employer that showed he suffered from blackouts.
Exploitation
Uber's practices could be summarised by comment made by the former Labour MP for Hartlepool and chair of parliament's business committee, Iain Wright, who in 2015 described the company as 'a seedy backstreet minicab firm'.
Its not only its operational duties that Uber flouts. In 2016 members of the GMB union and United Private Hire Drivers (UPHD) took forward an employment tribunal against the company that found its drivers were entitled to statutory employment rights under 'worker' status – not deemed self-employed, as professed by Uber.
In both cases, testimonials from drivers claimed an average rate of £4.86 per hour (consider that the wage for a basic standard of living in London is £9.40) and the need to work prolonged shifts, over 12 hours, under extreme fatigue before recovering their costs on fuel and vehicle maintenance.
It is the culture of worker exploitation and disregarding of licensing regulation that allows Uber to provide the cheap service that has made it popular. That's why the decision by Transport for London to not grant Uber's private hire operator's license is welcomed by RMT and the wider taxi industry.
Yet the clamour of public outcry on the decision appears to overlook the facts laid out. To the ardent free-marketeer this is an attack on 'consumer choice' and 'innovation'. Any regard for the workers is scant, despite cynical concerns of the plight of the existing 40,000 drivers.
To the ostensible champion of social justice the reality proves an annoyance, an inconvenience. Previous held beliefs that the gig economy represented a model society that is connected, integrated and egalitarian may be starting to fade. The true face of Uber is one of monolithic aggression that disregards any obstacle to profit.
Fit and proper? Not a chance.
Lewis Norton is secretary of RMT London Taxi Drivers' branch.