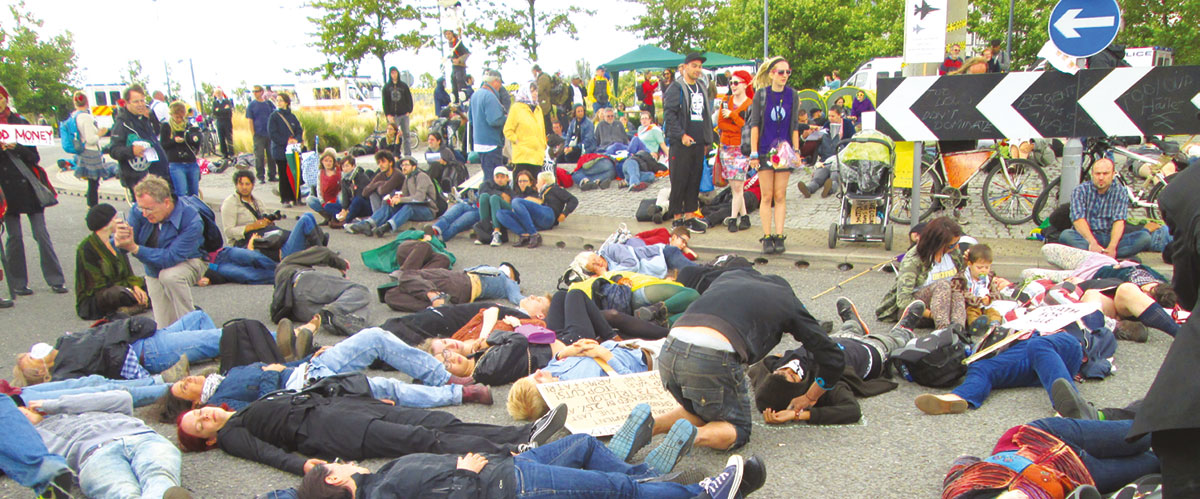 Hundreds of people form a blockade at the gates of the last arms fair at the Excel Centre. Photo: CAAT
This September will see one of the world's largest arms fairs rolling into London, as the UK plays host to Defence and Security Equipment International (DSEI). The biannual event will bring thousands of arms companies' representatives together with mercenaries, generals and military delegations from some of the worst dictatorships in the world.
The guest list for this year's event has not been released yet, and won't be until it starts, but among the delegations in 2011 and 2013 were a whole range of brutal and authoritarian regimes, including Saudi Arabia, Bahrain, Qatar, United Arab Emirates and Libya. Six of the countries in attendance in 2013 were at war at the time, and nine were listed as among those with 'the most serious wide‑ranging human rights concerns' in the government's own Human Rights and Democracy Report.
The companies they met with were every bit as bad. They included BAE Systems, which has a long history of arming dictatorships, MBDA, a missile company that armed Colonel Gaddafi, and Raytheon, whose bombs have been used against Palestinians. Despite Israel's brutal attacks on Gaza last summer, it will host a pavilion to market its 'battle-tested' weapons.
Secrecy not scrutiny
If there's one thing the organisers hate, it's scrutiny. That's why the gathering always takes place in secret, hidden behind heavily protected security fences and police lines – designed to allow arms dealers to trade their wares unhindered by transparency or public protest. Journalists are closely followed throughout, and some, like Jason Parkinson from the Guardian, have been removed for asking tough questions.
Unfortunately the organisers of this carnival of the grotesque will be supported every step of the way by the government. Government ministers will be key to the promotion of DSEI. So will UK Trade & Investment's Defence & Security Organisation (UKTI DSO), a 130-strong government department that exists solely to help arms companies to sell their products worldwide. UKTI DSO is responsible for coordinating the presence of Ministry of Defence officials and military representatives, as well as inviting international delegations.
These arms sales are not just numbers on a spreadsheet; they have deadly results. We always hear about how 'rigorous' and 'robust' the UK's arms export policy is claimed to be, but nothing could be further from the truth.
Last summer the then business secretary Vince Cable admitted it was likely UK weapons had been used in Israel's attacks on Gaza. Similarly, at the time of writing, UK weapons are being used in the ongoing Saudi bombing campaign against the people of Yemen.
Brave campaigners
Over recent years UK equipment has been linked to crackdowns and human rights abuses in Hong Kong, Bahrain, Egypt and Kuwait. The only reason that any of these allegations have been made public hasn't been because of any openness on the part of the government or the arms companies; it is because of the brave work of journalists and campaigners on the ground.
It is because of their bravery that we need to take action. When DSEI took place in 2013 it was met by thousands of activists. Entrances were blocked in a day of action that meant weapons needed to be turned away. This year there will be a whole week of action in the run-up to the arms fair with the aim of stopping it from setting up and even taking place.
Events like DSEI can never be legitimate or acceptable. Not only do they strengthen the UK's ties to dictatorships and entrench the government's role as a global arms dealer, they also provide credibility for some of the most authoritarian states in the world. Most importantly, they put weapons and surveillance equipment in the hands of abusive despots and send out the message that human rights and democracy are less important than arms firms' profits.
DSEI is set to return to east London on 15-18 September 2015, and activists are already working to stop it. For more information about how you can take action against DSEI, visit stopthearmsfair.org.uk