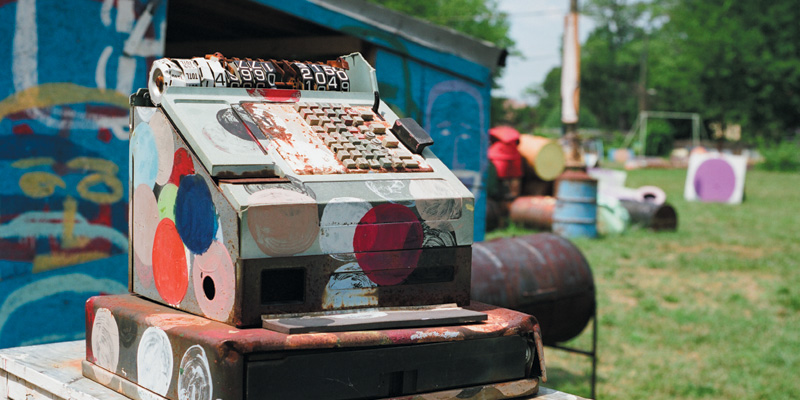 The Heidelberg Project, an outdoor art exhibit across two city blocks made from discarded materials by artist Tyree Guyton.Photo: Santosdo/Wikimedia
In an age of duality, where a city is deemed bankrupt for some, yet flourishing for others, where technology isolates the elders while empowering the youth, where the food system starves its people of nourishment while contributing to their obesity, and where the criminal justice and educational systems abuse their citizens under the guise of protective service, it is imperative that we not only reimagine the system in its entirety, but that we identify and acknowledge the roles we play as contributors to it.
In Detroit, electoral politics has failed a predominantly black city. Black people continue to fight for inclusion, but no matter who is elected or what their colour, the interests of black people will never be at the forefront. When a country is built on white supremacy, its cities often become tools for that larger construct.
The story of Public Act 4, better known as the 'dictator law', demonstrates that it's counter-productive to chase fires with no strategy for eliminating the arsonist. The 2011 bill significantly expanded the state of Michigan's power to examine a city's finances, declare financial trouble and take over by appointing an 'emergency manager'. Among other powers, that manager can dismiss elected leaders, outsource services and alter union contracts.
Two million Michigan voters struck down Public Act 4 in a referendum last November. But conservative governor Rick Snyder acted fast to resuscitate the spirit of the law, signing Public Act 436 in December. The revised version ensured that a voter referendum is no longer possible.
Managing the people
Unless Snyder and those like him are removed from their hierarchical thrones, the will of the people will be ignored. Snyder and his dictator at large – Detroit emergency manager Kevyn Orr – apparently subscribe to diarchy rather than democracy, considering their two voices the only ones worth listening to. It's not clear what powers are still available to elected leaders, but the mayor and city council have remained mostly silent through this tumultuous time.
Besides the obvious fact that 'emergency management' is a racially motivated phenomenon, with more than 80 per cent of the appointments being made in predominantly black cities, the practice is without a successful track record. Rather than improving the economy, emergency managers have sold off assets, stripped cities of their vibrancy and left places such as Flint and Pontiac, Michigan barren of services, resources and jobs.
'In Pontiac, we didn't run out of money until the emergency manager came along,' said Shawndrica Simmons, secretary-treasurer of the Metro Detroit AFL-CIO union federation, at the People's Forum in Detroit in August. She pointed out that Plante Moran, a large accounting firm receiving government contracts, has also failed to perform its stated function. 'They've been placed in Pontiac and they've been in Detroit public schools for over 20 years. So, if you're paying somebody to watch the money, how did somebody take the money?'
Though Orr was appointed as Detroit emergency manager for 18 months, his reign could have lasting impacts: threatening city workers' pensions and union contracts, increasing healthcare costs for short-staffed police and fire departments, and eroding citizens' morale. In July, Orr filed a much publicised bankruptcy for the city, just minutes before pensioners were to have their day in court to protect their livelihoods. Judge Rosemarie Aquilina halted the bankruptcy filing, which she said violated Michigan's constitution. But a US bankruptcy court soon reversed her decision, halted three pension lawsuits from workers and retirees, and ruled that the bankruptcy court would from then on have sole jurisdiction. Apparently, dictatorial tactics are not limited to Orr.
Detroiters disagree over whether or not to throw in the electoral towel. The recent primary election for mayor has caused a split among black voters, leading to a low turnout that the media were quick to spotlight and criticise. Rather than take the stance that people should be afforded not a mandate but a right to vote, the media have insulted them for their choice not to participate in a system that doesn't serve them.
This is not a new pattern in the US, where revolutionaries and freedom fighters have long struggled against a system plagued with corruption and racism. Many black leaders who have challenged endemic problems have been pursued relentlessly. Former Black Panther Assata Shakur was targeted by the FBI's notorious COINTELPRO programme and spent four years in prison where she faced sexual violence and solitary confinement. Now living in Cuba under political asylum, she was targeted again in May when the agency added her to its 'most wanted terrorist' watch list. In an open letter 20 years ago, Shakur emphasised: 'Nobody in history has ever gotten their freedom by appealing to the moral sense of the people that were oppressing them.'
The oppression I'm referring to in Detroit may not be as blatant, but the structures that existed to destroy black leadership and black cities still exist today. We have been coerced into believing that the more we contribute to an oppressive system, the more we can get out of it. It's become easy to label people who are creating better systems for themselves, outside the confines of government, as lazy or indifferent.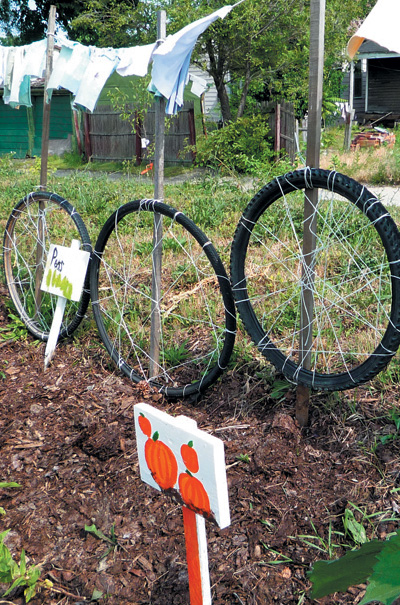 Earthworks Urban Farm in Detroit, which provides food for a soup kitchen. Photo: Jessica Reeder/Wikimedia
New vision
In reality, many people in Detroit are nurturing a new vision for their city. They are growing their own food at urban farms and residential gardens such as D-Town Farm and Feedom Freedom Growers. People are reshaping what it means to be in a community through co-operative living, time banking and other efforts that rely on self-organisation. They're building water catchment systems and windmills to make services available to those in poverty while preserving the environment.
The days of not knowing your neighbours because of an individualistic American Dream are ending, with restoration of neighbourhood block clubs and peace zones designed to engage neighbours in all aspects of their communities. Moreover, Detroiters have envisioned space to nurture the inherent talent in young people, while taking into account their lived experiences. The Nsoroma Institute and the Boggs Educational Center use 'place-based education' to develop the leadership of students and young people.
Detroit 2012 and Detroit 2013 were initiatives I coordinated, in conjunction with the Boggs Center, to bring together visionary organisers from across the globe for two weeks in 2012 and for three weeks in 2013. Working with each other, we broadened our thinking and strengthened our resistance to what philosopher and lifelong activist Grace Lee Boggs, now 98, calls 'extreme right-wing forces, systemically attacking our most basic values and most cherished rights and responsibilities'. We considered how to nurture our inherent leadership. Topics under discussion included food and land security, turning war zones into peace zones, creating a student movement, place-based education, class and race. Initiatives like these should be happening around the world, because the structures that seek to destroy democracy in Detroit are not isolated to Detroit.
The current climate makes films such as We Are Not Ghosts by Mark Dworkin and Melissa Young especially important. The city is overrun by complacent elected officials and vulture capitalists. They'd rather strip Detroit of her inevitable rebirth and build soulless storefronts than respect the commitments of people who eat, sleep and breathe Motown. While the media routinely misrepresent the city, Dworkin and Young's film reveals the true fervour of small business owners, community gardeners, activists and artists who have committed to seeing the city they love through to its full rejuvenation. Detroiters have and will continue to prove their resilience through visionary work. We Are Not Ghosts, as titled by poet Jessica Care Moore, is more than just a title, it's an affirmation.
Tawana Petty is a mother, organiser, author and poet. For more on her work, visit www.detroit2012.org. View the trailer to We Are Not Ghosts.