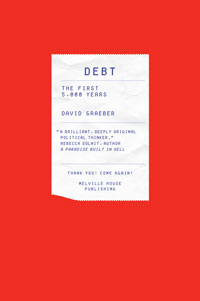 The title of David Graeber's epic new book sums up the extent of his ambition: to re-ignite grand historical theory, using anthropology, history, philosophy, politics and psychology to undermine the founding myths of capitalism.
Graeber was inspired to write the book after trying to explain why 'third world debt' should be cancelled. Why is the idea that 'debts must always be repaid' such a strong moral imperative that it seems perfectly acceptable that 'the loss of 10,000 human lives is really justified in order to ensure that Citibank wouldn't have to cut its losses on one irresponsible loan that wasn't particularly important to its balance sheet anyway'?
Over the next 400 pages, Graeber answers this question by showing us the great span of history, and our attitudes towards power, honour, sex, cruelty and much besides, through the lens of debt and money.
Graeber begins by demolishing the 'myth of barter' – the idea that money was devised to replace this more cumbersome means of exchanging goods. He proposes something more radical – that 'money' is about a way of thinking that was absent from early society. Using anthropology he suggests that ancient human behaviour reflected a far wider range of emotions and rationales for giving and receiving objects. There was exchange but not based upon the idea that 'one thing is roughly [equally] valuable to another thing'. Rather, something might be given on the basis, for instance, that someone else needed it, that the giver had too much, or that it was the giver's duty towards their lower status 'client'.
These ideas of early human morality were incredibly difficult to break down and then only by the most violent means. A first sign of this might have been the subjection of women: women being 'given' in marriage, virginity becoming a tradeable commodity. It finds its culmination in slavery, which brought concepts of debt, money and 'quantification' to large parts of the world.
Ripping people from their social context was at the core of this transformation and 'violence, or the threat of violence, turns human relations into mathematics' again and again through history.
The earliest form of money, for Graeber, was debt – for instance, running up tabs to buy ale that could be repaid at harvest time. But debt only works if there's trust, hence within communities. Perhaps unsurprisingly, coinage was first devised at a time of expansion, violence and uncertainty around 800–500BC, driven by powerful ruling entities, for whom it provided a neat way of paying soldiers in times of war and then re-collecting coins through taxes.
Although the slave trade might be (mostly) confined to history, it has left a lasting legacy: 'Our sense of morality and justice is reduced to the language of a business deal.' A brilliantly elucidated example is the way the liberal philosophers of the enlightenment turned the notion of freedom – which to ancients meant to be anchored in a community, to be a citizen – into the idea that you can 'do what you like with your property'. Indeed, 'it treats rights themselves as a form of property'. To ancients, wage labour was slavery. To moderns, it becomes simply renting your property.
For most of history, according to Graber, most people have been debtors, and it is this that has fuelled most popular struggles. He argues that while people who are said to be inferior to others might not be pleased with the idea, notions of natural hierarchy have not caused armed revolts in the way that debt has. The slogan of revolutionaries through the ages has been to 'cancel the debts and redistribute the land'.
Graeber believes we can understand opportunities for change by examining that shape of history. In the second half of the book, he takes us on a historical tour of the development of society, bringing remarkable insights into how and why capitalism took the form it did.
Graeber doesn't tell us what solutions might look like, beyond the need to resurrect the idea of 'jubilee' – a period of debt cancellation dating back to before ancient Babylon. The jubilee was a time when those who had been enslaved to repay debts were freed, and land that had been sold was returned to its original owners. Graeber suggests, as my organisation has long argued, that such a process – while it will involve a lengthy struggle – will help towards an emotional and spiritual renewal, allowing us to question our relationships with each other and our planet.
Certainly Graeber's book has shortcomings. At times it is difficult to see a pattern in the argument, until the author explains how to interpret his case studies. At others he pushes interpretation beyond credulity, and an anecdote from an anthropologist talking to a hunter-gatherer takes on enormous weight. But even those who leave the book disagreeing with his narrative will find it impossible not to be excited by the audacity of his ambition or struck by the insights he offers.