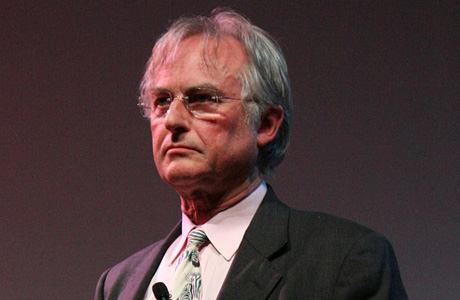 Richard Dawkins. Photo: Shane Pope/Flickr
Richard Dawkins, professional atheist and Twitter provocateur, has branched out beyond his recent foray into Muslim journalist-baiting to offer his recommendations for parliamentary reform. Following Labour ex-minister Frank Field's call for the new Archbishop of Canterbury to give up the 25 seats the Church of England appoints to the House of Lords, and have the seats awarded instead to people from civil society, Dawkins burped out a series of tweets saying that these seats should be given to scientists and other 'elites'.
'Replace Lord Bishops by (elected) heads of Royal Society, British Academy, Roy Coll Physicians, Royal Academy etc,' he tweeted, adding: 'I want to be operated on by elite surgeons, flown by elite pilots, have my car fixed by elite mechanics. Why not elite electors of Lords?'
Each of these colleges of presumably godless elites would select their own representatives to the upper chamber, a suggestion that was met with a chorus of approving retweetage from the atheist brigadier's amassed troops of skeptics, secularists and science fans.
Who decides?
However fond of science and evidence one may be, it should be simple to spot the problem here. Who chooses which colleges of elite experts, scientists, technocrats? Perhaps we could have an expert panel that has an expertise in choosing experts. But then how is that expert panel chosen? Perhaps there are experts in expert panels that have expertise in choosing experts. One way out of this infinite regression is that grizzled old idea, democracy.
Dawkins is not alone these days in his greater faith in elite experts than in lumpen voters. The crisis response of the European Union has been to hollow out democracy and put in place new institutional mechanisms that remove fiscal policy-making from elected chambers and place it in the hands of unelected technocrats, central bankers, judges and diplomats instead.
As they could not be trusted to push through the necessary austerity and structural adjustment in the face of popular opposition, elected leaders have been thrown under the bus in Greece, Italy and Portugal by EU powerbrokers. And across the European periphery, 'troika' wonks are flown in to superintend governance. Without experts at the reins, Brussels says, electorates will keep voting themselves ever deeper into debt.
This elite anti-political stance – encompassing a fear of 'excessive' democracy, contempt for ordinary people and a faith in experts – is just the contemporary expression of an older distaste for taking democracy too far that dates back to the revolutionary republican upheavals that followed Dawkins' beloved Enlightenment. Kings may have been overthrown or cowed by the insurgent Enlightenment-reading bourgeois, but that was as far as it was supposed to go.
Upper houses – Senates, Bundesrats, Chambers of Peers, Councils of State and so on – were all intended as wiser, wealthier, more knowledgeable checks on what US founding father James Madison described as the 'fickleness and passion' of lower chambers. They are in essence houses of republican nobility. (And, in the House of Lords, actual nobility, but its bicameralism is defended for the same reasons.)
Two Enlightenments
As one of the world's leading historians of the Enlightenment, Jonathan Israel, has documented, there were in fact two Enlightenments: the moderate Enlightenment of Rousseau, Newton and Kant that embraced science and secularism but made its peace with or defended established power; and the radical Enlightenment of a hardier bunch inspired by Baruch Spinoza, the 'prince of philosophers', who went further, targeting the injustice of the entire social order and demanding democracy, equality and what we now call human rights.
There is much to be celebrated in the arrival in recent years of a popular militant secularism and cheering of science and reason. From the youthful Skeptics in the Pub groups popping up across the country, to homeopathy overdose die-ins, to the popularity of 'science comedy', it is hard to be curmudgeonly about a revival in Enlightenment thinking when Louisiana schools are teaching that the Loch Ness Monster disproves evolution.
But there can also be at times something a little bit sneering and, well, elitist, about bits of this 'movement', the same attitude that inheres in the affinity of Dawkins and his followers for a scientised House of Lords, that democrats amongst the geeks would do well to try to excise. There is insufficient effort at understanding why people might embrace religion, New Age mumbo-jumbo, or alternative medicine, and occasionally a smug dismissal of the dumb, unlettered mass of humanity. Is this not the contemporary analogue of the moderate Enlightenment, an elitist rationalism comfortable with illegitimate power and disdainful of ordinary people?
Another famous haranguer of religion, Karl Marx, understood religion to be a protest against real suffering, and that the struggle against religion is pointless without a struggle against a political economy that requires religion as its analgesic. His frequently over-shortened quote, that religion is the opium of the people, continues: 'The criticism of religion is, therefore, in embryo, the criticism of that vale of tears of which religion is the halo. Criticism has plucked the imaginary flowers on the chain not in order that man shall continue to bear that chain without fantasy or consolation, but so that he shall throw off the chain and pluck the living flower.'
A House of Lords with 25 extra godless scientists is still a House of Lords. The living flower would not have been plucked.