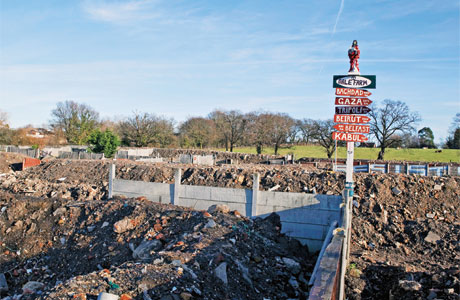 Photo: Rehmat Rayatt
Mary Sheridan is a 37-year-old mother of four who has lived at Dale Farm in Essex – the UK's largest Traveller community – for the past 12 years. Along with other Dale Farm families and their supporters, she was involved in resisting the action by Basildon Council to forcibly evict them from the land that they own. With nowhere else to go since the eviction in October 2011, the displaced families have been living in precarious, crowded and unsanitary conditions next door to their former homes. They now face the threat of another round of evictions.
Why did you first come to Dale Farm?
I came to Dale Farm when my first child was born 12 years ago. Growing up there was ten of us but there's only four of us can write. I really wanted my children to read because of that. And the only way to get them to read and write is to have them settled. You can't travel any more anyway – the police don't allow you to travel, the government don't allow you to travel.
I never thought ever that we'd be removed from Dale Farm because it wasn't a green belt – that's just a lie covering up prejudice. It was a scrapyard, and how can they call a scrapyard greenbelt land? I thought I'd be there forever and so would my kids. A lot of people used to say 'why do you want to stay together?' But that's what a community is: it's one big group of people who love and trust each other and don't want to be parted. It really was the perfect world to bring your children up.
What was it like during the two months leading up to the eviction?
When the activists came to Dale Farm, it was the first time settled people actually took our side. And I think that was the best thing that came out of what we went through; though we lost where we live, we made good friends. The reason why we stood is because ye stood.
I definitely have no trust in the law, police or judges. There wasn't one judge that said to Basildon council, 'After all this length of time, did you help any family?' Tony Ball said there were too many Travellers in Essex. If he said that about any other culture, he would be thrown out of government but if you say it about Travellers you can get away with it.
What was the day of the eviction like?
When I think back to the day of the eviction, I says how did they get away with that? I look at Hitler and I think: oh God, how come there was no one to stand up and say no one could do that? But I know our kids and other people in 20 or 30 years' time, they're going to say how did England let that happen? That was the worst thing I've ever been through. The fear I had in my heart was something I'd never in my life felt. The morning of it I was running with my baby. I will never forget it. I think the police were an absolute disgrace.
I think it will make history though. We don't have a place to live – but I think other councils will look at things differently when they're trying to evict people and try to find a solution. We did it for all Travellers.
What do you think should happen for Travellers?
The law needs to recognise the rights of Travellers. Any Traveller trying to find planning permission can't get it. Everyone is pushing you aside, pushing you onto the next place. Once you're not stopping on their doorstep, it's alright. And that's not a human way to be living or to treat people. They'd rather evict us, instead of sitting down and saying, 'This is a problem and we need to sort it. If they can't live there, then they need to live somewhere.'
I think that's where Basildon council went horribly wrong – instead of trying to help travelling people, they just tried to get rid of them.
The Traveller Solidarity Network is involved in ongoing work with Travellers, Roma and Gypsies to fight discrimination and resist unjust evictions. For more information and to get involved, visit www.travellersolidarity.org