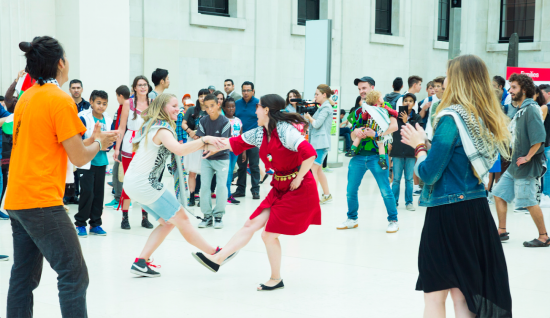 Last weekend, on the first anniversary of the latest Gaza massacre which killed more than 2000 Palestinians, thirty dancer-activists brought the public to a standstill inside the heart of the British Museum and in a central London Barclays bank using traditional Palestinian dabke dancing.
As activists, many of us are used to marches, protests and occupations. We were thrilled to be part of the recent 'Block the Factory' action to shut down the 'Elbit' arms factory, but using dance as a form of protest and occupation to challenge 'business as usual' was something new for a lot of us and we felt it was surprising, hilarious and a great learning experience. It was also incredibly heart-warming to see so many people from Palestine and our allies in the UK rehearse Dabke and bring the brilliance of Palestine to life. Whilst we didn't shut down the Barclays branch and stop the financial engineering of the illegal Israeli occupation we did learn a lot of how to surprise these institutions and throw them off their guard – skillfully and beautifully. They are used to dealing with A-B style protests and occupations, but we are keen to now see how Dabke dance could be used even more forcefully, critically and beautifully to stop business as usual.
The targets
The dancer-activists entered both sites and intervened in business as usual as a form of solidarity with the Palestinian cultural resistance against settler-colonialism, imperialism, ethnic cleansing, occupation and apartheid. The action was also organised In support of the Palestinian civil society call for a campaign of boycott, divestment and sanctions (BDS) as the most effective way of international solidarity.
Barclays was targeted as it is a named shareholder in several major arms firms including Raytheon, Boeing, and Lockheed Martin whom all play a key role in Israel's brutal massacres of Palestinians and in the proliferation of drone technology across the world, and is helping Israel to construct and maintain its illegal apartheid Wall.
The British Museum was chosen to be highlighted as it represents the symbol of British Colonialism and we wanted to come at the heart of the empire. Not only are the most precious and sacred artefacts inside the museum stolen or illegitimately acquired, but we wanted to remind the public about Britain's role in the start of the Zionist Project and its continuing support of the illegal Israeli neo-colonialist occupation of Palestine today. History shows that on September 11, 1922, ignoring Arab outrage, the British government proclaimed a mandate in Palestine, a follow-up to the 1917 Balfour declaration, which imperial Britain issued, with its army massed outside the gates of the city of Gaza.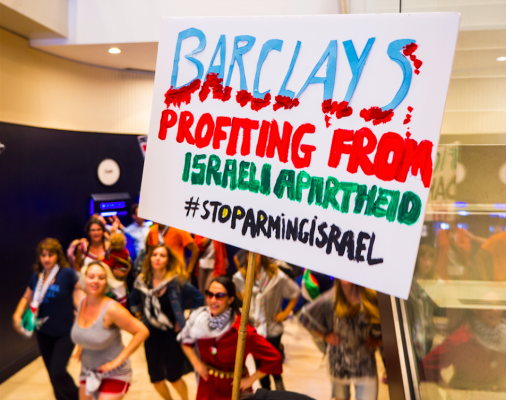 Cultural resistance tells another narrative
Cultural resistance tells another narrative about Palestine. Dabke is a representation of solidarity and cooperation, a symbol of steadfastness, love for life and determination. It is a form of art through which Palestinians express joy and gratitude to each other, and also to their land. Our message is simple: come dance with us, we will lock arms together and stomp the ground in a folkloric performance that is crucial in understanding the Palestinian identity and experiences. Cultural resistance tells another narrative about Palestine and overturns the 'occupation of the mind'. When we see graffiti art, read a Darwish poem, listen to a DAM song, watch performances by the Freedom Theatre or enjoy a Dabke dance by El Funoun – we see individuals, cultures and stories. Once stories are heard, denial of their existence is impossible.
The Dabke Flashmob on the anniversary of the Gaza massacre is only the start of a series of actions throughout the year that will contribute to bringing awareness of the Palestinian national identity. The second flashmob is planned together with our friends from Stop the Arms Fair as part of their day of action on Saturday 12th September at DSEI arms fair at ExCel (2), the world's biggest arms fair.
Training for Transformation Palestine
This programme of cultural resistance was organised with the support of Al Zaytouna Dance Theatre. It is led by Training for Transformation Palestine in collaboration with many incredible art-activist pioneers including Friends of the Freedom Theatre UK. Training for Transformation (TFT) Palestine is human rights activism empowerment programme facilitated by some of the world's leading popular education facilitators to build strength in overcoming the illegal Israeli occupation.
Training for Transformation (TFT) Palestine is human rights activism empowerment programme facilitated by some of the world's leading popular education facilitators to build strength in overcoming the illegal Israeli occupation. We are currently training activists, educators and organising fundraising programmes across the world to make this programme a reality. Participants will learn with the world-renowned Training for Transformation (TfT) movement born out of Steve Biko's 'Black Consciousness Movement.' The project aims to bring together activists from across Europe, Africa and their counterparts in Palestine. Participants will have the chance to reflect on the societal processes and personal voyages and gain tools to engage critically with popular education as activists to transform society. The training for transformation programme is aimed at activists who have spent a considerable time mobilising their community in the West Bank, Gaza, Jerusalem and historic Palestine.
In order to achieve our aims we believe in tackling the 4 occupations in Palestine simultaneously. These are (1) The Israeli occupation of land and water (2) The Palestine Authority (PA) occupation of people on the grounds free­will (3) The developing occupation of NGO culture in Palestine which suppresses grassroots activism and and fundamentally (4) the occupation of the mind.
In the spirit of Steve Biko from the 'Black Consciousness' Movements quote 'the biggest weapon in the hands of the oppressor is your mind' ­ to achieve the creation of true empowerment and a skill-set to overcome oppression in all it's forms. If we are to oppose great injustices we need to use all the weapons at our disposal – until the task is done. Bring on the dabke …
Dan is part of Training for Transformation Palestine. To find out more visit www.tftpalestine.org or if your organisation would like to be added to the list of supporters please email palestinetft@gmail.com