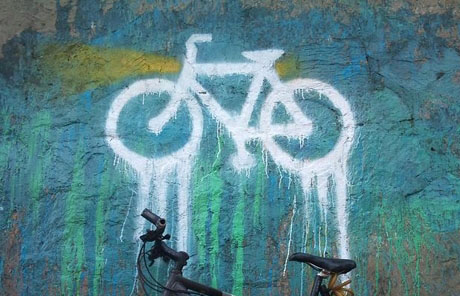 Commuting in Kathmandu is difficult, at best. Taxis are extortionately priced, buses are overcrowded, and the city is big enough that walking is often impractical. Increasingly, people are turning to bicycles as a remedy. Proponents are now emphasising the positive effects of cycling in terms of ecology, Nepali independence and improving safety on the streets. It is a dangerous, yet remarkably political mode of transport.
Unlike campaign groups that focus on the macrocosm of global climate change, Kathmandu Cycle City 2020 focuses on the city itself. Member Shail Shrestha describes Kathmandu's air as 'unimaginably polluted', but adds that this pollution is caused by those who can afford private transport, while those who can't are affected most – witness for example the many Nepalis who live in shacks on the ring road, a highway that leaves passers-by coughing from the fumes of cars, buses and motorbikes.
Kathmandu Cycle City 2020 sees its campaign as rallying against social inequality. As another member, Rajan Kathet, says: 'The "have nots" have always been victimised by the "haves".' Shrestha believes that Nepal can set an example for other countries to follow: 'If a developing country does this [promotes cycling], it could be an example for countries that pollute.'
Nepal is currently in the midst of a fuel shortage. Schools, small businesses and organisations are struggling to get fuel for their vehicles. There are mile-long queues at every petrol station. Nepali independence activists claim that fuel dependency on neighbouring India is inhibiting progress in Nepal. The fuel shortage is caused, they claim, by deficit and corruption within the Nepal Oil Corporation, which is entirely dependent on the Indian Oil Corporation—to which it is in debt. In order to eradicate this debt, the Nepali Oil Corporation last week announced they would add 10 Rupees (approximately 9 pence) to every litre of fuel sold. Even in UK terms, this is no small amount. It would make fuel unaffordable for many Nepalis. Fortunately the decision was reversed following a Kathmandu-wide strike at the end of January, led by 13 of the city's Students' Unions.
Many social organisations in Nepal talk about 'improving the country' in terms of making it fuel-independent. The strike action only implies a general consensus that greater sovereignty would be beneficial. Kathmandu Cycle City 2020 is instead keen to 'do action'. It deems cycling to be the best way to move away from fuel dependence. Indeed, in the context of a fuel shortage, cycling is being increasingly recognised as a cheap, accessible and non-polluting way to keep the city operating. Cycling in Kathmandu has become synonymous with freedom.
Yet safety remains a major concern. Just a few months ago, the revered wildlife conservationist, Dr Pralad Yonzon, was killed whilst cycling on the road in Kathmandu. Refusing to be scared off by the number of accidents, Kathmandu Cycle City 2020 held a rally to promote better visibility and to encourage more people to use bicycles instead of motorbikes.
Although bicycles are in fact generally safer than motorbikes in Kathmandu, they are seen as less fashionable among younger Nepalis. Shrestha explains that, 'there is an idea that people who cycle are those who can't afford [motor]bikes'. By highlighting the number of deaths on motorbikes compared to those on bicycles, the group are hoping to challenge this belief.
Promoting cycling on such dangerous streets is the first hurdle that the group have to overcome. On January 11, the group gained one of their first wins. Following extensive lobbying by activists, the government announced that they intend to build cycle lanes on all roads over 22 metres wide. Meanwhile the number of cyclists in Kathmandu has risen since the start of the campaign.
The group's main aim is that Kathmandu becomes a bicycle-friendly city by 2020. Along the way, they are making a real difference to regular people's lives and to Nepal as a whole. With advocates like Kathet and Shrestha, it won't be long before more Kathmanduites will, as the group's motto says, 'ride with pride'.
Find out more on Kathmandu Cycle City 2020's website.