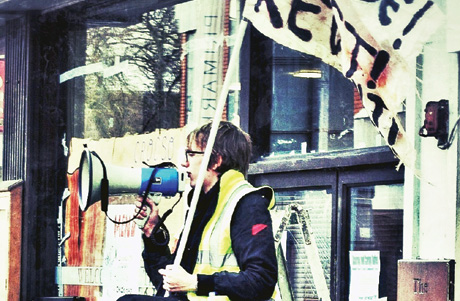 Photo: Sync Speed Photography
In January, a fledgling community group opened the first in a series of squatted social centres in Swansea. Naming themselves Cwtch, the Welsh word for cuddle, most of the group met during Swansea's Occupy protests, but from day one they were a movement in their own right.
'Not everyone in Occupy Swansea wanted to do a social centre,' recalls 57-year-old activist D Murphy. 'So we kind of split our meetings into two: we would have an Occupy meeting and then people would drift away and talk about the social centre.'
They began by squatting the abandoned Dolphin hotel in the city centre, after gaining access through an open window. Just one day later they'd transformed the 66-room hotel into the Cwtch Community Centre. There was a donations-optional café, a freeshop and room to relax and hold workshops.
Cwtch has found strength in the variety of people involved. 'There's one local businessman who was there from the beginning. There's a university lecturer and I'm an office manager . . . I've made a wonderful new friend who's 17; it's cut across all kinds of boundaries,' says D.
Cwtch has keenly promoted the centre via its own videos, on Facebook and in the mainstream media too. Its transparency has helped attract a diverse range of Swansea residents. At the Dolphin hotel many different people could be found enjoying a cup of tea, or browsing the library, including young families and homeless people.
Homelessness is a serious problem in Swansea. More than 15,000 people sought council help for homelessness in Wales during 2011, up 11 per cent on the previous year. The highest number of homeless as a percentage of the population is in Swansea.
Cwtch's aim has been not just to provide shelter for the homeless but to highlight the lack of provision for homeless people. 'Considering the wealth of finance we're supposedly stopping by running a free arts café, you'd think they could provide more than a single emergency bed for the homeless of Swansea,' comments Rev, another member of the organising group.
The hotel's leaseholder, UBS, acted quickly and an interim possession order was obtained, bringing the group to court on Valentine's Day. D says the courts were surprisingly sympathetic: 'When he [the judge] was handing down [the verdict] he said if he had any discretion in the matter he might have come to a different decision.'
The group had 24 hours to clear the building. 'We were standing on the steps and it was so beautiful, we put a thank you sign on the window and we were out and moved into another building,' says D.
This other building was the JT Morgan department store. But on entering it became clear there was no electricity as the copper wiring had been ripped out, so it was used as an arts space for students from Swansea Metropolitan University.
Cwtch was swiftly evicted, but had already found another large city centre space. This time they'd been invited to join an already-squatted former old people's home, which they named Surfsmor. 'It was a place called Earlsmoor which is due for demolition,' explains D.
Cwtch does not have a clear set of political aims. As with the Occupy movement, the emphasis is on process, bringing people together and providing a space for them to talk and think. 'I think what makes us so successful is that we build community, and it's something people are starved of these days,' says Rev. 'Whether it's chilling in a café or doing some graft, people like other people.'
Despite being popular with the Swansea public and attracting considerable press interest, the Cwtch activists again found themselves being served with eviction notices. After three evictions they have decided to take a break to plan for the months ahead and consider their tactics, although they briefly established a community garden.
D says the group has different views on the importance of the squatting aspect of Cwtch. For half of the group establishing the social centre was key but for the others the act of squatting was just as crucial. Cwtch's persistence in squatting large city centre buildings has placed pressure on the council to justify why so many buildings are lying empty.
'I very much believe in squatting,' D says. 'I think it's a really fundamental right. It's interesting that we've moved into buildings and suddenly they're about to be used imminently. I think it's shaken people up.'
A new law is due to ban squatting in residential buildings, but Cwtch's tactic of squatting large, non-residential properties will be unaffected.0
D says the future looks exciting. 'The spirit of Cwtch is very strong still, so I think that come summer Swansea is in for a few surprises.'
Keep updated on Cwtch at www.facebook.com/CwtchCommunityCentre