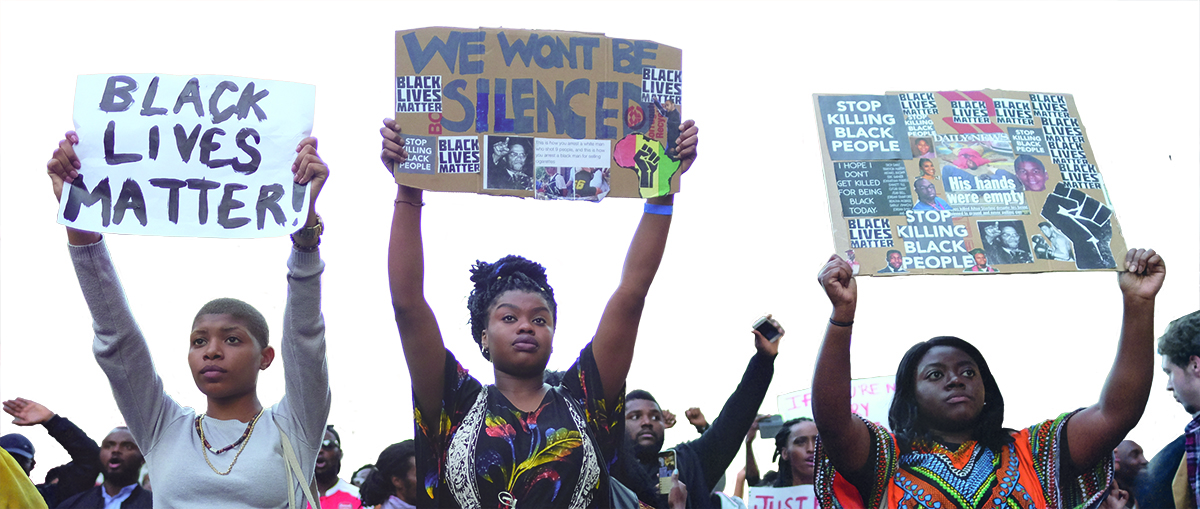 Black Lives Matter protesters at London's Oxford Circus in July. Photo: Alisdare Hickson
On Friday 5 August, the M4 to London Heathrow airport, the A45 to Birmingham airport, Nottingham city centre and other transport hubs were shut down by activists chanting 'Black Lives Matter'. This all started with a love letter to black people written in 2013 by Alicia Garza, a black queer woman and US trade union organiser. Garza was reacting to George Zimmerman's acquittal at the Trayvon Martin murder trial. Along with two other queer black women, Patrisse Cullours and Opal Tometti, they coined the phrase and founded the movement. The broad experience of anti-black racism is shared across the Atlantic. We see ending anti-blackness not as an African-American struggle but a global one.
Black Lives Matter UK is a network of British based black and anti-racist activists. Together we work in collaboration with the US co-founders to build a UK movement against systems that produce disadvantage and then disproportionately place it on black people. We want more than equity within existing structural deprivations – we want to abolish structural disadvantage altogether. The 5 August shutdown was in response to the crisis facing black people living in the UK.
This crisis against black lives is persistent and pervasive in the structures and institutions of British society. Anti-blackness affects our liberties, education, employment, living standards and even our mortality. Black people are more likely than other ethnic groups in Britain to be stop-searched, detained, arrested, prosecuted and convicted. Prosecution and sentencing rates are three times higher than for white people and black people receive harsher sentences. This systemic anti-black violence has led to England and Wales having a greater disproportion of black people in prison than the US. And like our US counterparts we are more likely than white people to face a violent death at the hands of the police.
Black people's experiences of racism are not monolithic; they are gendered, classed, ableist and further varied. In education, black children are three times more likely to be permanently excluded than the rest of the pupil population. In employment, young black people are twice as likely to be unemployed as young whites and black workers with degrees earn 23 per cent less on average than white workers. Structural violence against black people is a British tradition that prompts a black radical tradition of organised resistance. As Frantz Fanon said, 'We revolt simply because, for many reasons, we can no longer breathe.'
Leon Patterson died in the custody of Greater Manchester Police in 1992. Before his death, he was held naked on a stone cold floor in a police cell without a mattress or a blanket. The police doctor who examined him failed to notice prior to his death that he had over 30 wounds to his body. The family campaign led by his twin sister and United Families and Friends Campaign co-chair Stephanie Lightfoot-Bennett is still battling for the truth and awaiting accountability 24 years later. We will be supporting UFFC's annual march to Downing Street on Saturday 29 October. Without justice, there is no peace.
Our strategy involves working with existing campaigns and where necessary developing new local groups into a collective force. This is a black-led movement to create a world where black lives matter. We do this by putting black women, queer and marginalised experiences at the centre of our activism. Only when this society values their lives can we start building a world where all lives truly matter.
Support our work and get involved – we welcome supporters from all genders and backgrounds. Sign up at: bit.do/BLMUKeList and follow us on Facebook, Instagram and Twitter @BLMUK