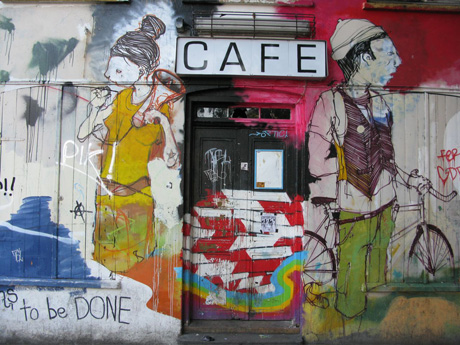 It is hard not to be impressed by the sheer number of radical cafés, bookstores and social centres in Copenhagen. Despite its relatively small size (approximately one million residents), the city has at least a dozen different radical centres, not including the semi-autonomous area of Christiania, which is currently fighting a last ditch battle with Denmark's right-wing government to stop the state reclaiming the area and selling it off to property developers.
This huge infrastructure is not a recent development; a fascination with the idea of fristeder (free places) has long been a dominant tendency in the Danish radical left. This tendency dates back to the squatters' movement, the slumstormere, that developed in the 1960s. This died down after the authorities allowed squatters to live in the buildings they had occupied until they were demolished, but it has been revived in recent years.
Despite this background, radical centres in Copenhagen tend not to be squatted buildings. Tough laws make squatting difficult, while there are many legal alternatives for groups attempting to establish a space. On the one hand, many former squats still have plenty of space that can be repurposed for new projects, while on the other, it is possible to get grants from government cultural funds for radical social centres and other such projects. All of these different spaces have something to say about contemporary and historical radicalism in Copenhagen.
It's well worth getting a bike to visit Copenhagen. It is one of the best cities in the world to cycle in and its wide bike lanes and sensible drivers offer a welcome relief from the perils of cycling in more car-centred cities. Unfortunately, it is hard to find bikes to rent and the city-bikes provided for tourists are clunky monstrosities, designed to be as unattractive as possible to steal.
Any radical tour of Copenhagen starts in Nørrebro. Historically a workers' quarter and later a home to the squatters' movement, it is now rapidly being colonised by an array of raw food restaurants, posh cafés and gourmet beer bars. Despite this development, Nørrebro is still studded with left-wing outposts.
A good place to start is Demos, an anti-fascist bookstore in a prime location on the corner of the now uber-trendy Sankt Hans Torv with a good selection of books, magazines and t-shirts. The shop is run by an anti-fascist collective, who publish a magazine of the same name.
From here, one can walk ten minutes down the road to Cikaden, a café, library and bookstore run by the International Forum, a group that organises international solidarity work. There you can browse the library, buy a souvenir t-shirt, or have a chat with the activists on duty. The building next door is the headquarters of the Socialist Youth Front. On a typical Friday evening passers-by might be greeted by the sounds of pop music and heated arguments about the Spanish Civil War.
At this point, it might be worth taking a break for a coffee at Café Under Konstruktion (CuK), on the ground floor of Folkets Hus (The People's House). Open five days a week, CUK was started as part of the wave of activism that followed the eviction of the Ungdomshuset (Youth House) autonomous youth centre in 2007. During weekdays it offers a relaxed atmosphere for meeting friends and hanging out, without the price tag attached to most café culture, while on weekends there are often concerts and film showings. On a Sunday, you can get your bike fixed at Cykelværkstedet 71, a cooperative bike workshop also on the ground floor of Folkets Hus.
After a coffee, it might be worth buying a few flowers on Nørrebrogade and walking to Jagtvej 69, the site of the evicted Ungdomshuset. The building that formerly stood at Jagtvej 69 was first built by the workers' movement in 1897, and functioned as a headquarters and social centre for the labour movement, hosting dances and boxing matches, as well as speeches by guests such as Vladimir Lenin and Rosa Luxemburg.
In 1982, the then-derelict building was gifted to the squatters' movement by the city council for use as an autonomous youth cultural centre. For nearly 30 years it functioned as a concert venue and a home for Copenhagen's 'autonome' movement.
However, in 2007, after a protracted court battle and failed negotiations, the building was evicted by a huge force of police and torn down to prevent it being re-occupied. Riots lasting several days broke out across Copenhagen. Despite thousands of arrests, the police failed to kill the movement and a year later the city council offered the youth a new building as compensation.
This new building is located at Dortheavej 61, in the Nord Vest area, further out of town. It's well worth paying a visit, either for the excellent vegan People's Kitchen on Thursday evenings, a concert during the weekend, or simply to hang out and read a book in the well-stocked library and bookstore.
Also in Nord Vest are two other recent additions to Copenhagen's radical cityscape, Bolsjefabrikken (The Candy Factory) and Ragnhildgade 1. Both are non-profit and non-commercial cultural centres run with support from city cultural funds. Ragnhildgade 1's Thursday cafe is a good place to finish the day with a few beers after the vegan dinner.
You can start the next day with a falafel at one of Nørrebro's many kebab stores before heading down to Christiania, the now legendary autonomous community. Christiania was founded in 1971, when squatters occupied a derelict military barracks close to the harbour. Since then, it has been run collectively by weekly general assemblies, although its existence has continuously been threatened by conflicts with the state over their right to use the area.
The first thing that strikes the visitor to Christiania is the thriving trade in hash and weed on Pushers Street. Walking a little bit further on, you can stop at Månefiskeren for a coffee or continue on for a walk around the lakes. Despite its centrality, Christiania is one of the most beautiful areas in Copenhagen. Trees and plant‑life are allowed to prosper and the area is bounded by water. The architecture is also worth admiring; the majority of residents live in repurposed military buildings, but there are also many new houses, which are often interestingly designed.
On another note altogether, Copenhagen's Frihedsmuseet (the Freedom Museum) is an interesting spot to spend an hour or two. The museum documents the history of the Nazi occupation during the second world war and the resistance movement against it. Most interesting for lefties will be the exhibition about the Folkestrejke (People's Strike), a strike movement against occupation and government collaboration. Also of note is the Danish people's remarkable success in helping Jews to escape Nazi persecution.
The museum is located right next to a large section of well‑preserved fortifications from the 17th century. Formed in the shape of a pentagram, they were originally built as a defence against Sweden. They later proved singularly useless in defence against the British navy, which responded to the Danish refusal to enter an alliance against Napoleon by seizing the Danish navy and firebombing the civilian population.
All-in-all, Copenhagen is a great spot for a bit of radical tourism. The radical left's long love affair with free spaces and independent culture means that there are plenty of interesting places to see around the city. Foreign activists might also use the opportunity to think about the role of free spaces and 'autonomous culture' in radical politics: are they a necessary part of a revolutionary movement or a distraction from the real struggle? Are they a model for a better society or a Neverland for escapist youth? After four years in Copenhagen, I'm still not sure of the answer.