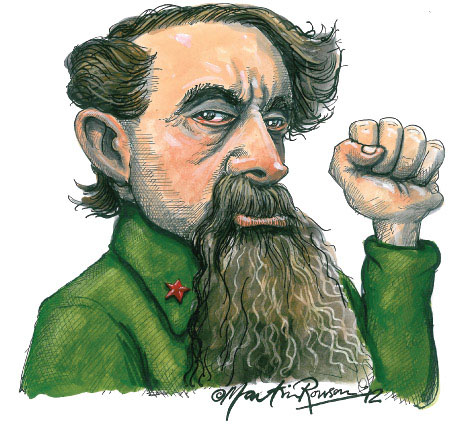 Illustration: Martin Rowson
Charles Dickens, the anniversary of whose birth we mark this year, was present at the making of modern Britain. When he began to write, stagecoaches were still the most familiar form of transport; by the time of his later novels, the railways had arrived. Capitalists in the early Dickens are either villains out of Victorian melodrama or generous-hearted paternalists; in the later novels they are faceless functionaries, part of an anonymous system which governs them as much as they govern it.
Dickens was born in the era of Byron and Napoleon, but lived to see the development of trade unions, joint stock companies and the beginnings of corporate capitalism. His fiction evolves from the workhouse of Oliver Twist to the factories of Hard Times and the state bureaucracy of Bleak House.
Dickens did more than describe this newly industrial nation. It is present in his very style of writing. He is the first truly urban writer in Britain. He sees human beings vividly yet fleetingly, like people you might collide with on a busy street corner. The rhythms of his writing catch the excitement as well as the anxiety of city life. He tends to perceive in fragments rather than in the round, reflecting a society that has grown too opaque and divided to be seen as a whole. Characters are sealed off from each other in their own solitary space, with no settled relationships between them.
In this reified world of industrial capitalism, people seem as impenetrable as pieces of furniture, harbouring some mysterious inner secret to which one can never quite break through. Everyone appears as a grotesque or an eccentric. There is no longer any agreed norm of humanity, just a set of isolated freaks, either ominous or amusing, who bounce off each other at random.
Middle-class energy
Dickens is famous for denouncing the evils of industrial capitalism, but his theatrical, flamboyant prose also reflects the energy of a middle class that is still riding high. As an aspiring young novelist, he liked to see himself as a fashionable man about town, renowned for knowing every side street and back alley in London. Jane Austen writes about the landed estates of the English countryside, which in her day was the centre of social and economic power. Dickens, by contrast, is metropolitan to his ink‑stained fingertips. What he describes is the London of lawyers, merchants, small clerks and well-heeled bourgeois – the greatest commercial and imperial centre of the globe, where British ruling-class power is now increasingly to be found.
Dickens was born into that most contradictory of all social groups, the lower middle class. So, in fact, were most of the great 19th century novelists, from the Brontë sisters to George Eliot and Thomas Hardy. The lower middle class are close enough to the common people to sympathise with their plight; but they also aspire to wealth, rank and education, and thus cast a glance up as well as down the social hierarchy. They are peculiarly well-placed as artists to survey the social system as a whole, as well as to experience a painful conflict between how things are and how one would wish them to be.
Dickens' compassion for the poor and outcast is legendary. In a stunning moment in Bleak House, he turns on Queen Victoria herself and upbraids her, along with the entire ruling class, for their shameful neglect of the orphans and street urchins. But he also handed over a woman he found begging in the street to the police. He was the most genuinely popular of all English novelists, an astonishingly gifted entertainer and champion of popular culture. But he also valued his reputation as a high-brow novelist and his membership of the social establishment. Hardly any other English writer has combined 'high' and popular writing so magnificently, appealing alike to academia and the labour movement.
Dickens was haunted all his life by a typically lower middle class fear of being dragged down into the popular masses from whom he had managed to extricate himself by his art. He sent his own sons to Eton, detested social climbers like the unctuous Uriah Heep as only a social climber could, and had more than a dash of the imperial Little Englander about him. He viciously caricatures trade unionism in Hard Times, and spoke up in favour of a brutal governor of the West Indies.
He may have been a scourge of Victorian England, but he believed with typical middle class complacency that the period in which he lived was a vast improvement on any previous stretch of history. The Victorian middle class to which he belonged saw itself as in the van of social progress, but was also deeply anxious about rumblings of revolution. Dickens' writing, with its extraordinary mixture of comedy and tragedy, tears and laughter, brashness and sentimentalism, reflects this divided vision. Few English writers have penetrated so deeply into human emotions, and few have had a mind so disastrously empty of ideas. If he can be searingly realistic, he can also be absurdly Romantic.
Images of children
Dickens's abiding concern with children shows up some of these ambiguities. In one sense, the figure of the oppressed child is the most powerful indictment one can imagine of society's heartlessness. Innocent, vulnerable and bewildered, Dickens' children, from Oliver Twist and Paul Dombey to Little Dorrit and Pip of Great Expectations, are stark images of undeserved suffering.
Victorian England, as Dickens recognises, is a society in which everyone has been orphaned, and in which the upper classes have disowned their paternal responsibility for the weak. Yet the child, by definition, is incapable of understanding the causes of his or her own wretchedness. All a child wants is the immediate relief of its pain. It has no understanding of social processes. As such, the figure of the afflicted child points to reform rather than revolution. And Dickens was certainly no revolutionary, as his lurid portrayals of the French Revolution in A Tale of Two Cities would suggest.
Even so, as the great Marxist literary critic Georg Lukács insists, a writer's imagination may be more radical than his or her ideology. Dickens may have been as fearful of social revolution as any other Victorian bourgeois, but the system he portrays in his last great novels – Bleak House, Little Dorrit, Our Mutual Friend, Great Expectations – could be transformed by nothing short of an upheaval.
Dickens has come a long way from the jolly, Tally-ho world of Pickwick Papers and the fairy-tale endings of his early fiction. We are now in a universe in which middle class men and women are hollow illusions, while objects seem strangely alive. Market capitalism and an oppressive state have now taken on a sinister life of their own. Social life is vacuous and unreal, and the only true realities are crime, labour, sickness and hardship. Families, cosily celebrated by the younger Dickens, are now sick, semi‑pathological places of oppression. New life can spring only from death, self-sacrifice and dissolution.
This was not what those who lionised Dickens at their dinner parties wanted to hear. But it was what he insisted they should confront, and two centuries after his birth we should honour him for that courage.