Kara: What's the thinking behind the Confronting the Climate Crisis conference and what does it aim to achieve?
Graham: The conference aims to put the climate crisis at the centre of the debate about how to deal with the economic crisis. We need to find alternatives to the government's austerity programme designed to deliver jobs and move us in the direction of a low carbon economy. We want to provide a forum for trade unionists, climate scientists, politicians and environmental activists. By working together in a broad alliance we can help to build a network with people looking for solutions that don't trash the planet. I hope the conference will contribute to the efforts being made to make this a core organising issue for the trade union movement.
Kara: There have been a number of initiatives to bring trade unions and environmental activists together over the past few years. Why is this event happening now, and why is it important to bring climate scientists on board this time?
Graham: The UK coalition government is not delivering on its promise to be the 'greenest government ever'. That will be no surprise to many people, but even their very limited ambitions are being sidelined. At the same time we have a worsening international picture with successive summits failing to deliver. To compound these problems we seem to have fewer people getting involved in challenging this crisis in national and international decision-making. The conference comes at a time when we need a clear assessment of these challenges and the measures needed to tackle them.
Scientists provide us with the research needed to back up our case for a million climate jobs. Scientists also need support against the ongoing attacks from the neoliberals who are pushing even harder to abandon the legal commitments that have been made. It's important to work with the scientific community on ways to engage with the public to increase awareness. Plus some of them are union members so we have a responsibility to ensure their voice is heard.
Kara: In this ongoing collaboration between unions and environment activists, how have things moved on? What successes have been seen, and where does more work need to be done?
Graham: There is more recognition that environmental action is only one part of sustainable development. The focus is increasingly around issues of social justice and well-being. When we talk of sustainable development we need to address system change. The failure to reduce carbon emissions underlines the weakness of a market-led approach. Science is not neutral. We are talking about the potential for significant planetary change and how that information is interpreted socially and politically. Scientists, like climate campaigners, will have different views about the solutions needed. We must not let these differences prevent us from developing coalitions to mobilise public support. Initiatives like the Energy Bill Revolution campaign show the potential for this.
Kara: What role can trade unions play in the fight against climate change?
Graham: Unions need to recognise that this is central to the fight for jobs and conditions of employment. That is easier said than done. The understandable focus on dealing with the fallout from the recession has often reduced what limited capacity was in place. We need to redouble our efforts to appoint environment/sustainability reps in the workplace.
In UCU we have had some success. In the last two years we have increased the number of reps by over 50 per cent, though this still leaves us with only around a third of branches covered. Many younger members are attracted to this work. It provides an opportunity to be pro-active rather than just being on the defensive fighting job cuts and contract changes. Unions need to ensure that any growth in low carbon employment is based on quality as well as quantity.
Kara: You're running a workshop on uniting trade unions with community campaigns. How can trade unions work effectively with community campaigns?
Graham: Outside of the workplace unions often have strong community links. These will be vital in building the coalitions of the future. In many areas trades councils have responded to the recent annual congress decision to make this a priority campaign. For example, Battersea and Wandsworth TUC has been instrumental in supporting a low carbon zone in the borough, illustrating the potential of putting community trade unionism into practice. It can open up joint work with organisations that may have had little previous contact. Local action has its limitations but it can often be a welcome relief from banging your head on the national policy wall.
Kara: The Greener Jobs Alliance you work for campaigns for investment in green jobs and skills. The argument for huge investment in green jobs to lift us out of economic and environmental disaster has been being made for a few years now. How seriously has the government taken it?
Graham: The GJA starting point is that without a sustainability skills strategy any future investment will be flawed. The priority is up-skilling, or making existing jobs greener. We are coming to the end of the UN Decade for Education for Sustainable Development and progress has been painfully slow and, in some cases, gone into reverse. In the school sector we have Gove threatening to remove climate change from the curriculum. In further and higher education many institutions are reducing their commitments or not resourcing those that have been made. The uncertainty over government policy measures has threatened some of the growth in the green sector that has occurred. The bottom line is that the government is tied to an employer-led approach that is not delivering.
Kara: How can the argument for investment in these jobs be communicated to a government hell-bent on cutting? How do you see this investment being funded, especially in these times of severe austerity?
Graham: It's difficult to see how the present government will be won over by our arguments. The most we can expect is that there will be a recognition borne out by the facts that the present policies are not working. For example, the flagship Green Deal policy is clearly not delivering even though the case for a massive energy efficiency programme is obvious. The reliance on consumer-led demand is flawed. It requires a level of state (national and local) funding that does not fit their macro-economic model. Funding through progressive taxation measures to properly finance the Green Investment Bank would be a good start.
Kara: How do you see this movement growing in the future?
Graham: There is real potential in moving this up the trade union and political agenda. We need to link the climate crisis to corporate responsibility failures. There is a growing awareness that corporations need to be held to account. It has to be a combination of linking the international with the local. In the education sector we have an opportunity to do that in an alliance with students. In all sectors we need an alternative vision to the austerity model. The conference is one small step on the road to achieving that.
Graham Peterson is the University and College Union's environment and Greener Jobs Alliance co-ordinator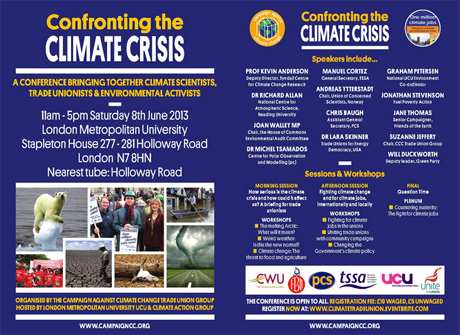 Click here for more information on the conference