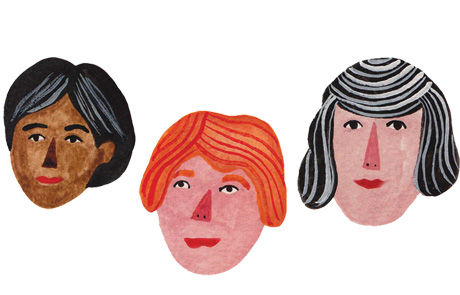 Illustration: Cressida Knapp
Travel two miles from the gentrified eyesore of MediaCityUK by the banks of the Manchester Ship Canal and you'll arrive at Salford's Unemployed and Community Resource Centre. Once part of a network of at least 200 TUC-supported centres established in the 1980s to provide advice, representation and support to those out of work, Salford's centre is one of the few dozen survivors following cutbacks in their funding from mainly Labour-controlled local authorities since the late 1990s.
'Organising the unemployed has been a massive issue for the movement for over 100 years,' says Alex Halligan, secretary of Salford trades council and a driving force behind both the centre and the local branch of Unite's initiative to open up its membership to people out of work. 'The official movement, the trade unions, the Labour Party have never really taken their role to do so seriously.'
In Britain one has to go back to the 1930s to find serious attempts being made nationally, when Wal Hannington and others mobilised tens of thousands through the National Unemployed Workers' Movement. 'This was always organised through the fringes of the movement, by the Communist Party, which was much more powerful than they are now,' says Halligan. '[The Unite initiative] is the first time the official movement have taken on this role and I think people are almost shocked at how innovative this could actually be.'
For 50p a week
It has been a year now since Britain's largest trade union officially announced it was opening its membership to unemployed people, pensioners, students and others without jobs. For 50p a week members of Unite's 'community branches' gain some practical benefits, including the use of the union's legal helpline, debt counselling and tax advice, though not the right to representation by a TUC-trained employment officer at tribunals. Still in its early phase, six active branches have been set up across the country and so far 1,000 people have joined.
Though Halligan welcomes the material benefits of community branches, he sees them as 'trimmings' compared to the wider potential for empowerment. 'At the moment people are fragmented and desperately crawling around at the bottom for something,' he says. 'The union offers something. It offers a concrete, collective form of action.' While one person faced with housing benefit cuts has few ways of voicing the 'terrible situation it's left them in', Halligan points out that 'when there's a thousand people all screaming the same thing it's easier to get a message across'.
Organisers in Sheffield, where a branch has been operating for months and has so far gathered a core group of 20 members with plans to set up telephone pyramid contact schemes to mobilise activists to resist evictions, echo this view. 'It's something that's been needed for a very long time,' says Richard Brown, a mature student. As someone who previously only ever joined a trade union – some years ago – for 'insurance reasons', Brown feels the project could reignite a link between community and union activism in an age when those bonds have withered as industrial jobs vanished.
'Years ago,' he says, everyone who lived in an area 'worked in the same place'. Whereas workplace activism then 'in a way was community organising, that's gone now because lots don't work or people travel to work and often don't know who their next door neighbour is.' Pointing to a proposed campaign in solidarity with low-paid recycling agency staff at the local council facing cuts to their hours, he says there is an 'obvious opportunity' to rebuild a direct link between workplace issues and wider residential concerns such as increased fly-tipping.
So what's new? Brown argues that 'the fact that it's run through a trade union gives it credibility' it may otherwise lack. He also sees community branches as offering the unemployed greater scope to organise around their own issues than through charities, which are 'more like a service where you're a customer . . . They've moved away from campaigning to an almost managerial way of doing things. They don't call demonstrations, they lobby politicians.'
Cautionary note
Matt Scott of the Community Sector Coalition, an alliance of grassroots groups and activists, agrees that 'the trade unions have got to play a huge role because they have the resources, leadership and potential to be a huge resource'. Yet while he welcomes Unite's seeming re-engagement with community activism following the 'hollowing out of democratic action' under both the Conservatives and New Labour, he cautions that the process will 'take years' and need to be 'negotiated' between grassroots groups and the union rather than 'controlled'.
'Community organising' has become a much-used phrase as a result of the part it played in the rise of Barack Obama and its co-option as part of David Cameron's 'big society' initiative. Scott voices concern that in contrast to the community development of the 1970s, with its focus on grassroots democratic control, community organising's issue-based aim to 'get in, win a campaign and get out . . . in a strange way sometimes flatters politicians because it ultimately allows them to do a deal' and demonstrate their power.
Liane Groves, one of two officers in Unite's community support unit working nationally to get the scheme up and running, disavows comparisons with the big society, arguing that the union wants to build on the labour movement's existing infrastructure. 'It's about collective solidarity and finding our solutions,' she explains. 'We really don't want to start telling the community branches what to campaign on.' In Sheffield, this ethos has been maintained, according to Richard Brown. 'Unite has been really supportive so far, they've left it to us to ask what we want from the union. In the long‑term it's a strength – it's our union then.'
Key levers of power remain closed off to community branches, however. While members can vote for Unite's general secretary, they are not permitted to elect representatives to the union's executive board, a crucial means by which to influence the union's rules and policy. Some of those policies may prove politically controversial. Unite is Labour's largest funder, and its political strategy adopted in December 2011 explicitly aims to recruit 5,000 union members into the party within 12 months with the intent of 'reclaiming Labour' by 'extending our influence'.
Regional political officers have been tasked with drawing up plans to drive forward this aim, subject to oversight by Unite's national political committee, and the union will 'ensure that our new community membership and branches are fully involved'. Commenting on the strategy, Liane Groves says, 'We would hope that our members would engage with constituency Labour parties', adding they wanted 'to work together'.
At the launch of Manchester's community branch, Alex Halligan acknowledged this was the 'elephant in the room', although as a party member himself he believed that boosting the number of union‑backed candidates was 'a good thing'. In practical terms members cannot use the branches to oppose Labour Party candidates, although they are under no obligation to campaign for them and the event attracted a range of attendees from different political traditions and none.
There was sympathy at the meeting for working through political divisions. Tom Barlow, an organiser of the event, said he was 'an avowed anarchist' but 'willing to work within structures and with anyone who wants to make this a positive thing'. One attendee, an unemployed person who said she had 'not really been politically involved' in the past, said 'people are going to have to link up in fighting austerity . . . The rivalry in the left needs to break down.'
How sincere the union is in allowing community members to set the agenda if and when difficult issues are contested will be the test for the branches' survival. To be powerful, the branches will need to offer a space for generating alternatives to austerity rather than simply a 'resilience agenda' that manages and minimises the impact of poverty on the vulnerable. If Unite's community branches do survive, and prove a strong enough foundation to contribute to those alternatives, it will no less welcome for having been a long time coming.
---
Power and the people
What does 'community organising' really involve? And what might be its pitfalls? Community activist Ellie-Mae O'Hagan reflects
Community organisers believe in building relationships with institutions that already exist. They tap into existing networks of people in order to organise wider communities according to shared self-interest. Once those communities are organised, they can collectivise their power and mount a challenge to the government or the markets.
Community power is not something you have in isolation; it's a relationship you build with those who share your inequality. Put bluntly, community organisers believe that the more power communities have, the more effectively they can win the war for power. For that reason, contemporary community organisers are not always overly discerning in terms of whom they form alliances with.
That may sound a tad cynical, and perhaps it is. But there's no denying the successes of community organising. The most salient example in Britain is probably the Living Wage Campaign pioneered by community organisers London Citizens. The campaign calls for every worker in the country to earn enough to provide their family with the essentials of life – a 'living wage' set at £7.85 per hour in 2010.
Launched in 2001, by the end of the decade the campaign had persuaded more than 100 employers to pay the living wage, lifting 6,500 families out of working poverty. It succeeded by using a variety of strategies, from organising low-wage workers and wooing high-profile politicians to the public shaming of CEOs. Sir John Bond, executive chairman of HSBC, was left speechless when his cleaner Abdul Durrant stood up in the middle of an AGM and told him, 'We work in the same office but we live in two different worlds.'
And yet, in my experience at least, community organising is not without its pitfalls. For one thing, the cynical approach to relationship building can sometimes lead to the formation of unholy alliances between organisers and the institutions that are arguably part of the problem.
Take, for example, Citizens UK (the national organisation of which London Citizens is a part) and its CitySafe campaign, which aims to make our streets safer. The campaign works by persuading businesses to become 'CitySafe havens', which offer sanctuary to young people in danger, report any crimes they see taking place and develop positive relationships with the local community. Citizens UK has approached numerous multinational companies with a presence on high streets to make the campaign a success, including the likes of McDonalds.
Although there's no denying the benefits of reducing inner-city crime, a left-wing perspective sees that crime as a symptom of the inequality created by neoliberal capitalism, of which McDonalds is a particularly potent symbol. It's worth asking, then, whether forming relationships with such organisations in order to alleviate a symptom of the inequality that they create places the community organiser in the position of being unable to criticise them. Indeed, do the communities that are being organised ever get to the point where they take on capitalist businesses as the perpetrators of inequality? Or do they simply see McDonalds as a benevolent company that will offer a sanctuary if young people are in trouble? When it comes to community organising, is a structural criticism of society possible, or simply a hindrance to your short-term goals?
This brings us to the second pitfall of community organising: the theory itself. London Citizens, the biggest alliance of community organisers in the UK, bases its work on the theory of three competing powers: the markets, the government and communities. This strikes me as flawed. The three powers are not competing; the markets are swallowing the government and crushing communities.
Despite the hazards of community organising, it's a useful place from which to begin activism. The building of solid relationships and the understanding of one's audience are vital principles for any activist wishing to communicate an important political message. There is a middle ground between ideological purism and arch pragmatism; and that's where Unite's decision to set up community membership becomes very interesting. Although Unite's community membership will follow the pragmatic and inclusive principles of Saul Alinsky's influential Rules for Radicals, it will do so while remaining loyal to the socialist values of trade unionism. Can community membership revolutionise not just communities, but community organising? Only time will tell.
---
Mind the pitfalls
Research on community union initiatives has highlighted a number of drawbacks and limitations, write Andrew Mathers and Graham Taylor, who research community unionism at the University of the West of England
There are serious and enduring institutional rivalries between trade union and community organisations based on a mismatch in organisational procedures and priorities. While trade unions are formally structured, community organisations tend to be looser and more ad hoc. These rivalries can reflect an imbalance of power and resources between unions and community groups.
Labour movement organisations tend to emerge as the dominant partners or leaders of 'vanguard coalitions', which tends to undermine the development of 'common cause' coalitions. 'Community unionism' may also lack a political ideology or, more specifically, an 'ideology of labour' premised on an independent and oppositional politics without which labour lacks coherence as a movement.
There is an essential ambiguity around the concept of 'community'. It is used in at least three different ways in relation to community unionism: as a geographical space, as a shared set of interests and as a shared sense of identity. The tension between these diverse meanings highlights the complex nature of the relationship between 'place' and 'space' in labour movement politics.
The focus on community as 'place' leads to a rather static conception of community. This ignores the ways in which communities of interest and identity transcend space, and how solidarities (and divisions) traverse the global, regional, national and local levels. There has been a tendency to conflate the various meanings of 'community' into a one-dimensional focus on the 'local'. While local community initiatives can increase the organisational capacity of trade unions, in an age of neoliberal globalisation they can also blind labour leaders and activists to the importance of building community alliances at the national, transnational and global levels.
---
Community democracy
Community activist James Holland looks to the development of new institutions from the existing grassroots
The aim of genuine local community organising is the creation of grassroots institutions unique to each area – what you might call 'community democracy'. This is a delicate thing that can't be pushed forward by an outside organisation using a 'one size fits all' political strategy, but only by very sensitive, flexible arms-length support.
Even when organisations superficially have hierarchical structures they often operate in a collective way. This is frequently at least partly due to the their small scale and the attitudes of the people involved. And while there may be very little discussion of what you might call formal 'politics', there is often a lot of common-sense understanding of how we can make things better ourselves from the bottom up and a healthy disrespect for authority, politicians and other power seekers.
There is also an acceptance that you have to start where you are and often work within the dominant structures and assumptions and with all kinds of people and institutions, if they are useful, to make the change you want. This must always be done with thought, care and often some discomfort – a perfect balance of idealism and pragmatism.
The people involved in this sort of organising have often been doing it for decades and have deep connections to the communities in which they work. Individuals can be found doing it in every neighbourhood. They need to work together more and start thinking of themselves collectively as legitimate institutions of real community democracy.
It may take people and organisations coming from outside, or with a slightly bigger, longer-term view, including possibly trade unions, to achieve this. But this will have to be gradual, respectful and take place through the individuals who are already part of the communities. If these grassroots institutions do start to gather confidence they could soon form a model that could really grow and spread.