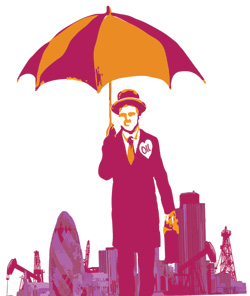 Here's how it works. Oil exploration and production require huge reserves of cash, which first comes from selling shares and bank lending. The London Stock Exchange provides a platform to channel investors' money – much of it from ordinary people's pension funds and insurance policies – to the fossil fuel companies. Shell and BP are the largest and third-largest companies in the FTSE 100 and almost a fifth of the index is made up of companies directly involved in extracting oil, gas or coal; another fifth consists of financial services companies investing in these activities.
London is also one of the world's main banking hubs – hosting the global headquarters of HSBC and Barclays and the Europe, Middle East and Africa (EMEA) operations of every leading US investment bank. They lend billions every year to fund new extraction projects.
Not all of these investors are based in the UK, especially when it comes to paying taxes, but they all use the City as a hub from which to organise fossil fuel extraction and then sell and speculate on the proceeds.
Spreading the oil curse
To see how this plays out let's take the example of Tullow Oil, a small company by oil industry standards but still the 40th-largest player on the FTSE 100. In Ghana the company's offshore discoveries turned oil into the number one issue in recent elections. As the history of nearby Nigeria's 'oil curse' shows, it's mainly foreign corporations, politicians and security firms who strike it rich when oil is discovered. Production in Ghana began in 2010, and the early signs don't look good: Tullow's contract with the Ghanian government includes clauses that lock in weak social and environmental regulations, requiring the government to compensate Tullow if standards are ever improved. Flaring (burning off toxic waste gases) is already widespread.
Tullow gets its funding from a mix of equity (selling shares), debt and sales revenues. The vast majority of its shares, currently valued at more than £7 billion, are held by institutional investors, companies that manage other people's money, including pension firms.
While some of the biggest corporations issue bonds (large IOU slips), Tullow is typical of companies of its size in agreeing a loan package with a syndicate of lenders. In 2012 it struck a deal with 27 major banks, including RBS and Lloyds TSB, and the World Bank's International Finance Corporation (IFC), allowing it to borrow £2.2 billion until 2019.
Revenue from oil sales (£1.5 billion in 2011) translates into large profits (£445 million post-tax), which are paid out to shareholders and reinvested in further exploration and production. The oil is mostly sold as futures ahead of being extracted, with Tullow using London's network of brokers and commodity traders to find buyers, many of whom will use it as the basis for financial speculation.
A whole host of Tullow's support services can be traced back to London's financial services industry. City law firm Ashurst is helping it to sue the Ugandan government for a £250 million tax claim at the World Bank-created International Centre for Settlement of Investment Disputes (ICSID).
The company also seeks advice from the big four accountancy firms to minimise tax liabilities. Like most firms headquartered in the City, it runs a web of subsidiaries through tax havens, including the Jersey-based Tullow Ghana Limited and Tullow Uganda Limited, registered on the Isle of Man.
Taking back the power
City of London financial services firms help fossil fuel companies to maximise profits and minimise accountability. Whether it's Tullow, BP or Shell, these companies are not going to clean up their act voluntarily.
Shareholder activism can shine a spotlight on abuses, such as the protests at GCM Resources over a controversial coal mine planned in Bangladesh. Such actions don't only make executives squirm: by damaging corporate reputations, they can help scare off investors. But companies won't really change unless the rules governing them change.
The UK could set an example by using its board positions at the European Investment Bank, World Bank and RBS to force through cleaner lending policies. It could help create an international tribunal to holds these firms and their executives accountable for environmental and human rights abuses.
It could even take a lead in pushing the European Union to decarbonise electricity supplies and transport. None of this is likely, but by unravelling the web of corporate power we can at least ask who our governments are really working for.
The World Development Movement is campaigning on climate change and the City. Illustration by Ricardo Santos