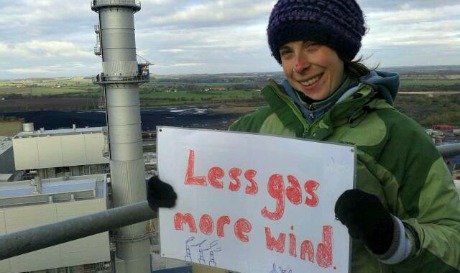 Twenty-one activists are being sued for an outrageous £5 million by power firm EDF Energy after they occupied two chimneys to shut down West Burton gas-fired power station for a week during October.
The chimney occupation was a statement against the government's plans to commission twenty new gas-fired power stations around the UK.
Spurred by the urgency of climate change, fuel poverty and a lack of investment in renewable energy, the group felt 'voiceless in a 'democratic system' in which big energy companies are directly influencing government committees writing policy on these issues.'
An attack on the right to protest
Drawing attention to the £1.6 billion profits EDF made last year, protesters feel that the law suit is an attack on the right to protest and an attempt to deter anyone from taking direct action in the future.
If the lawsuit is successful, then not only will some of the campaigners lose their homes and be in debt for life, but it could also set a dangerous precedent in law against the right to protest in the UK.
5 ways you can help
1) Sign and share the petition against legal action.
2) Help the No Dash for Gas Facebook page gain more likes than the EDF page
3) Tell @edfenergy your concerns and follow @nodashforgas on Twitter
4) Save the date: supporters pledge to 'shut down' EDF's flagship Energy Conference on 1 May 2013
5) If you're an EDF customer, consider switching and don't forget to tell them why
Find out more on the No Dash for Gas website