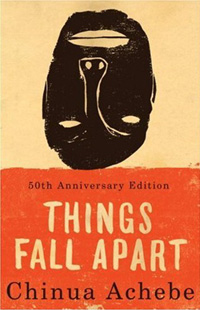 Things Fall Apart by Chinua Achebe was a simple act of revolution. Published two years before Nigeria's independence, it set out its clear and controversial mandate: that black people can define themselves and, crucially, define their own history. In critical race theory terms, it can be seen as one of the first 'counter narratives'.
With Achebe's recent death it is worth looking back at the novel that led him to be considered the father of African literature. In it Achebe did the unthinkable: he presented a Nigeria, and specifically a pre-colonial African society, that had never been seen before.
Things Fall Apart describes Igbo traditions, rites and rituals as well as linguistic customs. It explores the old versus the new, while treading the tightrope between judgement and explanation. It wonders at an internal life in combat with daily necessity. And it examines in detail one man's descent from power.
Informed by his intense desire to be unlike his drunkard, lazy father, Okonkwo is driven by a hunger for validation and status. A farmer, he lives in a village with his wives and children. Through the strength of his determination and wrestling in his youth, he has risen from the lowest to the highest ranks of his region, Umuofia.
But Okonkwo has two major flaws. The desperation to rid himself of his father's legacy motivates nearly everything he does, and his uncontrollable rage makes him a good warrior, but brooding and difficult in peace times. He is a strict father, a brusque and demanding husband, continually dissatisfied with his life and what he feels are his lack of achievements.
As he is grappling with the struggles of being father to a boy he doesn't understand, Okonkwo adopts a boy from another village, who has been given in forfeit. The boy fits well into his family and is the son he wishes he had. When the elders decide, after three years, that the boy must die, Okonkwo is shaken to his core but refuses to listen to advice to not have any part in the boy's murder. The thought of appearing weak is more than he can bear and this sets in motion the events which will finally lead to his fall.
The 'scramble for Africa' heralds the beginning of colonial rule. Achebe presents it as inevitable, pointing to the mutually dependent relationship between racism, religion and greed. The new force uses commerce to gain the trust of the village. Whereas the white man's religion embraces all and has different hierarchical structures to that of the Igbo, to the villagers it seems almost childlike in its simplicity. That is why it appeals to Okonkwo's son, Nwoye, who is struggling to understand his place in his community and family. Christianity gives him an 'answer'.
The juxtaposition of the old and the new, where traditions and customs become a site of struggle, is demonstrated by the conversation between a village elder and the missionary. White religion is cold and removed, whereas the Igbo gods live among them and through them. When it is apparent that some of the old customs are antiquated and the new religion gains ground, Okonkwo is left dismayed and disappointed.
In an accident Okonkwo shoots someone and is exiled for seven years. He dreams of a triumphant return but instead he's hardly noticed. This and the fundamental changes that have taken place in his absence whittle away at him. The missionaries have arrived and like a tick under the skin, have taken a strong hold of Umuofia. Okonkwo laments the passing of the old ways. His is saddened daily by what he sees as the erosion of his customs, beliefs and way of life and he is furious that no one wants to fight this new religion.
The pre-colonial Igbo world is finally a lost one. The disintegration of the social and psychological structures of pre-colonial Igbo life and the forceful impositions of new ones defeats Okonkwo. All the foreboding and doom that fills him about the future turns out to be prophetic. It is Okonkwo's disempowerment that leads to the book's tragic end. He knows has no place in this new world.
Chinua Achebe, writing under the gaze of Discourse on Colonialism (Aime Cesaire, 1950) and Black Skin, White Masks (Frantz Fanon, 1952), popped the white supremacist bubble. He dared to be open with his criticisms of literary 'blindness' to racist writing. His reading of Conrad's Heart of Darkness caused great controversy at the time. Could a literary classic be racist? He argued a resounding 'yes' and forced white literary theorists, uncomfortably, into thinking about racism and literature.
Okonkwo ends as a footnote in the story of the white coloniser, but with Things Fall Apart, Achebe created a novel that is embedded in the history of the continent. It is a part of literary thought and practice; it is part of our collective history.